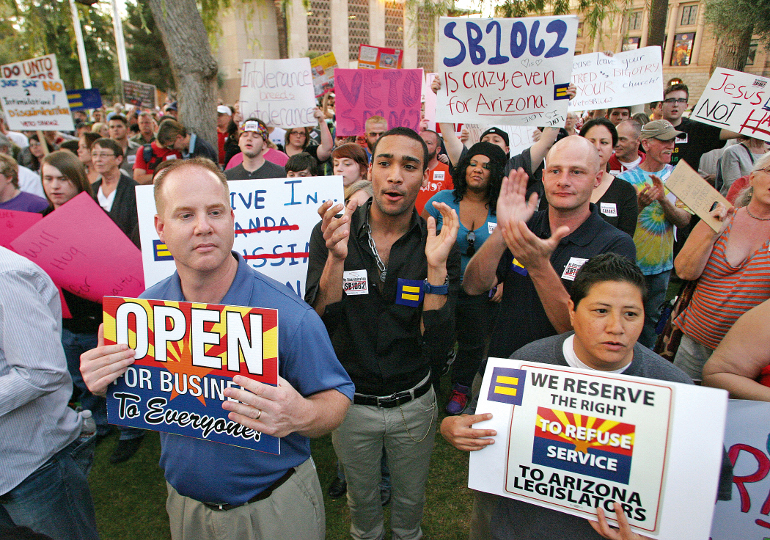 Gay rights supporters call on Gov. Jan Brewer to veto Senate Bill 1062 at the Arizona State Capitol in Phoenix Feb. 24. (Newscom/ZUMA Press/Deirdre Hamill)
Two religious liberty bills similar in theme but different in scope failed to pass in late February, but succeeded in further stoking debates about the place of religious belief in the public sphere. While critics cried that the bills represented legalized discrimination, supporters -- including two state Catholic policy arms -- claimed a need for added protection concerning growing tolerance of same-sex marriage that could threaten faith's role in business practices.
On Feb. 26, Arizona Gov. Jan Brewer vetoed a bill that had passed both chambers of the state Legislature, saying it did not address a present concern in the state, and that its broad wording "could result in unintended and negative consequences," causing more problems than it solves. The decision came amid resistance from former Republican presidential candidate Mitt Romney, as well as corporations and organizations conducting business in the state, including Apple, Delta Airlines and Major League Baseball.
If passed, Senate Bill 1062 would have amended the state's Religious Freedom Restoration Act, by first expanding the definition of person to include individuals, associations and other legal entities among churches and religious assemblies; and second, allowing them to claim the act's protection when compelled by state or local government to violate their religious beliefs in business, or when sued by a private citizen.
Persons invoking the act would still have to prove a significant burden to practicing deeply held religious beliefs by completing the action; courts would then weigh that against the compelling government interest in providing the service.
Other bills seeking to address religious freedom issues have appeared in as many as nine states. Of them, an NCR investigation found only two Catholic conferences endorsing such legislation on its websites: Arizona and Kansas.
Neither conference responded to multiple interview requests, but the executive director of the Arizona Catholic Conference did speak about the House version of the bill during a Feb. 4 House Government Committee hearing (begins at 01:32:20 mark). Rob Johnson said the state Religious Freedom Restoration Act "has served us very well" and that the conference knew of no problems with it.
"Which begs the question, why we're bringing this again?" he said at the hearing. "And I think the obvious answer is we've seen and we're seeing across the country legitimate threats -- primarily in the courts -- to religious liberty, to individuals, to institutions, to businesses and to other groups."
Johnson and others have cited the case of a New Mexico wedding photographer fined in 2008 on discrimination charges by the state human rights commission for refusing to shoot a same-sex marriage ceremony because of religious beliefs. In December, the New Mexico Supreme Court upheld the ruling; the photographer has sought review from the U.S. Supreme Court.
"The primary reason of this bill is to spell out again that we're also protecting individuals when another individual brings a lawsuit or try to enforce a law against them, that they can also use this religious freedom statute," Johnson said.
The conference also issued at least two "action alerts" to constituents after the bill passed to Brewer's desk. The alerts, urging her to sign the bill, no longer appear on the conference's website, but are still accessible through cached Web pages. Johnson also mentioned the alerts in comments Feb. 21 to the Phoenix Business Journal, saying, "We just put out another action alert asking for the bill to be signed. Our previous alert created almost 1,000 supportive emails."
As the Arizona bill gained traction, a similar bill stalled in Kansas. House Bill 2453 died in the Kansas Senate Feb. 18 after it passed the House six days earlier.
The bill differed from the Arizona attempt in that it was a specific rule about religious objections to same-sex marriages and similar unions. A letter from 11 law professors sent to Brewer seeking to differentiate the bills pointedly stated the Kansas bill "says the religious objector always wins, no matter what."
"The real problem with the Kansas bill is not that it proposes a specific rule, but that it proposes a very one-sided and unfair rule," the letter said.
They agreed that government must not burden a person's religious practice without a compelling interest, and acknowledged at times that interest exists.
One of the signers, Thomas Berg, the James L. Oberstar Professor of Law and Public Policy at the University of St. Thomas School of Law in Minneapolis, told NCR that finding a balance often raises the question to what extent should the principle of religious freedom apply in the business world.
"There you have to be quite careful because, especially with anti-discrimination laws, acting on religious beliefs can affect others in a way that denies them or harms their access materially to participating in economic life," he said, adding that the Kansas bill was too broad an exemption.
Still, the Kansas Catholic Conference backed the bill, issuing a five-page statement in an attempt to address confusion. It said the bill did not create a right for any person "to deny general services to, or otherwise discriminate against, anyone based upon sexual orientation or identity" or allow businesses to refuse service to a gay customer.
"The Catholic Church would not support such a bill. To the contrary, we condemn unjust discrimination against gays," the statement read.
Rather, it said the bill would cover a narrow range of conduct, specifically a church's right not to host weddings that violate its beliefs; the right of a small-business owner, such as a Christian photographer, not to participate in a wedding contrary to their beliefs; and for government not to restrict Catholic Charities' adoption services because of church teachings on marriage.
"HB 2453 comprehensively and specifically protects religious Kansans -- individuals and the institutions they form -- from suffering any legal penalties for their position on same-sex marriage," the conference said.
It explained such preemptive action was necessary in light of recent federal court rulings that have overturned state bans on same-sex marriage and appeals, like one before the 10th Circuit U.S. Court of Appeals, which oversees Kansas, that could impact other states.
Berg said the debate surrounding the Kansas bill, which to an extent clouded the Arizona discussion, "has the potential to tar every sort of general religious freedom statute," which have existed in the U.S. for more than two decades, including a federal version in place since 1993.
"There are certainly ways of drafting much more tightly crafted exemptions for certain small direct personal providers [of weddings]," he said. "Whether those are so colored now by the debate that we've had over much broader exemptions, I just don't know."
[Brian Roewe is an NCR staff writer. His email address is broewe@ncronline.org. Follow him on Twitter: @BrianRoewe.]