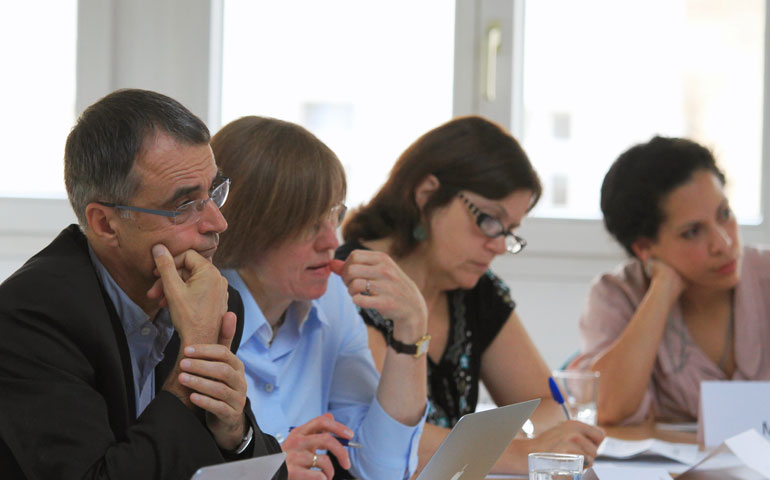 Among the attendees of a June 27-29 theological conference in Berlin were, from left: Fr. Philipe Bordeyne, rector of the Catholic University of Paris; Marianne Heimbach-Steins, a professor of moral theology at the University of Vienna; Toni Ross, administrator of the theology department at Boston College; and M.T. Davila, assistant professor of Christian ethics at the Andover Newton Theological School in Boston. (Photos by Jesuit Fr. Yiu Sing Lucas Chan)
The physical symbols of the separation of Europe have all but disappeared.
A walk along the Friedrichstrasse, the wide north-south boulevard that cuts through the center of Berlin, no longer reveals an imposing wall but only trendy shops with overlarge windows.
The checkpoints that once housed armed soldiers, ready to turn back trespassers, now house impersonators ready for a quick photo.
Yet, at a late June theological conference here -- billed as the first to bring together academics in ethics from the major pontifical universities and theological faculties in both Western and Eastern Europe -- the focus was partly on just how much separation remains. The event was held at the Katholische Akademie, an institution of the Berlin archdiocese founded in 1990 in former East Berlin.
While the theologians gathered for the event came together in hopes they could bridge social, political and theological divides, they left expressing something akin to a message of patience.

Divides still exist and we're still working to overcome them -- that was the message of 25 academics gathered here from 15 European nations for the June 27-29 event. And the divides are sometimes quite fundamental.
The dozen meetings were conducted in German and English, and after each theologian's intervention they had to pause and wait for the translation.
Julie Clague, a lecturer in moral theology at the University of Glasgow, Scotland, who was the only participant from Britain, put the event's key revelation this way: "While 50 years ago the Second Vatican Council said we were a global church, we theologians still aren't communicating across all of our boundaries."
"From here in," she said, "it's something we absolutely must be better about."
The conference was hosted by a global network of scholars called Catholic Theological Ethics in the World Church. It was organized as a way of developing connections on several levels: among Eastern and Western European moral theologians; among scholars, some with multiple decades of experience and others with only months; and among theologians and those who supervise them.
Academics discuss Vatican relations
BERLIN -- While the relationship between theologians and church authorities wasn't specifically on the agenda for the Berlin meeting of theological ethicists in June, the topic came up in ways big and small.
Formal discussions and informal conversations inevitably would come around to two points: fear of being targeted for a doctrinal investigation, and criticism of the operations of the Vatican's Congregation for the Doctrine of the Faith.
For example, 30 minutes into an after-lunch discussion around a table in the Katholische Akademie's dining room, one theologian, with clear exasperation, told of receiving notice that a book written years ago was just now subject to a formal review by the Vatican congregation. A theologian at the other end of the table responded: "I've gotten five of those letters."
During one of a series of meetings the academics held on the challenges they face across Europe, one group focused specifically on how theologians fit into the wider context of the institutional church.
Sigrid Müller, a professor of moral theology at the University of Vienna who steps down in August as the president of the European Society of Catholic Theology, summarized that group's meeting to the larger gathering.
Müller said that her group had focused on seven points, all dealing with strengthening dialogue: among theologians from different cultures, with wider society and with the Vatican congregation.
Summarizing the group's feeling, Müller said that theologians must "address directly such topics that bring people into conflict" with the congregation.
"We should have conferences on exactly these topics," she said.
Servite Fr. Martin Lintner, a professor of moral theology at the Philosophical-Theological College of Brixen in northern Italy, took a similar note in a presentation he made to the Berlin group on the last day of the conference.
Lintner was one of four presenters asked to propose ways the theologians might promote a new generation of ethicists. He first called for theologians to overcome their regional and linguistic boundaries, but then directed his attention to working with the Vatican.
"We must form a strong sensus ecclesiae which allows for loyalty to the magisterium and at the same time feeling free to research," he said.
"We must create a community of loyalty," he continued. "When one of our colleagues gets in trouble with the CDF, it shouldn't be a thing to be ashamed of and to keep silence about, but something to discuss, especially with those who have had the same troubles." Lintner is to succeed Müller as head of the European theological group this month.
While no one at the Berlin meeting would talk to NCR on the record about their dealings with the Vatican, one did share a personal anecdote.
Jesuit Fr. Julio Martínez, rector of Comillas Pontifical University in Madrid since mid-2012, said that his position is sometimes a bit tenuous.
Rectors at Comillas, a Jesuit-run university with Vatican oversight, require approval of both the pope and the Jesuit superior general, currently Fr. Adolfo Nicolás. One person recommended for his position in the past was not approved by one of the two parties, Martínez said. No specific reason was given.
-- Joshua J. McElwee
Attendees included the current and former rectors or presidents of four of Europe's pontifical institutions: Comillas Pontifical University in Madrid, the Catholic University of Paris, and Rome's Pontifical Gregorian University and Pontifical Academy Alphonsianum.
Representatives from east of Berlin included Opole University in Poland, the University of Zagreb in Croatia, and the University of Sarajevo in Bosnia-Herzegovina.
A wider hope for organizers was that some of the attendees would be willing to organize a pan-European regional committee for the global ethics network.
While up to now the ethics group has developed five such groups for regions around the world, it has focused most of its attention on the global South, particularly in Africa, Asia and Latin America.
Last August, it hosted a gathering in Nairobi, Kenya, to bring together 35 Africans practicing moral theology in countries across that continent.
At the Berlin event's final meeting, the Europeans did agree to set up a regional committee for the ethics network -- tasking themselves with developing connections across the borders of the former Western and Soviet blocs.
As part of the forming of their new pan-European group, the theologians set forth 10 goals for their new network. Among those goals:
Exchanging information between Western and Eastern Europe through academic journals and regional conferences;
Creating training programs for doctoral students from more remote parts of Eastern Europe focused on helping them publish in known journals;
Promoting social ethics, especially in Europe's more economically devastated areas;
Engaging global issues locally and local issues globally.
Jesuit Fr. Andrea Vicini, an Italian who is now an associate professor of moral theology at Boston College, called the last point "essential."
After hours of meetings with other theologians, Vicini said, "it is clear just how much the local and the global seem to be inseparable. We all face similar issues, but in so many different ways."
The theologians culled their points from hours-long meetings on challenges they face in three specific areas: teaching and mentoring students, conducting research, and relating to ecclesiastical authority. (See sidebar below.)
One additional area that got repeated mention was the need to develop and mentor younger colleagues.
Redemptorist Fr. Martin McKeever, an Irishman who last winter stepped down as the head of his order's Pontifical Academy Alphonsianum, recalled graduating theologians telling him that they had never learned how to teach.
"That's just a real scandal," Mc-Keever said.
Fr. Philippe Bordeyne, a French diocesan priest and current rector of the Catholic University of Paris, said he had seen promising young theologians "languish" because they did not have ample opportunity to publish and attract attention to their ideas.
"What is our responsibility as heads of schools that have formed doctors … to let them emerge?" Bordeyne asked. "This is a shared responsibility."
To give the Europeans context on what the ethics group has been doing in other parts of the world, organizers of the Berlin event also invited some of the group's leaders from Africa, Asia and Latin America.
Reporting on the status of theological ethics in Africa was Jesuit Fr. Agbonkhianmeghe Orobator, a professor of theology at Hekima College in Nairobi who organized last year's event.
Orobator, who is also provincial of a Jesuit province encompassing six countries in east Africa, said it is important for continental groups of theologians to focus on critical areas facing church and society.
"You must create a forum, space or opportunity for people to get together on the continent to discuss those issues and come to terms with them," Orobator said.
Besides planning the regional gathering in Bangalore, the theological ethics group is also gathering contributors for a continuing series of volumes on current strains of thought in Catholic theological ethics. The next, due later this year, is to focus on feminism.
The European theologians closed their meeting with a presentation on their efforts June 29 at a formal ceremony marking the end of the Katholische Akademie's academic year.
Describing the events of the previous few days to a crowd of the academy's current and former faculty, Fr. Antonio Autiero, an Italian theologian who retired this year after two decades of teaching at Germany's University of Münster, said the group had come together for "the first attempts to develop a shared vision."
"This city is a place you where you can easily get a sense of how splits can grow into shared visions," Autiero said. "But it is also a place where you can learn of connections that can be brought about despite great difficulties."
Quoting the late German Jesuit theologian Fr. Karl Rahner, Autiero continued: "We know about the importance of a beginning of the beginning. Our responsibility now is to foster the seeds to make them into something that flourishes."
Nearly a quarter century after reunification, it seems Europe's theologians are still working a bit from the base level.
[Joshua J. McElwee is NCR national correspondent. His email address is jmcelwee@ncronline.org. Follow him on Twitter: @joshjmac.]
A version of this story appeared in the Aug 2-15, 2013 print issue under the headline: Theologians hope to bridge divides.