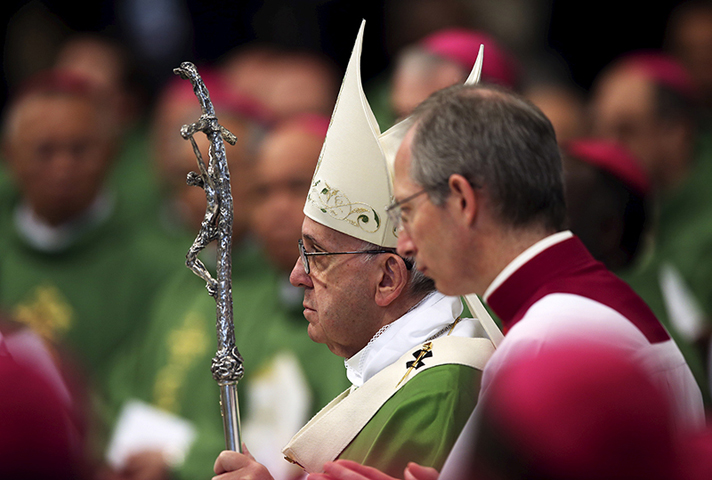 Pope Francis arrives to lead a Mass to mark the closure of the synod on the family in St. Peter's Basilica at the Vatican on Oct. 25, 2015. (REUTERS/Alessandro Bianchi)
Vatican City — October 28, 2015
Pope Francis named two new archbishops in Italy on Tuesday, Oct. 27, seen as strategic appointments for the pontiff's push to create a "poor church."
Matteo Maria Zuppi will leave his position as an auxiliary bishop of Rome to take up his new post in Bologna, in central Italy. And Corrado Lorefice, a parish priest in the Sicilian city of Noto, has been named archbishop of Palermo.
Both are relatively young to receive such high office; Zuppi turned 60 this month, while Lorefice has just celebrated his 53rd birthday. But more importantly, the new archbishops have adhered to the pontiff's wish to prioritize caring for the poor.
Alberto Camplani, a professor of Christian history at Rome's La Sapienza University, said this has been evident throughout their personal and professional lives. "For the church in Italy and globally, it's the fact that they are two archbishops that have always been attentive to the poor," he told RNS.
Camplani said Zuppi was noted for his work brokering peace in Mozambique, helping to secure an agreement to end the conflict in 1992, which was signed in Rome. Zuppi was made an honorary citizen of Mozambique for his efforts.
The new archbishop of Bologna has also fostered relations with the Jewish community in Rome, earlier this month joining a procession to mark the anniversary of Jews being rounded up and sent to their deaths by the Nazis.
While Zuppi moves into the leftist stronghold of Bologna, Lorefice will likely face greater challenges in Palermo, the capital of one of Italy's poorest regions, which has for decades suffered at the hands of the Mafia.
He is no stranger to such difficulties, having written about Giuseppe "Pino" Puglisi, a Palermo priest who was murdered after standing up to the Mafia. But as Camplani notes, Lorefice "is a man of the poor, not only against the Mafia."
Pope Francis "wants to position unexpected people" in the two Italian dioceses, signaling a sea change in the higher realms of power within the Catholic Church, Camplani said.