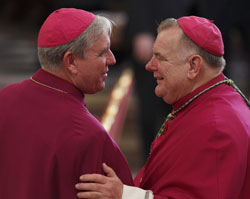 Archbishop Jerome E. Listecki of Milwaukee talks with Archbishop Thomas G. Wenski of Miami at the Basilica of St. Paul Outside the Walls in Rome June 28. (CNS/Paul Haring)
Rome
In the abstract, one might not think of Archbishops Thomas Wenski of Miami, Dennis Schnurr of Cincinnati, and Jerome Listecki of Milwaukee as a natural threesome. Yet fate thrust these prelates together today, as the three Americans among 38 newly appointed archbishops from around the Catholic world who are in Rome to receive the pallium.

The pallium is a narrow band of woolen cloth which serves as a symbol of the archbishop's office, and is bestowed by the pope each year on June 29, the feast of Sts. Peter and Paul. I'm in Rome this week, so I attended the pallium ceremony this morning and then headed up to the North American College for the traditional reception honoring the new archbishops.
Given that these three prelates were in the spotlight today, it's worth pondering what implications for the American Catholic future are posed by the ascent of a Harley-riding champion of the downtrodden (Wenski), a consummate church insider (Schnurr), and a straight shooting, by-the-book pastor (Listecki).
Read the full report: Three archbishops and the American Catholic future
Related Stories
Triumph of theologians over diplomats in Vatican
Interview with Archbishop Jerome Listecki
Interview with Archbishop Dennis Schnurr
Advertisement