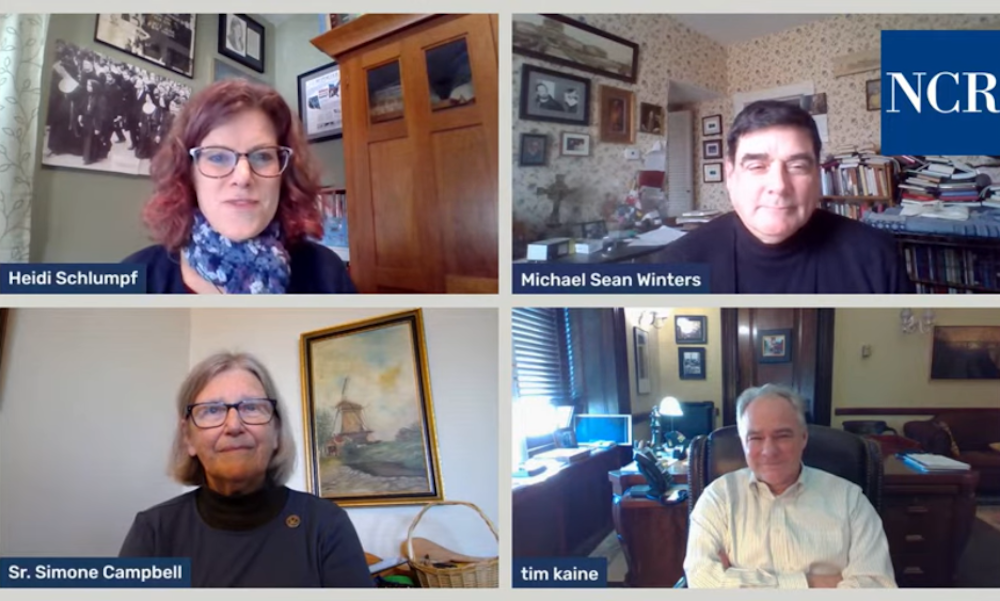 Clockwise from upper left: NCR executive editor Heidi Schlumpf, NCR political columnist Michael Sean Winters, Social Service Sr. Simone Campbell and Sen. Tim Kaine participate in a livestream event on Jan. 21. (NCR screenshot/YouTube)
In this livestream video, NCR's Heidi Schlumpf and Michael Sean Winters join Social Service Sr. Simone Campbell, executive director of Network, and Virginia Sen. Tim Kaine for a conversation about the inauguration of President Joe Biden and NCR's Building a Common Future series.
Background reading:
Join us next Thursday, Jan. 28, at 2:30 Eastern/1:30 Central for the next live conversation on Building a Common Future. Opinion editor Olga Segura will be joined by Dwayne David Paul, director of the Collaborative Center for Justice, and Michael Vazquez, religion and faith director at the Human Rights Campaign. We'll be streaming live to Facebook and YouTube. See you there!