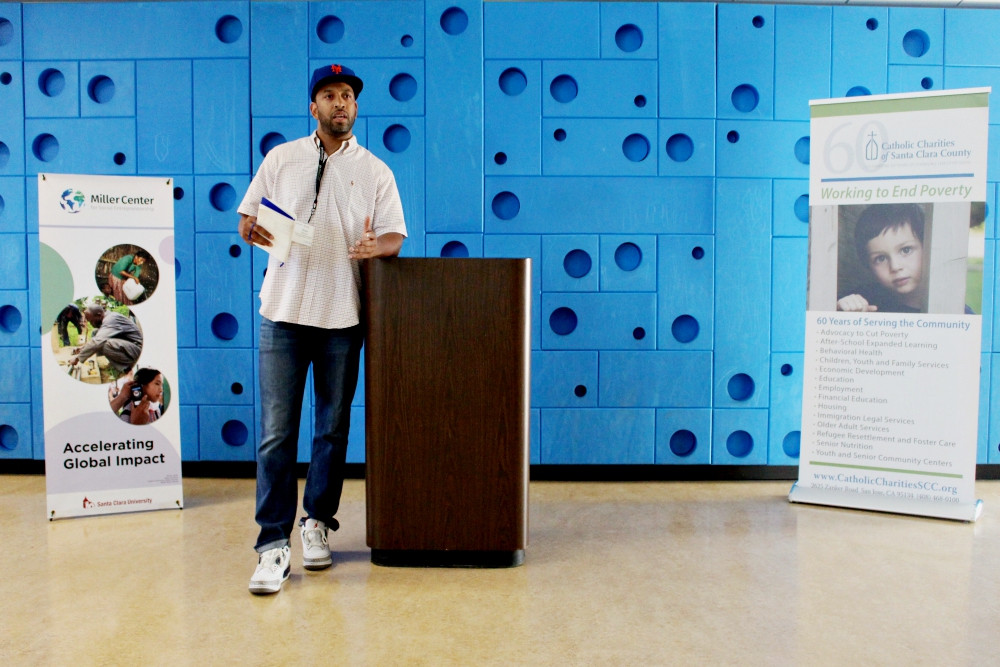 Sean Valentine, director of strategic initiatives for the Hidden Genius Project, gives his final presentation to attendees at the San Francisco Bay Area GSBI Boost workshop in San Jose, California, July 26. (Heather Adams)
San Jose, Calif. — August 10, 2018
Robert Yabes stands at the front of the room. He has less than two minutes to convince a group of investors to put their money in the Immigration and Legal Services of Catholic Charities of Santa Clara County.
The "investors" in this room on July 26 are actually three mentors from the Miller Center for Social Entrepreneurship at the Jesuit-run Santa Clara University in California and peers from other organizations that serve "vulnerable, low-income and/or underserved populations" in the Bay Area.
Today, the stakes are extremely low, but practicing his pitch will prepare Yabes for the day he actually stands in front of a room full of investors, hoping to expand the impact Catholic Charities has in Santa Clara County.
"What does $200,000 mean for my investment?" Yabes said. "It's our job to tell the story to our funder."
Nearly 35 organizations, mostly nonprofits, attended the San Francisco Bay Area GSBI Boost July 24-26 in San Jose. The program was a free three-day workshop for social entrepreneurs "who are positively impacting the lives of those in need in the San Francisco Bay Area."
Attendees focused on strategic thinking, business plans, growth and long-term financial sustainability, with the opportunity to network among each other. Plus, organizations can now apply to continue their work with Miller Center with a six-month online program to develop their business models and strategies further.
"We're trying to prepare them for those conversations in a way they'll be successful in getting the kind of capital they need and in amount of capital they need to get to their next stage of impact," said Thane Kreiner, executive director of Miller Center.
Kreiner said a lot of what they're doing is giving people the confidence to take on problems the organizations are already trying to address. Mentors have had long, successful business careers, like Dima Khoury, former director of engineering for Cisco. They believe in these organizations and coach them, making it easy to build the confidence needed to make those next steps.
"This is an intense three days," said Khoury, a Miller Center mentor.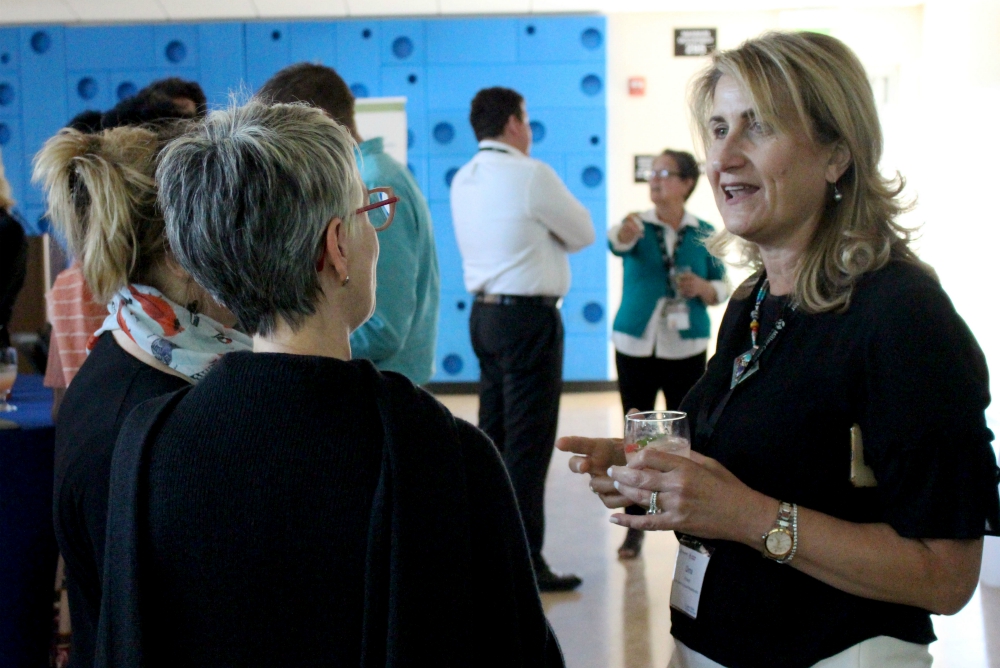 Dima Khoury, Miller Center mentor, talks with attendees at the San Francisco Bay Area GSBI Boost final presentation July 26. (Heather Adams)
But, she said, it's important for them to be able to fully focus on growing their organization and work with each other.
"Take the extra time," she said. "Go on a tangent, develop your business skills, develop your strategy, develop your finances, articulate your message."
Khoury said she knows it takes time to do all of that — maybe more than just three days — but in the end it'll help you get where you want to go much faster.
Miller Center has been running these types of short workshops for social entrepreneurs all over the world. Through a partnership with Catholic Charities of Santa Clara County, a pilot program was started in the United States. Of the organizations participating, 10 of them were Catholic Charities programs.
Although Catholic Charities of Santa Clara County's Immigration and Legal Services has been established for more than 40 years, Yabes said the changing political climate has added challenges for its clients. But that does not mean the agency will give up. In fact, it's doing the exact opposite — coming to the three-day Boost is a way to keep moving forward.
"People need to be hopeful," he said. "Even when things are dark, there is always light at the end of the tunnel."
He said Immigration and Legal Services has served 100,000 low-income immigrants with a 99 percent success rate.
"We have the capacity to serve the community," Yabes said. "We change people's lives for good."
Beyond expanding its business plan, the GSBI Boost has helped Immigration and Legal Services network and think outside its immediate set of skills.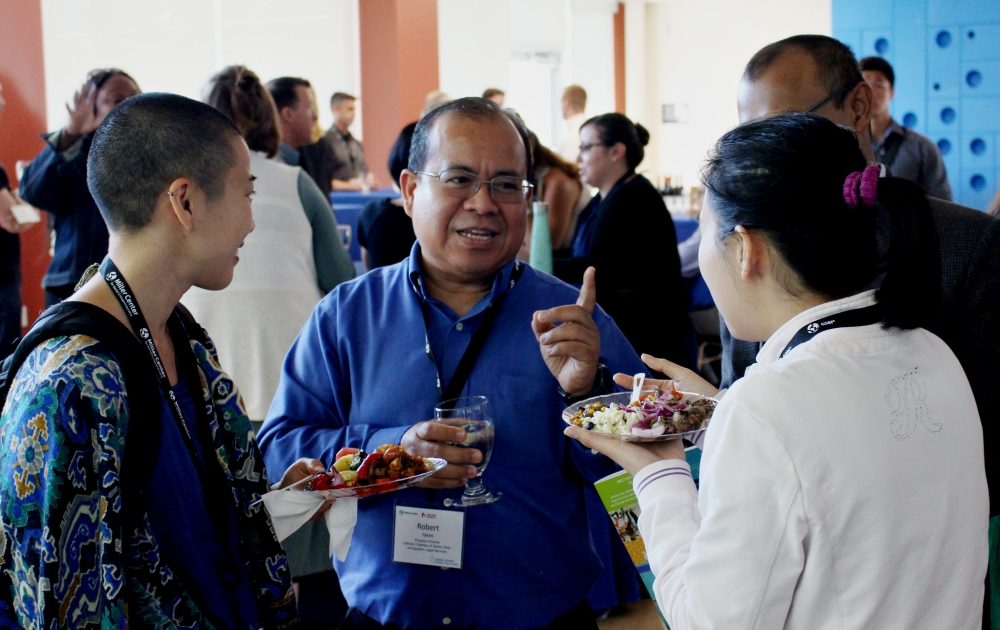 Robert Yabes, program director for Catholic Charities of Santa Clara County's Immigrant and Legal Services, talks with other with San Francisco Bay Area GSBI Boost attendees July 26. (Heather Adams)
Yabes said another group he spoke to was developing an app, making him think that "maybe we could create an app for my program that would help the immigrant community."
Yabes recognizes that the immigrant community doesn't often have computers or access to email but, he said, it could be an innovative way to keep helping them after they've been settled for a few years.
Gregory Kepferle, CEO of Catholic Charities of Santa Clara County, said there are dreams of expanding the "boost" program nationally, working with Miller Center and Catholic Charities all over the country.
"The university brings intellectual capital; Catholic Charities brings social capital," he said. "Marrying them both helps us address the reality of poverty in innovative ways."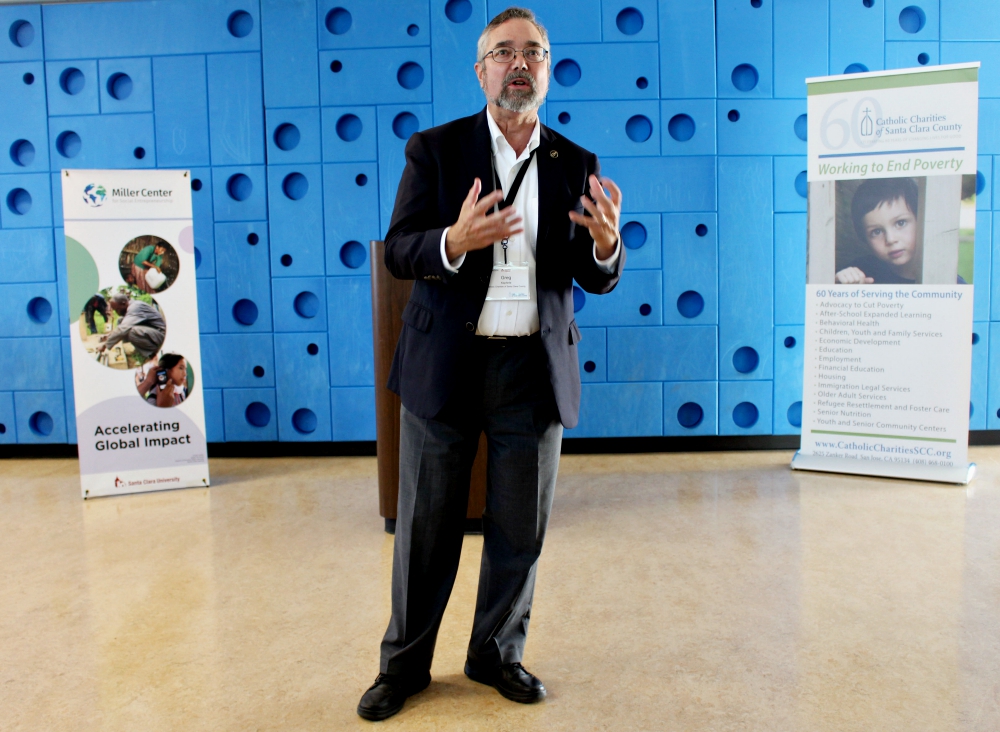 Gregory Kepferle, CEO of Catholic Charities of Santa Clara County, gives a speech before the final presentations at the San Francisco Bay Area GSBI Boost in San Jose, California. (Heather Adams)
The biggest hurdle for Miller Center is finding local mentors, Kreiner said. In Silicon Valley, there seems to be an endless supply of good mentors, he said, but first he wants to see if he can find them locally in whatever city is chosen. From there, he knows he'll be impressed with what local organizations in that city are already doing and that this program will be able to further their impact.
"That entrepreneurial spirit is actually there, it just needs permission to be unleashed," said Agnieszka Winkler, trustee of Santa Clara University and vice president of the board of Catholic Charities of Santa Clara County.
That entrepreneurial spirit and excitement could be felt in every room at the San Francisco Bay Area GSBI Boost. For Yabes, it was great to be among others who work just as hard as he does to create change in his community.
"It's a career that doesn't make you a lot of money," he said. "It's a career that makes you richer inside."
For the mentors and those at Miller Center, watching organizations try to tackle problems of poverty and inaccessibility in their community is truly inspiring.
"A lot of people don't believe in this kind of stuff, they think the problems are intractable and that they can't be solved" Kreiner said. "And these are people who are giving their lives to do them — they can be solved."