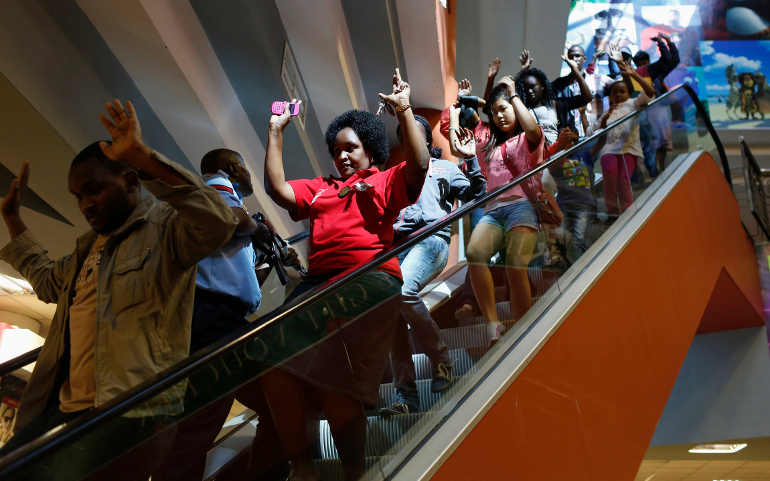 Civilians escape an area at the Westgate mall in Nairobi, Kenya, Sept. 21. Kenya's military said Sept. 23 it had rescued most of the hostages being held captive by al-Qaida-linked militants during a standoff that killed dozens of people and injured at le ast 175. (CNS/Siegfried Modola, Reuters)
The Kenya Conference of Catholic Bishops released a statement Monday in response to the Westgate mall attack and hostage crisis in Nairobi, Kenya. Signed by the conference's vice chairman, Bishop Philip Anyolo of Homa Bay, the statement emphasizes the bishops' solidarity with the Kenyan people.
"We are in solidarity with our brothers and sisters who have been injured in this terrible tragedy," the Catholic leaders said, "and pray that the Almighty God grants them a quick recovery."
The attack took place Sept. 21 at a mall in Nairobi. An unknown number of hostages are still being held in a standoff between Kenya's military and an estimated 10-15 attackers. At least 68 people were killed and at least 175 were injured.
Somali armed group, al-Shabab, has claimed responsibility for the attack as a response to Kenya's support of the Somali government.
"We condemn the unwarranted attacks on the helpless people and residents of Kenya," the bishops' statement says. "We urge the government and it security forces to get to the bottom of this matter and ensure justice is done."
The bishops also affirm the selfless service of the security officers, the leadership by the Kenyan president and government, and the charitable acts of the Kenyan people.