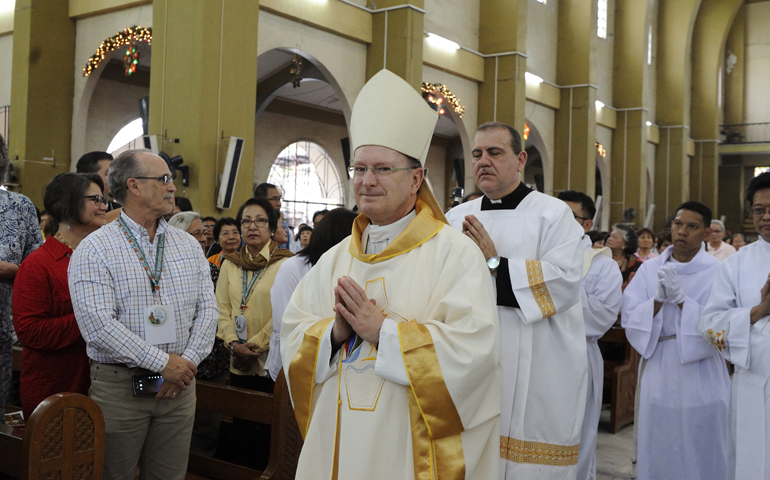 Bishop Michael Barber arrives in procession during a Mass for U.S. pilgrims at the 51st International Eucharistic Congress in Cebu, Philippines, Jan. 27, 2016. (CNS/Katarzyna Artymiak)
Just days before the nation was to observe Catholic Schools Week Jan. 29-Feb. 4, the Oakland diocese announced it will close five of its elementary schools in June. Another seven are being put into an independent network charged with making the schools financially viable and educationally strong. Late last year, the diocese said that St. Elizabeth High School in Oakland will also close in June, but will reopen in fall 2018 as a Cristo Rey school.
Oakland Bishop Michael Barber said the closures are needed to stop financial "hemorrhaging" caused by increased costs and declining enrollments. "Without students — without a critical mass of students — we have had to commit precious resources to increasingly empty buildings, eliminate 'auxiliary' teaching positions critical for student success and divert money that could have been used for scholarships to attract more students. It's become something of a death spiral for many of our schools," he wrote in the Jan. 23 edition of the diocesan Catholic Voice newspaper.
The elementary school closures affect about 640 students and 90 employees. Three of the schools are in Oakland; the remaining two are in El Cerrito and Union City. Many of the affected students are from low-income African-American and Hispanic families who rely on reduced tuition and financial aid.
The closures will leave large areas in Oakland that are served by 13 parishes without a Catholic school. In fact, only four Catholic elementary schools will remain in the city, two of them part of the new network. The remaining schools in the network are spread throughout the diocese.
According to a diocesan report, there is enough room in the network schools and other Catholic schools to accommodate the students displaced by the closures, but it is unclear whether parents will want to transfer their children to schools further from their homes.
Since the diocese was established in 1962, 11 additional Catholic elementary schools and one high school have closed. Apart from the schools about to close, there are 39 elementary schools, one middle school and eight high schools in the diocese with an estimated Catholic population of 550,000.
The closures were announced to parents through a letter sent home with their children on Jan. 22.
Fr. Stephan Kappler, pastor of Oakland's St. Jarlath Parish whose school is closing, told parents that the diocese had provided almost $2 million in direct and indirect subsidy to the school in the past nine years. "Recognizing its responsibility to base its financial decisions in Christian stewardship, the Diocese must now focus its resources elsewhere," he wrote.
Representatives of area Catholic schools will attend a Feb. 1 meeting at St. Jarlath School where parents will receive application and registration materials. Two of the new network schools are located in parishes adjacent to St. Jarlath.
Barber called the new Catholic Schools Network a "unique" way to bolster schools in trouble. Declaring it a "serious and daring refashioning of our beloved Catholic elementary schools," he said the network will be overseen by an independent board of directors charged with improving the schools' financial health, educational offerings, and student enrollment. The network's success hinges on attracting fiscal support from corporations and foundations.
Helen Osman, diocesan spokesperson, said several foundations have expressed interest in supporting the network rather than an individual school. The network will be modeled after successful ventures in the dioceses of Camden, N.J., and Memphis, she said. The Oakland diocese will provide the network with financial support for up to three years, then "it must stand on its own," Osman added. A full-time development officer will be hired for the network.
Barber said "aggressive marketing is essential to increase enrollment and keep Catholic schools accessible and affordable." If that doesn't happen," he wrote, "we may lose all our schools or find them only affordable for the well-to-do." Among his goals is to have every parish support a Catholic school, even if it is not located within the parish boundaries.
Each parish with a school that is closing will determine how best to use its shuttered building, said Osman. Among options would be leasing to a charter school or converting the building to other parish uses.
[Monica Clark is NCR West Coast correspondent. Her email address is mclark@ncronline.org.]