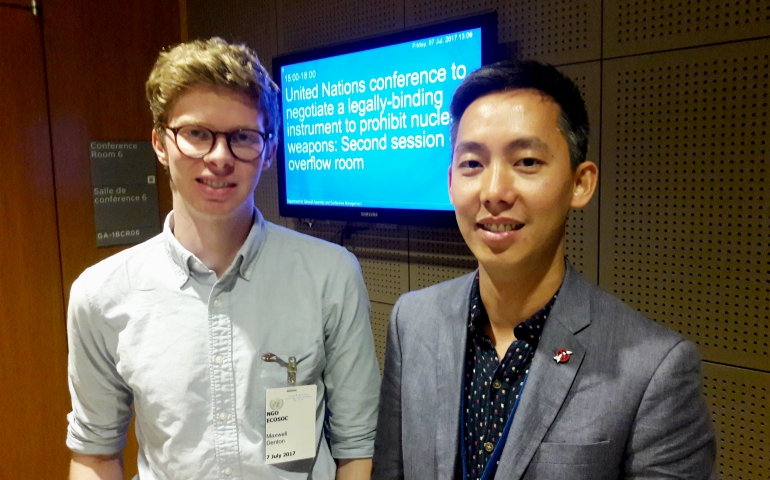 Maxwell Denton, left, and Marcus Yip (NCR photo/Chris Herlinger)
United Nations — July 14, 2017
From the gallery of United Nations Conference Room 1, it didn't take long to figure out that something of a generation gap was in play.
Longtime anti-nuclear activists, many of them in their 60s, 70s and even 80s and who had been involved in decadeslong campaigns to rid the world of nuclear weapons, hugged, embraced and shed tears after a historic July 7 vote in which 122 United Nations member states declared nuclear arms illegal.
"I've waited seven decades for this moment," said Setsuko Thurlow, who was 13 years old and living in Hiroshima, Japan, when an atomic bomb was dropped on her city. "This is the beginning of the end of nuclear weapons," she said after the vote. "We will not continue to risk the lives of future generations."
Thurlow's near-contemporary, American Sr. Ardeth Platte, 81, a member of the Dominican Sisters of Grand Rapids, Michigan, agreed, ruefully noting that she has lived nearly all of her life "in a country on a permanent war footing. This is a milestone."
Thurlow and Platte mingled with equally joyful younger activists in their 20s and 30s who were savoring what, for them, was an early victory.
But there didn't seem to be many middle-agers in their 40s and 50s in the galley where activists and members of "civil society" had watched attentively during three weeks of meetings. Middle age was better represented on the floor by the ambassadors and diplomats from the nation-states voting on the treaty.
"It's older and younger here," said longtime anti-nuclear activist Diane Perlman, 67, of Washington, D.C., looking up toward the back of the activist-filled gallery. "It's hard. People are so not interested in this."
Perlman's observation speaks to the historic cycle of anti-nuclear activism, in which baby boomers took an early lead in the fight against nuclear arms — activism that peaked in the early 1980s, a moment of heightened tension during the Cold War.
President Ronald Reagan had called the Soviet Union an "evil empire," and millions took to the streets in the United States and other countries, calling on the nuclear powers to approve a "nuclear freeze," which became the rallying cry of the anti-nuclear movement.
As many as 1 million converged on New York's Central Park in June 1982 to signal their frustration with the nuclear arms race.
But following a thaw in U.S.-Soviet relations under Reagan and then-Soviet leader Mikhail Gorbachev, and after the subsequent collapse of the Soviet Union, grassroots intensity and worry over nuclear arms faded — and with it, the concern over nuclear arms by many people who are now middle-aged.
Perlman, a clinical and political psychologist active in Psychologists for Social Responsibility, said a common question she hears is, "You mean, there are still nuclear weapons?"
There certainly are — and activists like Perlman, Thurlow and Platte have kept at it, tirelessly warning anyone who will listen that the nuclear threat still exists, and that the world still faces calamity if something is not done to eliminate that threat.
"People thought nothing has happened [since the 1980s]. But the activism has not stopped. The people involved have kept on," said Maryknoll Sr. Jean Fallon, 87, who joined other anti-nuclear protesters in pouring rain during a June 10 march near the United Nations prior to the start of the June 15-July 7 U.N. meetings. "We've had to keep it going even in a world filled with so many other issues and problems."
Luckily, the older generation is finding common ground with those in their 20s and 30s, who share many of the same concerns but are also finding new connections to draw.
A strong presence at the U.N. meetings was the International Campaign to Abolish Nuclear Weapons, or ICAN, a coalition of groups in 100 countries that took the lead in advocating for the agreement that was approved at the United Nations. ICAN took as its model the earlier international success a decade ago to ban land mines.
Many of those associated with ICAN at the U.N. meetings were in their 20s and 30s.
Marcus Yip, 31, an Australian medical doctor, and Maxwell Denton, 27, who is studying for a master's degree in British history at the University of Cambridge, were two of the ICAN-connected activists at the U.N. meetings.
Yip and Denton acknowledged that the nuclear threat can be, as Yip said, "an unsexy topic." But several things are working in favor of increased concern by young people over the nuclear issue, they said.
"This generation is now much more politicized because of recent global events," Denton said, such as increased concern over climate change and environmental worries in general, as well as the election of U.S. President Donald Trump.
And given an increased consciousness among younger people over environmental concerns, there is the chance for more awareness about what Yip called "the nuclear fuel cycle," a process that starts with mining of uranium, continues through its refinement, transit and use in nuclear manufacturing, and ends with waste disposal.
Uranium mining has become a big issue in Australia, in part because of mining's environmental effects, the way it displaces people, particularly indigenous peoples, and leads to environmental damage, Yip said. There is talk in Australia of an international nuclear waste dump, and that is making clear to Australians the threat the nuclear industry poses for the country, he said.
"That's what it brought it home for me — the health perspective, the humanitarian perspective," said Yip, who has been involved in anti-nuclear activism for a decade both through ICAN and International Physicians for the Prevention of Nuclear War.
Tytti Erasto, 37, a Finnish researcher with the Washington-based Ploughshares Fund, said the wider concern about the humanitarian effects of nuclear weapons is in part responsible for young people's increased interest in the issue.
Pressuring nuclear-armed states on the U.N. treaty is the next step, she said, arguing that a robust grassroots movement with young people participating can have an impact. "It changes the discourse," Erasto said of the U.N. agreement. "This is shifting what is acceptable. With time, it can have an effect on the policies" of the nuclear powers.
Yip plays down any generational differences within the anti-nuclear movement. He acknowledges that ICAN and other newer groups are more attuned to social media outreach than older activist groups may be. But he finds the movement in general "cross-generational. It's not an old issue or a young issue."
And, in fact, Yip praises longtime activists for their dedication and persistence. "We should not lose the knowledge and experience of the older generation," he said. Maxwell agreed, noting that that the personal stories of Hiroshima and Nagasaki bomb survivors like Thurlow — the hibakusha — remain important in the work of anti-nuclear activists.
The road ahead will not be easy. Australia, for example, was one of the countries, like the United States, that boycotted the U.N. meetings. Now the work focuses on public opinion to pressure parliaments and other elected bodies to support the treaty. "I think we can still make a difference," Yip said.
Jonathan Frerichs, a longtime American anti-nuclear activist who is the Geneva-based U.N. representative for disarmament of Pax Christi International, told NCR that a key player in making a difference will be the world's faith communities. The new ban "is a step towards a goal shared among faith communities and societies in general -- to cherish and protect all life, including the small corner of creation where we live," he noted. "This is such a basic goal, it is difficult to imagine why it has taken so long to achieve."
He added: "Christians and churches were among those who recognized the gross immorality of the atomic bomb after it was invented in secret and used without public debate during World War II. Both the World Council of Churches and the United Nations condemned atomic weapons categorically at their first worldwide assemblies shortly after the war. They and many other international organizations and associations have continued to do so ever since."
It should not be a surprise, Frerichs said, that religious groups have long taken a role in anti-nuclear activism. "The new treaty recognizes the broad sweep of faith-based advocacy over the decades. It stresses the role of public conscience, naming 'religious leaders' among those who are bringing this new law to life."
Fallon says one particular gift the faith community brings to the table is reminding others of "the moral evil" of nuclear weapons — and that includes the evil when threats are made to use them.
"The morality of the people who make these decisions about using them, well, it's at a low point now," she said.
Fallon applauds fellow activists who have been prophetic about the issue, but also believes this is no time to rest on laurels. Nuclear-armed states like the United States that have vowed "never" to sign the treaty will continue to keep their nuclear weapons even after the 50 countries needed to ratify the treaty beginning in September do so, she said.
"My hope is that the people who have worked on this will just keep working even harder," Fallon said. And some are. Platte and fellow Dominican Sr. Carol Gilbert left the United Nations meetings bound for Germany, where they and nine other American activists are set to participate in a week of protests July 12-18 at Büchel Air Base, seeking the withdrawal of 20 nuclear bombs deployed at the U.S. facility.
The 11-member delegation includes a cross-section of younger and older activists, and between them, the activists have spent 36 years in prison for their protests and activism; Platte and Gilbert have spent seven and a half years each in prison.
In short, anti-nuclear activism continues, emboldened now by a key victory at the United Nations.
That prompted a personal observation by Perlman, who is Jewish. In her many years of activism, she said from the gallery of U.N. Conference Room 1, "it's the Jews and the Catholics that have kept activism going."
Why? "I think that in both traditions, there is a certain quality of reverence."
[Chris Herlinger is international correspondent for Global Sisters Report. His email address is cherlinger@ncronline.org.]