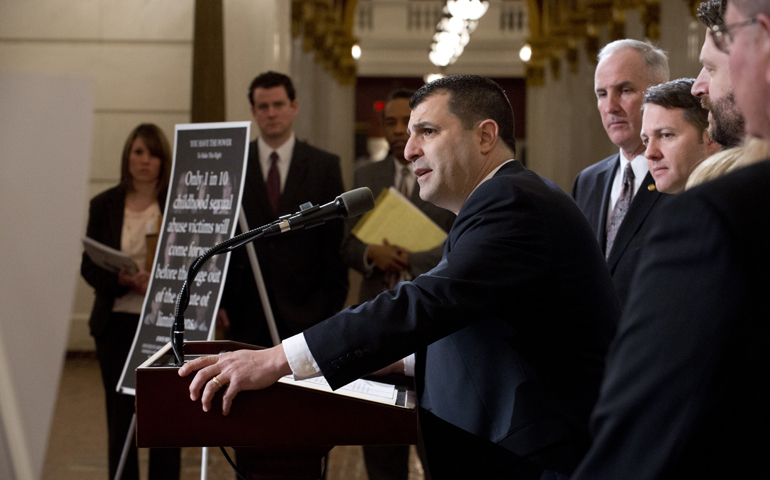 At a press conference at the Pennsylvania Capitol in Harrisburg on March 2, 2015, State Rep. Mark Rozzi speaks about legislative reforms to the state's statute of limitations in child sexual abuse cases. (Courtesy of Pennsylvania House of Representatives, Democratic Caucus)
When it comes to H.B. 1947, it's personal for State Rep. Mark Rozzi of Pennsylvania, a Democrat who represents the Reading area.
His bill, which would extend the statute of limitations on sex abuse lawsuits, is adamantly opposed by the commonwealth's Catholic bishops, who see it as a threat which will ultimately bankrupt them.
By contrast, Rozzi says the in-the-pew Catholics are with him.
"The outrage my office hears is unbelievable, especially from the most devout," he told NCR in a June 8 phone conversation, just days before a pivotal legislative hearing on his bill.
He has been backed by some Catholic groups, including Catholic Whistleblowers, an organization which says it is dedicated to ensuring that the church clean house about sex abuse.
"These are crimes. The power of the Catholic church is being used in such a way that justice will be denied," said Catholic Whistleblower and Notre Dame de Namur Sr. Maureen Turlish, a native Philadelphian and currently a teacher in New Castle, Del., who testified in favor of the legislation passed in Delaware to extend the statute of limitations in 2007. In response to that legislation the Wilmington diocese entered voluntary bankruptcy to restructure its debts in response to sex abuse lawsuits.
Pennsylvania has been hit unusually hard by sex abuse news, from Jerry Sandusky at Penn State to Philadelphia native Bill Cosby, as well as the horrific stories released by grand juries about abusive priests in the Philadelphia archdiocese and the Altoona-Johnstown diocese, crimes committed mostly beyond the statute of limitations and unable to be prosecuted.
Rozzi says devoted Catholics are disgusted by what they see as inaction by the church and a long history of coverups and shuffling abusive priests around. Rozzi relates as a child sex abuse survivor himself, raped by a parish priest, who also abused the friends he grew up with in Berks County. When the second of those friends committed suicide in 2009, Rozzi, who once ran a window and door business begun by his father, moved into activism.
After unsuccessful efforts to lobby his state representative, Rozzi saw an opportunity when a seat opened up due to a resignation. In 2012 he won election on a platform that he would go to Harrisburg and push through legislation to offer those victimized by sex abuse their day in court. Similar bills had been stalled for 15 years.
Knocking on doors during his election campaign, he remembered in particular a woman in her 70s who encouraged his quest, noting that she too had been abused by a priest when she was a child.
The state's bishops argue that Rozzi's legislation is unconstitutional, changing the penalties for previous crimes, and singles out Catholic parishes and schools while leaving public entities unscathed. They say it would bankrupt dioceses, such as the one in nearby Wilmington. Rozzi and other supporters of the bill argue that no diocese has been forced into bankruptcy by similar legislation in other states, that those who did so responded voluntarily, as a way to protect assets and structure their debts.
Rozzi's bill would eliminate the criminal statute of limitations on sex abuse and would allow childhood victims of sex abuse to sue until they reach the age of 50, from its current 30. That is too long a time, say the Pennsylvania bishops.
They are led by Archbishop Charles Chaput of Philadelphia, who came to the city in 2011 after successfully beating back similar legislation in Colorado when he was Archbishop of Denver.
"The problem with H.B. 1947 is its prejudicial content. It covers both public and religious institutions but in drastically different and unjust ways. The bill fails to support all survivors of abuse equally, and it's a clear attack on the Church, her parishes and her people," the archbishop said in a letter read to churchgoers in the archdiocese June 5.
He warned that the bill would result in parish and school closures as the church fought lawsuits that had their roots in alleged crimes committed decades ago. The bill, he said, would unfairly spare public institutions.
Catholic state legislators who supported Rizzo's bill -- it passed the House by a 180-15 margin -- were called out in some cases by their pastors from their pulpits in the archdiocese, an indication of political hardball being exerted by the church.
For example, according to an Associated Press report, Rep. Nick Miccarelli, a Delaware County Republican, was shocked to learn that his vote in favor of the bill was reported in his parish's weekly bulletin.
An announcement under a shouting headline "JUST SO YOU ARE AWARE" read: "State Representative Miccarelli voted in favor of House Bill 1947, which states that private institutions can be sued as far as 40 years ago for millions of dollars, while public institutions may not be sued for any crimes."
Rozzi will have none of the bishops' responses, his voice over the phone crackling with indignation.
"Quit pointing fingers," he said about the Pennsylvania bishops' argument that public schools are not covered in the bill. "Make the church whole again."
The bishops argue that it is almost impossible to try cases where the alleged perpetrators are deceased. Rozzi said the argument is irrelevant.
"My priest (who abused me) is dead. But I want to hear my voice in a court of law," he said.
He has received an apology from his Allentown home diocese, forthcoming, he said, only after it was clear he was going to be elected.
"I live my faith. If Jesus were on the planet he would be shoulder-to-shoulder with me," he said.
Whatever Jesus would do, the fate of H.B. 1947 rests with the Pennsylvania state Senate. The House has passed Rozzi's bill, and it has an okay from Gov. Tom Wolf, a Democrat. A June 13 hearing will explore the bill's constitutional concerns, and, if it passes that hurdle, proponents want it to go to the full Senate before the legislature adjourns for the summer.
[Peter Feuerherd is a correspondent for NCR's Field Hospital series on parish life and an adjunct professor of journalism at St. John's University, New York.]