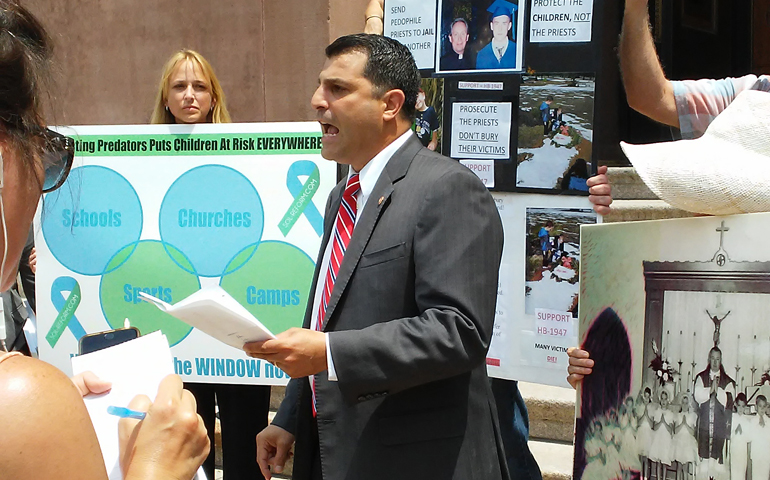 State Rep. Mark Rozzi of Pennsylvania, speaking July 18, surrounded by sex-abuse survivors and victims-rights advocates, outside the Cathedral Basilica of Sts. Peter and Paul in Philadelphia (NCR/Elizabeth Eisenstadt Evans)
Philadelphia — July 19, 2016
Berks County lawmaker Mark Rozzi, flanked by sex abuse survivors and victim-rights advocates on the pavement outside the Cathedral Basilica of Sts. Peter and Paul here on Monday, July 18, was steaming mad.
Rozzi had attempted to shepherd a bill through the legislature that would revamp the state's sex abuse laws, allowing victims to pursue legal claims for decades-old abuses against private institutions. Though it passed the Pennsylvania State House, the statute of limitations retroactivity was strongly opposed by church officials including the Pennsylvania Catholic Conference, and was eliminated from the bill that eventually passed the Senate.
Earlier this month, Brian Gergely, a victim of one of the Altoona-Johnstown diocese's most infamous clergy predators, the late Msgr. Francis McCaa, took his own life.
Rozzi, who is also a sex abuse survivor, tossed the grand jury reports from Philadelphia and the Altoona-Johnstown diocese on the steps of the Cathedral, laying the blame for the provision's failure directly at the feet of Philadelphia Archbishop Charles Chaput.
Chaput had been one of the lead voices in the ecclesiastical effort to head off passage of the retroactivity provision in Pennsylvania. Rozzi estimated that church officials probably had 30 or more lobbyists working on the issue. "You couldn't walk around the Capitol without running into them," he said.
"As the leader of the Catholic church in the state of Pennsylvania, he is the exact opposite of my image of Jesus," Rozzi said in an interview afterwards. "I know that if Jesus was in this planet tonight he would be standing with my crowd, knocking tables over and doing all he could to help victims of child sexual abuse.
"Chaput has turned his back on victims, you can't turn you back on criminal acts and pretend they didn't happen. It's just unacceptable."
Sex abuse survivor John-Michael Delaney, who spoke at Monday's event, said that Chaput canceled a scheduled meeting with him after the event became public.
"It's important to note that the Archbishop has not reversed course on any commitments," archdiocesan spokesman Ken Gavin said in a statement. "If a victim has been promised a meeting, it will take place in due time and provided all parameters are respected."
"To comment specifically regarding any individual case would violate those victim services best practices. We will not do anything that could act as a chilling effect to other survivors who may need and earnestly want the Church's assistance. We recognize and understand that every survivor has a different path toward healing. For some, attacking the Church is their process," Gavin continued.
Chaput has had several meetings with sex abuse survivors over the years, said Gavin. But while the archbishop is committed to continuing the conversations, "neither he nor the archdiocese publicizes or politicizes meetings with abuse survivors. Reciprocity in that regard is set forth as a clear expectation to all parties before any meeting is scheduled. If anyone were to turn a meeting of this nature into a public or political event, it would not be in keeping with the spirit of a pastoral encounter."
Rosalind Merritts, who was holding an orange and black-lettered sign that said "Catholic Church Preaches Eternity, Hides Behind Statute of Limitations," said she had traveled from the Altoona-Johnstown diocese to attend the meeting. Merritts, though not a victim herself, stands vigil monthly in front of the diocesan building to "make sure they aren't forgotten."
Merrits, who describes herself as a "disenfranchised Catholic," left the church in the 1980s, when news of the sexual abuse of children began to become public. "It's hard for me to sit in a congregation, knowing what some priests were doing," she said.
Retired detective Jim Money traveled up from his home in Herndon, Va., Monday to lend Rozzi and other survivors moral and emotional support. Money, who was victimized while a student at Philadelphia's Cardinal Dougherty High School, spent more than half a century working with child abuse survivors and supervising sex offenders while working in the criminal justice system in Washington, D.C. and Virginia.
"When I read about that young man's suicide I was heartbroken," said Money. "I know a lot of other survivors who are damaged. They don't know how to reach out. I don't care about ego, but you've got to ask for help."
"They get up in the pulpit and they worry about other people's sexual habits, but they aren't looking to their own house," he added, noting that the Catholic church pays for his mental health treatment.
"In terms of child sexual abuse alleged to have been committed by Archdiocesan clergy in the past 10 years, there are 2 cases in which abuse has been substantiated," wrote Gavin, who noted that the archdiocese not only has an active program to help survivors, but provides assistance for them regardless of when the abuse happened, without time limits, or screening investigations in advance.
Rozzi denounced specific Pennsylvania lawmakers he alleged had sunk the House bill in the Senate, but he is hopeful that eventually victims of historic abuse will have their day in court.
"If there is one thing that politicians and legislators hate, it's when you point them out," he said. "They have to run for reelection."
"We are coming for you, and we're going to let voters in your district know that you supported pedophiles," he said, speaking of those politicians. "We're going to make to make sure as a legislator, that you represent the people of your district."
"So many victims are concerned that it's over. It's not over by any means."
[Elizabeth Eisenstadt Evans is a religion columnist for Lancaster Newspapers, Inc., as well as a freelance writer.]