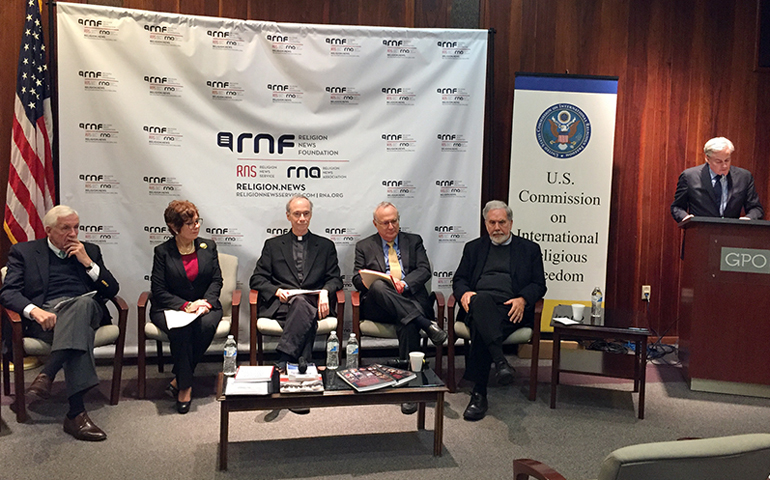 Religion News Foundation CEO Thomas Gallagher, far right, begins the panel discussion "Tolerance: A Key to Religious Freedom," Feb. 9 in Washington, D.C. (RNS/Cathy Lynn Grossman)
Washington — February 15, 2017
The United States historically has been viewed as a mostly admirable example of healthy pluralism and religious tolerance in a world torn by wars and ancient enmities among believers of different faiths.
While that view is unlikely to change anytime soon, some experts recently said questions are poking through that perception as religion plays an increasingly divisive role in the country's politics and as public discourse targets Muslims unfavorably.
A Feb. 9 panel exploring the topic "Tolerance: A Key to Religious Freedom," also offered assessments, in answer to a question, of the nearly five-year campaign by the U.S. Catholic bishops charging that religious freedom is under attack in the United States as well as abroad.
The discussion in Washington, sponsored by Religion News Foundation and its subsidiary, Religion News Service, began with a rather gloomy portrait of the state of the issue by Jesuit Fr. Tom Reese, chair of the U.S. Commission on International Religious Freedom, who moderated the program, who said "grave humanitarian consequences occur" when groups and countries violate religious freedom.
"We have seen what happens when ISIL persecutes Yazidis, Christians and dissenting Muslims, when extremists in Burma attack Rohingya Muslims and Christians with impunity, and when Pakistan's blasphemy laws incite extremists to attack perceived transgressors," said Reese, who is also a senior analyst for NCR.
"We see death and dying, we even see genocide, and among the living, we see the desperate plight of millions displaced and seeking safe haven far from their homes."
He said the failure of governments to protect religious freedom falls into at least two categories: states that are openly hostile toward religion, either a specific group or all religions, and states that fail to protect people from assault due to their religious beliefs.
Billions of believers, of all faiths and no faith, live in such circumstances, he said.
While that overview draped the entire discussion, two of the speakers brought the matter much closer to ground, placing education at the heart of the solution. Joyce Dubensky, an attorney and CEO of the Tanenbaum Center for Interreligious Understanding, said her organization works with teachers showing them "how to take a math lesson or a science lesson and simultaneously infuse those lessons with respectful curiosity. So kids ultimately come out not only knowing how to do math, but with the true belief that being different is normal, and interesting, and that that includes different ways of believing."
Teachers are able to put respect into practice in the classroom setting, teaching "listening skills and actual ways to debunk stereotypes and manage disinformation." Students, she said, "can learn to be curious about someone else's belief and to ask respectful questions."
John Sexton, president emeritus of New York University, recalled his Jesuit education from high school through Fordham University at a time when such legendary figures as Fr. Pierre Teilhard de Chardin "was on campus" and Fr. John Courtney Murray "walked the halls," adding he wished to move "to the embrace that those wonderful years of the Vatican Council would call ecumenism" in the broadest sense.
But that education also schooled him in "the kind of triumphal dogmatism" that said "our dogmas are right and others are wrong." It was a rigid type of thinking, that he didn't recognize because he had grown out of it, that has "infected our political discourse." Consequently, he said, "religious dogmatism and political dogmatism are in a feedback loop with each other."
Sexton, who as president of The Catalyst Foundation for Universal Education, teaches classes in government and religion in New York, Abu Dhabi and Shanghai, said he preferred taking the long view, as is often the case with religion. "The core problem here is not anything other than a mindset of certitude and triumphalism that can manifest itself secularly as well as religiously."
The answer for Sexton is education.
"We have to know that there are 85 million children in the world today of primary and secondary school age who will go through life without having one day of school if we don't change things." Another 360 million young people will never go beyond the fourth grade, he said, adding, "You put those two numbers together and you have a half a billion kids who don't have a bit of hope in their lives." If that many youngsters can't get beyond fourth grade, "how do we expect them to accept the world in which they live without anger, and how do we expect them to understand difference and be tolerant, or respectful, or embrace the ecumenical?"
While the threats to religious freedom around the globe are both glaring and well-established, the panel was asked to assess the claim of the U.S. Catholic Bishops, embodied in their annual "Fortnight for Freedom," that religious liberty in the United States was under serious threat. Does it make working in the field elsewhere more difficult?
Several panelists responded by saying that in recent months, wherever they traveled, but especially to Muslim countries, the question is: "What's going on in the United States?"
"Over the last year, every single country that I went to, without exception, where I would talk about how essential religious tolerance, religious respect, religious pluralism, religious freedom were, it was, 'What about your country and what's being said about Muslims?' " said Rabbi David Saperstein, former director for 40 years of the Religious Action Center of Reform Judaism, and former U.S. ambassador-at-large for international religious freedom.
"Every single country … it was, 'We thought you were different.' "
Sexton said, "My general comment today is that it is very easy to go for the shining object," referring to the U.S. bishops. There are times when it is important to go for the shining object, he said, "because there are people who are suffering who have to be pulled out of that suffering as much as possible. But in the long run our strategy has to be a wise one that tries to remove as many of the shining objects as possible that demand that immediate and acute attention."
"As a Catholic who knows this area," Sexton said he thinks that the bishops, in taking up the case of the Little Sisters of the Poor, "go for the shining object that undermines the cause." In that case, the order of nuns opposed even notifying the government that they could not comply with the contraceptive mandate of the Affordable Care Act for employees in their facilities. It is one of the circumstances cited as demonstrating a threat to religious liberty in this country.
"There are some arguments best not made. Sometimes refraining from an argument is the best way to advance the cause," he said.
Such conflicts over competing rights are serious, said Saperstein, "I take seriously with a great deal of respect," competing claims in the United States between people who do not want to be forced to into complying with behavior they find objectionable because of religious beliefs and those "who say protection of my civil rights claims as a compelling interest should trump the claim of religious people to discriminate against me."
Society needs to "do our best to find common ground," he said. "But make no mistake: as painful and real as these issues are in the hearts and souls of people making these competing claims, we are talking about people [in other parts of the world] being brutalized, we're talking about people who are being imprisoned, we're talking about people being tortured. We're talking about people being ethnically cleansed and victims of genocide.
"I pray for the day," Saperstein continued, "when across the globe the worst problem that we have is how do we balance out competing civil rights claims. I will take them seriously then. But what a day for a hallelujah that will be in terms of the entire vision of our international religious freedom efforts."
The panel was introduced by Thomas Gallagher, CEO of the Religion News Foundation.
[Tom Roberts is NCR editor-at-large. His email address is troberts@ncronline.org.]