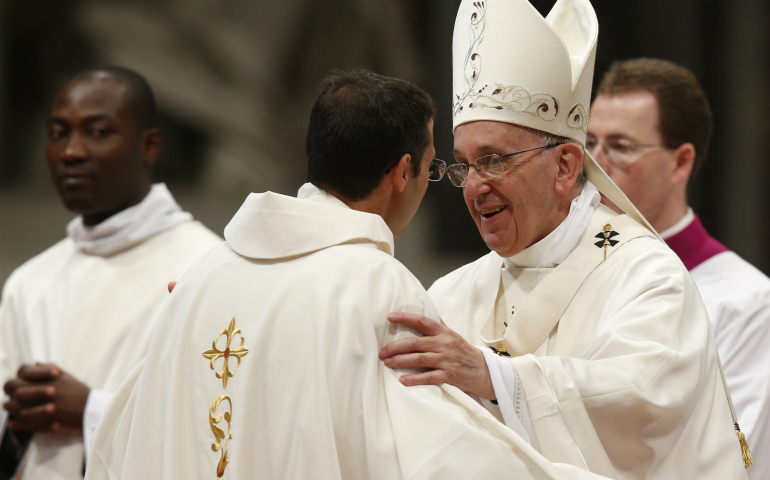 Pope Francis greets a new priest during an ordination Mass in St. Peter's Basilica at the Vatican in April 2015. (CNS photo/Paul Haring)
The church needs to discuss the ordination of proven married men (viri probati) as the lack of vocations has become an "enormous" problem, Pope Francis told the German weekly Die Zeit in his first extensive interview with a German newspaper, published March 8.
"The problem is the lack of vocations, a problem the church must solve," Francis said. "We must think about whether viri probati are one possibility, but that also means discussing what tasks they could take on in remote communities. In many communities at the moment, committed women are preserving Sunday as a day of worship by holding services of the Word. But a church without the Eucharist has no strength."
The interview, conducted in Italian by the editor of Die Zeit, Giovanni di Lorenzo, was only published in German.
Di Lorenzo asked Francis about a recent interview that Italian Cardinal Gianfranco Ravasi, president of the Pontifical Council for Culture, had with German Catholic news agency KNA, in which the cardinal said he thought the diaconate for women was possible. Di Lorenzo asked whether Ravasi had coordinated with Francis about this statement beforehand.
"With all due respect," information is often "filtered" by journalists, Francis said, adding that he would like to go into what had happened in detail.
One of the questions Francis had been asked at his meeting with the International Union of Superiors General in May 2016 was why a commission was not set up to study the diaconate for women in the early church in order to find out whether women deacons were ordained or not and what sort of work they did, Francis said.
"My answer was, 'Yes, why not? That would be a good opportunity to research the subject.' There was, however, one condition, the superiors said, namely that I would speak to [Congregation for the Doctrine of the Faith prefect] Cardinal [Gerhard] Müller," Francis said. "I rang up the superior concerned and Cardinal Müller and told them to send me a list of roughly 10 women and men they thought should be on this study commission. I then chose those people from the two lists who I thought were the most open and the most competent for the new commission. It was a matter of studying the topic and not of opening a door."
Asked what conclusions the women's diaconate commission had arrived at, Francis said a Syrian professor had told him that it was not a matter of whether there were women deacons in the early church but what it was that they actually did. Women deacons had helped at baptisms, at the anointment of women who were sick, and "if a woman complained to her bishop that she had been beaten by her husband, the bishop had sent a woman deacon to examine the woman's bruises," the professor had told him, Francis said. The commission is meeting again for the third time in March, and Francis said he planned to find out himself how matters stood.
Asked whether the recent posters in the Vatican accusing him of being unmerciful and not listening to his cardinals had upset him, Francis said he thought they were "simply great." They had obviously been written by someone very intelligent, he said, adding that it was essential to always keep one's sense of humor.
Di Lorenzo asked Francis if there was a limit to the criticism and was it time for the pope to say, "Basta! Enough is enough!" Francis answered that he has said "basta" on so many occasions, and those calls had been accepted. Di Lorenzo asked, "Even by [U.S. Cardinal Raymond] Burke?"
"I do not consider Burke an adversary," Francis said, explaining that the problem with the conflict in the Order of Malta had been that Burke "could not cope as he did not act alone. I did not take away the title of patron from him. He is still patron, but it is a matter of clearing up matters a little within the order and that was why I sent a delegate there who has a different charism to Burke."
[Christa Pongratz-Lippitt is the Austrian correspondent for the London-based weekly Catholic magazine The Tablet.]
A version of this story appeared in the March 24-April 6, 2017 print issue under the headline: Pope Francis discusses married priests, women deacons.