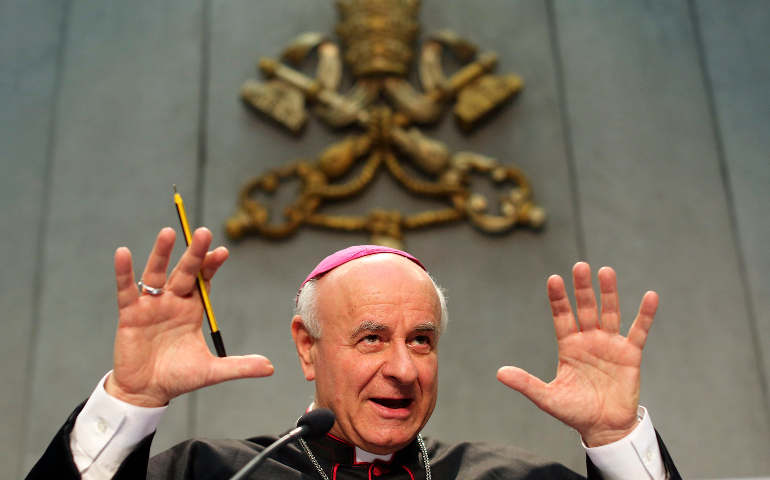 Archbishop Vincenzo Paglia (CNS/Rueters)
Vatican City — August 18, 2016
Appointing Archbishop Vincenzo Paglia as the new chancellor for the Pontifical John Paul II Institute for Studies on Marriage and Family and new president of the Pontifical Academy for Life, Pope Francis said he wanted to make sure the two bodies help the church offer better care to people who are hurting.
In a letter to Archbishop Paglia, published in the Vatican newspaper Aug. 17, Pope Francis said he believed the Pontifical John Paul II Institute and the Academy for Life should undergo "a renewal and further development" so their research and activity would focus "ever more clearly on the horizon of mercy."
"From the Second Vatican Council to today, the magisterium of the church on these themes has developed in a broad and profound way," the pope said. He added that the 2014 and 2015 synods of bishops on the family and his exhortation on the family, "Amoris Laetitia," have "further extended and deepened its content."
Appointing Archbishop Paglia to guide the two bodies, the pope said he wanted the institutions to renew their commitment to spreading church teaching on family, marriage and life issues "in relation to the challenges of contemporary culture. The sphere of reflection should be the frontiers," he said. "Even in theological study, a pastoral perspective and attention to the wounds of humanity should never be lacking."
Pope Francis asked the Academy for Life to pay particular attention to "new challenges concerning the value of life," including challenges to the human dignity of people at every stage of life, mutual respect between men and women and between people of different generations. He said it should promote "an authentic 'human ecology' that helps rediscover the original balance between the human person and the entire universe."
"To bow down before the wounds of the human person, to understand, cure and heal them is the task of a church that trusts in the light and strength of the risen Christ," Pope Francis wrote. Such a church is "able to deal with tension and conflict as a 'field hospital' that lives, proclaims and realizes its mission of salvation and healing precisely where the life of individuals is most threatened by the new cultures of competition and rejection."
St. John Paul II established the institute for studies on marriage and family in 1981. Based at the Pontifical Lateran University but with branches or affiliates in the United States, Benin, Brazil, India, Mexico, Spain and Australia, it offers graduate degrees in theology with specializations in family life and marriage.
St. John Paul also established the Academy for Life. Founded in 1994 and made up of scholars, physicians, theologians and philosophers, the academy serves as a think tank for the Vatican on issues related to the dignity and sanctity of human life.