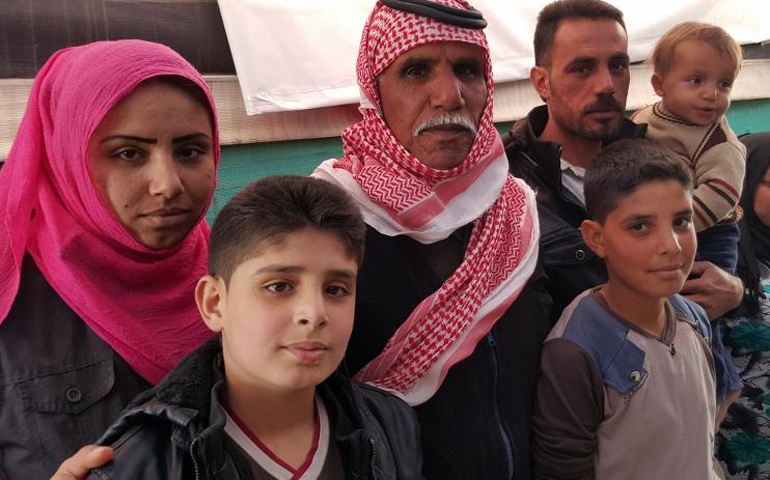 The family of Abdel Karim, third from left, who fled the city of Aleppo, Syria, in 2012 and are living, as many Syrian refugees do, in tents. In their case, they are staying not far from the city of Zahle, Lebanon. (GSR/Chris Herlinger)
After two weeks of reporting about Syrian and Iraqi refugees in Lebanon and Jordan and the challenges that Catholic sister communities and others in humanitarian networks face, I learned that news about Russia's plans to start withdrawing forces from Syria is being warmly, if cautiously, welcomed by the Syrian refugees I have been meeting.
"Inshallah" — God willing — said Sitah Jadah Alkader at a Caritas medical clinic in downtown Amman, Jordan, early Tuesday morning. "I am happy to hear this news," she said. "We just want to live in peace," she said, reflecting on the war that caused her and her family to leave her country and settle in the Jordanian capital three years ago.
Like Alkader, Barihan Mousa wants to return to Syria eventually — though only when a sense of security prevails. "I definitely want to go back to Syria if it is safe," she said.
Mousa greeted the news with a smile, and said she was heartened by the announcement, but also expressed caution, hoping against dashed hopes. She came to Jordan four years ago from Damascus. "I pray every night to go back to Syria," she said. "I am homesick." Mousa called herself apolitical. "I am afraid of bombing — but it doesn't matter who does the bombing. I don't care about politics."
The announcement came as the conflict enters its fifth year and on the eve of a collective prayer for peace today, March 15, by U.S. Christian churches. The #PrayForRefugees campaign will raise awareness in American churches by an ecumenical coalition by more than a dozen Christian groups, including Catholics in Alliance for the Common Good, World Relief, World Vision, Lutheran World Relief, Catholic Relief Services, and the Southern Baptist Convention's International Mission Board.