A version of this story appeared in the Aug 28-Sept 10, 2015 print issue.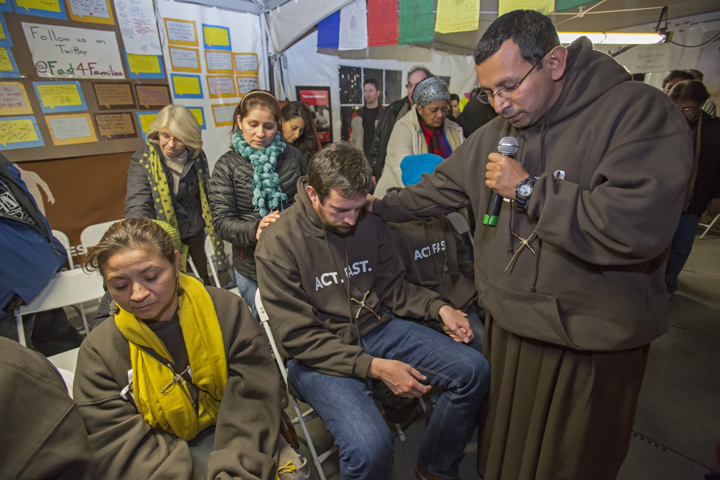 Franciscan Brother Juan Turios of Action Network prays Nov. 30 with immigration reform advocates taking part in "Fast for Families" in a tent on the National Mall near the U.S. Capitol in Washington. (CNS/Jim West)
St. Joseph, the earthly father of Jesus, never said a word in the Gospels. That's why Holy Cross Br. Jonathan Beebe said Joseph makes a fitting patron of his congregation's brothers — not for the silence, but for his lack of visibility.
According to the Center for Applied Research in the Apostolate, in 2014 the United States had about 4,300 active religious brothers, while religious priests numbered close to 12,000, diocesan priests about 26,000, and religious sisters nearly 50,000. For brothers, that's roughly a 65 percent decrease since 1965. Worldwide, brothers number close to a mere 55,000 today.
But it wasn't always on the decline: Beebe noted that the brotherhood experienced a boom in the 1950s and '60s, which he attributed to an influx of devout Catholic immigrants and a Catholic culture that encouraged religious life.
He added, however, that those years were a "historical anomaly" and not an ideal frame of reference. The number of brothers went down following the Second Vatican Council, which recognized the giftedness of all people in the church and put the religious and the laity on a "horizontal" level, he said.
That the brotherhood has had difficulty promoting the vocation is nothing new, yet a problem Pope Francis plans to address before the end of the Year of Consecrated Life in 2016. Though excited for the official document, brothers who spoke to NCR could only speculate that the address will challenge the brotherhood to be more visible, and be joyous in ministry.
"This would be the first time the church has ever issued a document specifically on the vocation of religious brothers," said Holy Cross Br. Paul Bednarczyk, executive director of the National Religious Vocation Conference. "I eagerly await this document on educating the church about this best-kept secret, which is the life of the religious brother."
Even most practicing Catholics have no idea what a brother is, said Glenmary Br. Jack Henn, as they confuse it as a "step toward the priesthood."