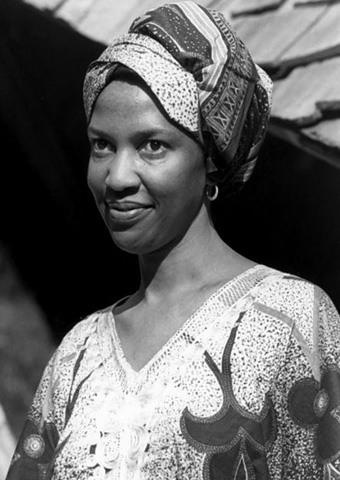 Sr. Thea Bowman in 1985 (CNS/Mississippi Catholic/Beatrice Njemanze)
Somewhere in the decision made by the teenage Thea Bowman lay a paradox worthy of a biblical epic. A Protestant child of the Deep South and childhood convert to Catholicism, she chose one of the whitest places possible to work out who she was as both a vowed religious and a black woman.
The significance of her decision and the consequence of the meeting of those seemingly incongruent worlds was on display in late March when some 85 followers and devotees from spots as distant as Seattle and Camden, N.J., gathered in LaCrosse, Wis., for an observance of the 25th anniversary of Bowman's "homegoing." The two-day event included a panel discussion in St. Rose Convent of the Franciscan Sisters of Perpetual Adoration, located near the campus of Viterbo University, which the order founded. Bowman taught at the university from 1972 through 1978. The following day, a live-streamed Mass was celebrated in the order's distinctive Mary of the Angels Chapel.
When the 15-year-old Bertha Bowman (her birth name was Bertha Elizabeth, and her nickname was Birdie) was about to leave Canton, Miss., for her new life in La Crosse, her father, Theon Edward Bowman, understood far more than his daughter the challenges she might face. Bowman, a physician, was but a few generations removed from the harshest reality of black life in America. Relatives on his father's side had been slaves.
Theon and his wife, Mary, a teacher, had already gone toe-to-toe with their very determined daughter. The couple, who had seen their only child convert from the Methodist church to the Roman Catholic church at age 9, were adamant. They forbade her to go off to become a nun. The teen wouldn't back down, and began a hunger strike. Birdie finally "finagled her parents' permission to go to LaCrosse," as recounted in Thea's Song: the Life of Thea Bowman, a biography by Sr. Charlene Smith and journalist John Feister. Smith, also a member of the Franciscan Sisters of Perpetual Adoration, was a contemporary of Bowman's and an organizer of the March 29-30 event.
Bowman's father made a last-ditch attempt to discourage the youngster. "They're not going to like you up there, the only black in the middle of all the whites," he said. To which she responded, "I'm going to make them like me." Her parents eventually followed her into the Catholic church.