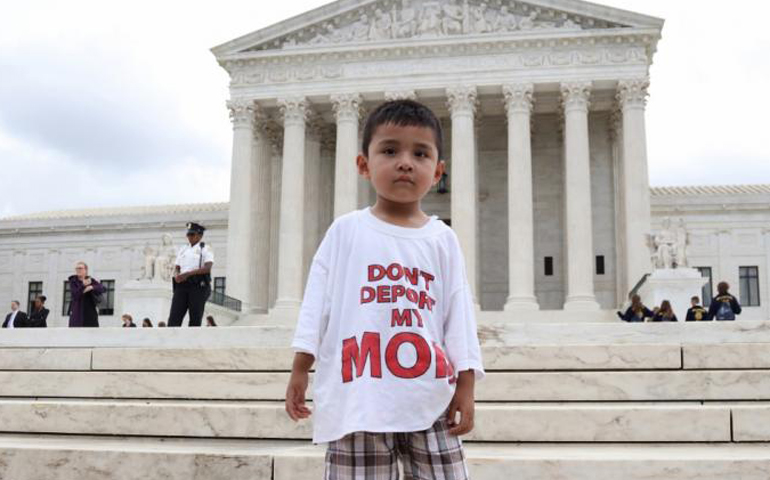 A boy wearing a T-shirt reading "Don't Deport My Mom" stands outside the U.S. Supreme Court in Washington June 23 after the justices issued a 4-4 ruling on President Barack Obama's executive actions on immigration. (CNS/Andrew Gombert, EPA)
Advocates for immigration reform are dismayed but not surprised that a deadlocked U.S. Supreme Court June 23 let stand a lower court ruling blocking a plan to spare some immigrants from deportation.
Justices came to a 4-4 tie in the case of United States v. Texas, a challenge brought by 26 states to the Obama administration's Deferred Action for Parents of Americans and Lawful Permanent Residents, or DAPA, program and an expansion of 2012's Deferred Action for Childhood Arrivals, or DACA, which offered temporary protection to more than 1 million young people who entered the country illegally as children. Because of the tie, a lower court's injunction, which says the policy cannot be put into effect while the case continues to wind through the federal courts, remains in place.
DAPA, which a court injunction blocked before it could go into effect, would allow undocumented immigrants who are parents of U.S. citizens and meet certain conditions to apply for work permits. DAPA would have shielded 3 million more people from deportation.
"I'm very disappointed, but not surprised," said Mercy Sr. Kathleen Erickson, who works with immigrants in Omaha, Nebraska. "I've seen the effects of breaking up families when someone is deported and others are left behind. I'm devastated."