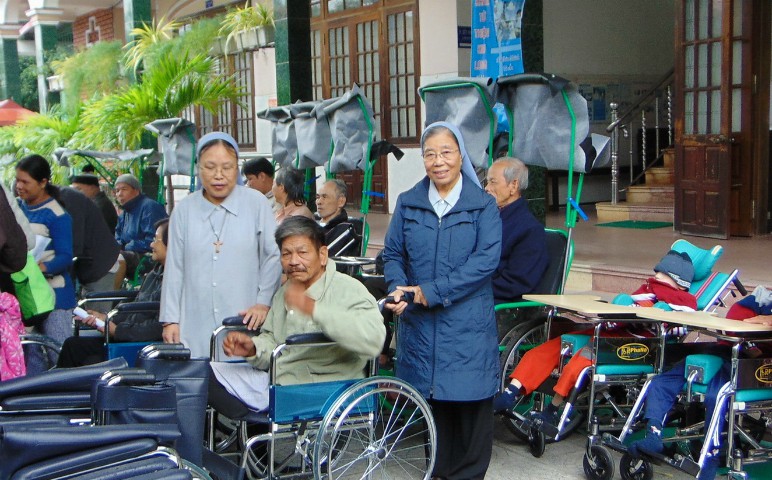 On June 25, Daughters of Mary Immaculate Sisters Cecilia Do Thi Lan, right, and Mary Vu Thi Ngoc offer wheelchairs to people who have lost the use of their limbs at Kim Long Charity Clinic in Hue. (GSR photo / Peter Nguyen)
Hue, Vietnam — November 12, 2018
Nguyen Thi Rot, a 16-year-old woman paralyzed from birth, tries to smile sweetly at those who stop by her wheelchair on a Hue City sidewalk to buy lottery tickets.
Until four months ago, she was confined to her bed, unable to move or get outside without assistance. Now she helps support herself and her mother.
"I am very happy to travel with my mother to make a living around the city," Rot says in a weak, slurred speech. She sells her tickets from a wheelchair her mother pushed to the edge of a street in Hue City, the capital of Thua Thien-Hue province in central Vietnam. "I feel healthy and sanguine about life thanks to meeting many kinds of people and enjoying fine views that I never had before."
She says she can make ends meet if she can sell 70 lottery tickets per day. Some people also sympathize with her and give her gifts.
Her mother, Le Thi Re, 54, says that in the past she spent all her time looking after Rot, who was confined to her bed all day long. Re only rarely could manage to carry her daughter on her back to go outside.
Re says they are grateful to the Catholic nuns who offered her daughter a wheelchair, calling it "a priceless gift which helps change her life."
Re says the wheelchair cost 10 million dong ($430), which she could not afford to buy for her only child.
Both Buddhist women live on a monthly government allowance of 600,000 dong ($26).
Rot was one of 30 people without use of their limbs who were given wheelchairs last June. The chairs were presented to them at Kim Long Charity Clinic run by the Daughters of Mary Immaculate sisters since 1992.
Local Redemptorist priests and the nuns obtained the donations from the Free Wheelchair Mission based in the U.S.