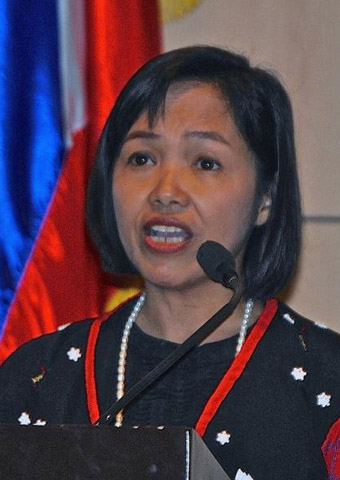 Theologian Agnes Brazal presents at the Sept. 13 Symposium on the Filipino Family at Ateneo de Manila University. (N.J. Viehland)
Quezon City, Philippines — October 20, 2014
Female theologians in Asia have been sustaining the process of reflection and dialogue on feminist issues and concerns through conferences, symposia, artistic exhibits and publications.
Out of this movement came an association of theologians called Ecclesia of Women in Asia, which formed 12 years ago. Theologian Agnes Brazal, director of the Office for Research and Publications and coordinator of the graduate program at St. Vincent School of Theology in Quezon City, was a member of the association from its start and has served as joint treasurer since 2005.
The association is calling for papers and presentations for its seventh biennial conference in Manila in January 2016. The conference will be the association's first under Pope Francis, who has issued a call to make room for a more incisive role for women in the church.
Brazal described the founding of Ecclesia of Women and the importance of feminist voices.
Why was the Ecclesia of Women in Asia established?
From the beginning, its aim is to make Catholic Asian women theologians' voices heard as equal partners in the church. It was formed in 2002, about a year after the post-synodal conference in India, when only four women theologians were involved in reflecting on the document Ecclesia in Asia. There were already many women theologians at that time, but they were not visible. From the start, EWA has gathered people doing academic, pastoral and grassroots theology and hoped that the relationship would be synergistic.