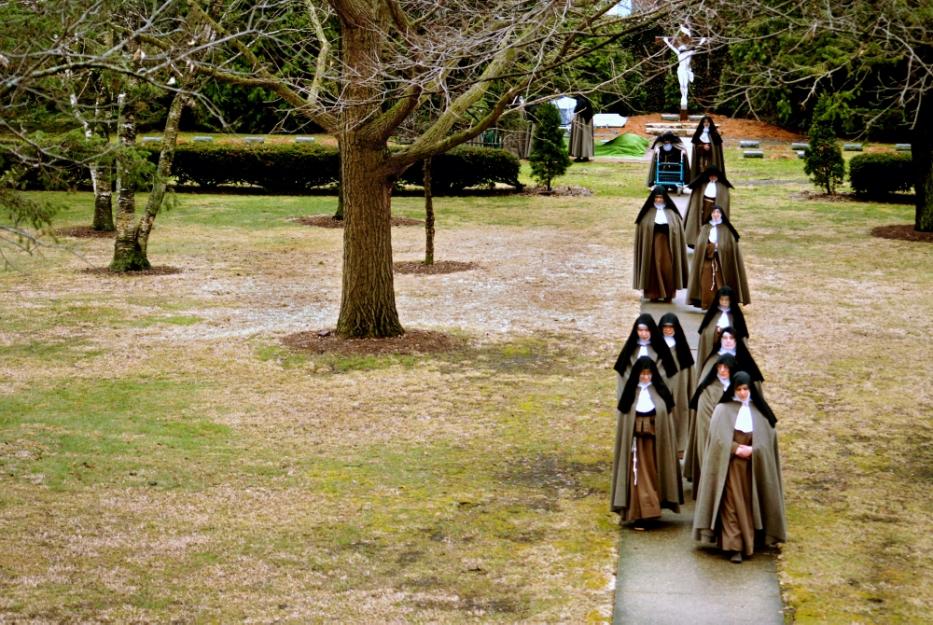 Poor Clare Colettine nuns walk back to the monastery after a funeral service, in 2010, for a cloistered nun who served in WWII before she joined an active order of nuns, and then transferred to the cloistered order at the Corpus Christi Monastery in Rockford, Ill. (© Abbie Reese)
ROCKFORD, Ill. — October 7, 2015
When independent filmmaker and artist Abbie Reese inaugurated her collaboration with the Clare Colettine nuns at the Corpus Christi Monastery in Rockford, Illinois, she had a professional goal: nurturing a collaborative relationship that would serve as a backdrop to a young woman's transition from secular life into an alternative community.
Ten years down the road, Reese admits that the time she has spent with the nuns, who practice a form of strict enclosure relatively rare in contemporary culture, has had an effect on her that goes well beyond scholarly objectivity and curiosity.
A relationship that began a decade ago as a planned magazine article has, over time, evolved into a project she described as both broader and more profound. Reese was fresh off a yearlong volunteer stint as a communications director for a huge hospital ship, another form of enclosed community, when she began her oral history collaboration with the nuns, whom she first approached in 2005.
In the introduction to her 2014 book, Dedicated to God: An Oral History of Cloistered Nuns, Reese writes that the call to leave the secular world and embrace a cloistered existence (these nuns rarely leave the monastery) was, for many, quite unexpected. "It defied their God-given temperaments. It violated dreams. It dashed plans for marriage and children. It meant their world would shrink, temporally, to a fourteen-acre campus, so that their minds could dwell on God."