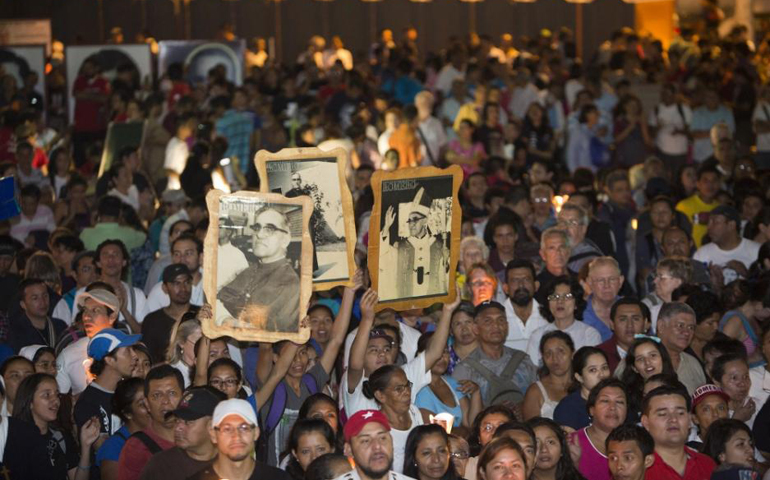 People hold images of Archbishop Oscar Romero during an outdoor Mass March 21, 2014, in San Salvador to mark the 35th anniversary of his death. (CNS/Octavio Duran)
Days before his death, Archbishop Oscar Romero told a reporter: "You can tell the people that if they succeed in killing me, that I forgive and bless those who do it. Hopefully, they will realize they are wasting their time. A bishop will die, but the church of God, which is the people, will never perish."
Romero was shot to death as he said Mass on March 24, 1980, after he exhorted Salvadoran soldiers to disobey their superiors if they were ordered to attack innocent civilians. The Salvadoran civil war (1979-1992) would eventually claim some 75,000 lives.
More than 250,000 people are expected for Romero's beatification ceremony on Saturday in the Plaza of the Savior of the World in El Salvador's capital city, San Salvador. Among them will be two Sisters of Providence now living in the United States who are honoring family members lost during their country's brutal civil war, as well as Romero.
"I want to go! I want to go!" Sr. Vilma Franco remembers shouting when she first heard about her hero's road to sainthood. "I'm very excited."
Franco moved to Spokane, Wash., in 2006 from El Salvador, where she had lost her father and six brothers in the civil war. "Monseñor Romero inspired my vocation. I had been working as a catechist in El Salvador, working for justice and being a voice for the poor."
She now works in early childhood development at St. Aloysius School in Spokane, where she speaks fondly of taking care of babies. "Children are the future," she declared with certainty and depth.
Franco's story is not much different from those of her contemporaries from El Salvador during the time of the civil war. Her firsthand experience of a suffering nation compels her persistence. Her mother is a very strong woman who loved her husband and her children. "My mother would say that if she suffered, she didn't have to grieve, she just prayed for compassion and faith to give more so that she can continue to walk forward," she said.
Her family's hope and healing are personified in her nieces, who are students at the University of Central Americana in San Salvador. "I look forward to celebrating this moment with them."