A version of this story appeared in the July 31-Aug 13, 2015 print issue under the headline: Dream come true.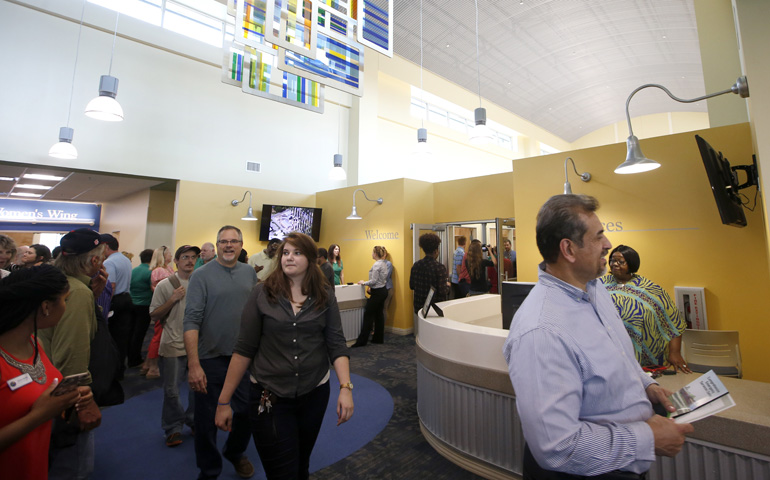 People tour the newly built Kearney Center, which opened for a public showing in Tallahassee, Fla., April 2. (Tallahassee Democrat/Joe Rondone)
Tallahassee, Fla. — July 25, 2015
Self-made millionaire and Catholic Rick Kearney has spent the last 28 years building an outreach of ministries for the homeless and needy of Tallahassee. The latest homeless shelter to open is the Kearney Center, a 36,000-square-foot homeless supercenter with the ability to house up to 390.
The April 2 dedication brought out, among others, Pensacola-Tallahassee Bishop Gregory Parkes; federal, county and city officials; clergy of other faith traditions; service providers; and the homeless.
The Kearney Center is the fruition of a dream and the hard work of hundreds of volunteers. Kearney has chosen to use his time and wealth not only to serve the poor, but, with the help of those volunteers, to change Tallahassee's views on the homeless and needy.
In the 1980s, Kearney was a successful systems engineer for IBM when he saw homeless scavenging for food in the trash and families sleeping in cars. He realized he wanted to help those who needed it most, and in 1986 Kearney left IBM.
Even though the state of Florida was reluctant to give a single man a license, he established a home for abused teenage girls. He hired house parents and did all the other work, like shopping and housecleaning, himself. Thus, Good News Outreach ministry was born.