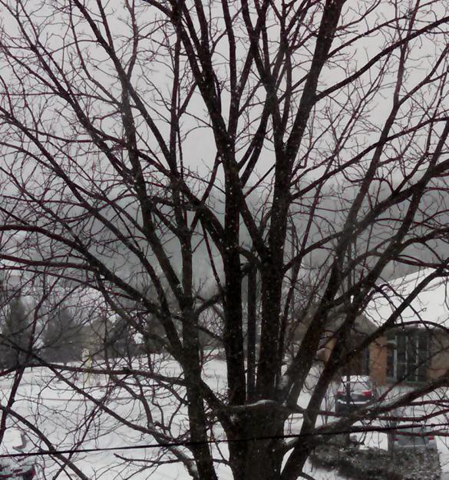 Can you see the snowflakes against the backdrop of the tree? So tiny! (Tracy Kemme)
The snow began falling steadily just before prayers Monday morning, and Tuesday, we awoke to a world completely covered in white. It was a gentle snow, albeit persistent. My housemate Maureen commented, "It looks like nothing is happening!" But before we knew it, schools were closed, appointments were canceled and the plows were hard at work.
It's quite remarkable to consider that the culprits of this topsy-turvy day are snowflakes. Each one is a tiny, delicate crystal of ice, or cluster of ice crystals, that may be just a fraction of a centimeter and melts instantly upon contact. On its own, it doesn't pack much punch. However, when this teensy snowflake gets together with millions of other teensy snowflakes, everything changes. Nothing quite wakes up the world like a snowstorm! The power of snowflakes is in their togetherness.
And so it is in the Christian life. We are stronger together. In religious life, this is particularly central. We are sisters because of our shared life. The title we are blessed to assume implies that our primary identity is one of relationship. As "sister" indicates originating from the same parent, my call invites me to live knowing deeply that all people are family. Community and relationship are what breathe life into being "Sister."
Sister Andrea and I have spent the last months praying and reflecting in preparation to profess first vows this June. (Read Andrea's beautiful thoughts on the vows here). Perhaps most striking to me are the insights I've gained into the centrality of community in our vows. Although community is largely what draws me to this vocation, I did not previously understand how deeply woven it is into poverty, celibacy and obedience. Of course, these vows could technically be lived out in isolation and be of some value. But it is living the vows out in community that gives them their real power.