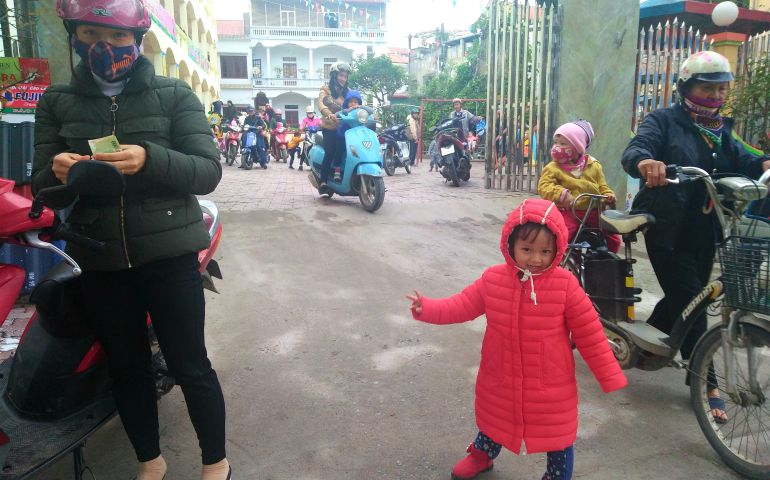 Three-year-old Nguyen Thuy Linh (in red) waves goodbye to the Lovers of the Holy Cross who run Anh Duong Nursery School in Yen Bai City before she and her mother, Mary Tran Thi Van Quynh, left, leave for home. (Joachim Pham)
Yen Bai City, Vietnam — May 6, 2019
Three-year-old Nguyen Thuy Linh, in a red overcoat, folds her arms across her chest says goodbye to her teacher with a smile: "Cháu chào cô ạ!"
Then Linh runs to her mother, says hello and hugs her.
Her mother, Mary Tran Thi Van Quynh, replies with a tight hug and sweet kiss and smile. Both get on their motorbike and leave Anh Duong Nursery School, heading for home.
"We feel happy and safe to send our daughter to study here," Quynh, who takes her daughter to school at 7 a.m. and picks her up at 5 p.m., told Global Sisters Report as she waited for Linh.
The 30-year-old Catholic mother of two said she appreciates the good quality of education provided by Lovers of the Holy Cross sisters, who run the school based in Yen Bai City, 180 kilometers (110 miles) northwest of Vietnam's capital of Hanoi.
Quynh, who works for a local environment and energy company, said she is also pleased with the education of her 6-year-old son, who graduated from the nursery school last year and is now a first-grader at a local public elementary school.
"The nuns taught him good habits, such as showing respect to family members and older people and never using foul language," she said.
Quynh said the nuns treat the children with respect and, unlike other schools in the area, do not beat them and serve them low-quality food. In August, workers from two day care centers in Hanoi and An Giang Province reportedly stuffed food into the mouth of babies then shouted at and hit them when they would not eat.
Sr. Anna Do Thi On, who is in charge of the convent and teaches 2-year-olds at the school, said the nursery school is the only Catholic one approved by the local government in Hung Hoa Diocese, which covers nine northwestern mountainous provinces. On said the Lovers of the Holy Cross also run some small day care centers in provinces that are not officially recognized as private schools.