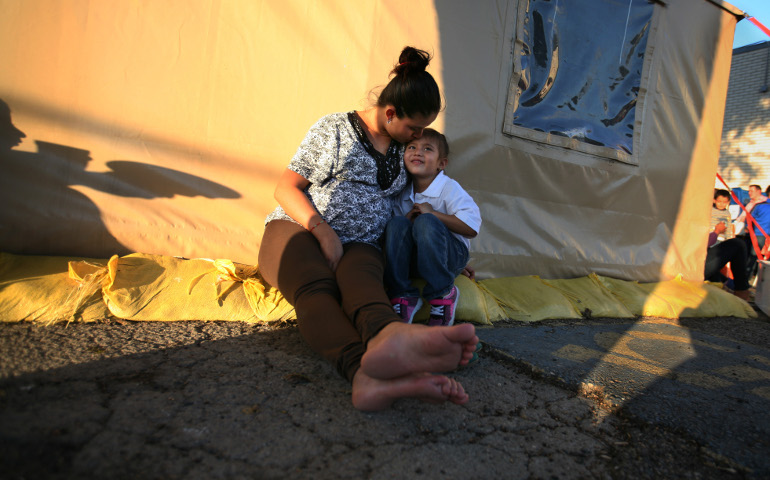 Yesenia Matilde Martinez of Guatemala, kisses her daughter, Leslie Jasmin Martinez, 5, as they wait for their bus ride at the Humanitarian Respite Center on the U.S.-Mexico border in McAllen, Texas. They are among the thousands of families that have stayed at the center after crossing the border from Central America. (GSR photo / Nuri Vallbona)
They walked into the parish hall single file, clutching their children's hands and manila envelopes bearing bus tickets. Their faces appeared weary and somber, the result of treks covering more than 1,200 miles. Startled by a burst of applause as they entered, the group of 30 or so immigrants walked past smiling volunteers next to tables piled high with clothes. They took their seats and waited for the next step, hoping it would bring them closer to a better life than the one they'd left behind.
This was the third group to arrive on November 1 at the Humanitarian Respite Center in McAllen, Texas, part of a daily influx of immigrant families and unaccompanied minors at the southern border that has overwhelmed the facility.
The center at Sacred Heart Church serves as a way station for those just released from Border Patrol processing centers. Overcrowding forced the Humanitarian Respite Center's leaders to order a third air-conditioned tent, while the increasing number of immigrants led them to buy property that will house an expansion across the street.