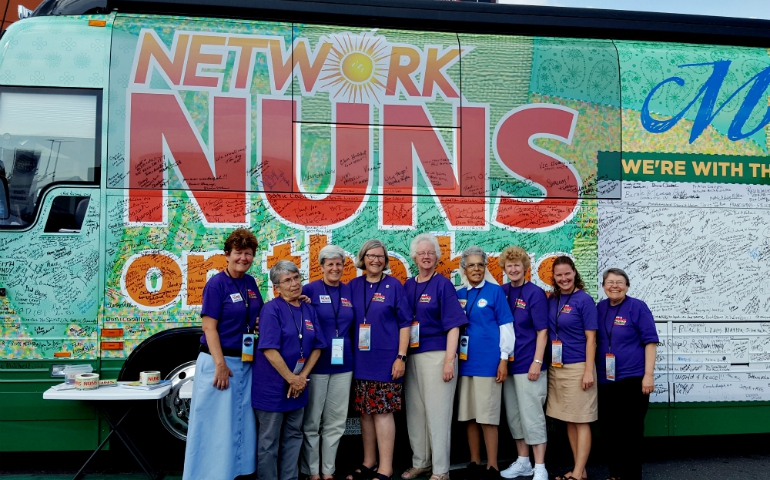 Sisters who participated in the 2016 Nuns on the Bus tour included, from left, Srs. Mary Ellen Lacy, Rochelle Mitchell, Janet Kinney, Simone Campbell, Eileen Reilly, Marian Lacroix, Richelle Friedman, Alison McCrary and Jan Cebula. The tour theme for 2016 was "Mend the Gaps," focused on mending the growing breach between rich and poor. (GSR photo)
The nuns are getting back on the bus.
Network, a Catholic social justice lobby, announced Aug. 20 the advocacy group will hit the road in its popular Nuns on the Bus tour for a sixth time.
This year's tour will begin Oct. 8 in Los Angeles and end Nov. 2 in Palm Beach, Florida, at the Mar-a-Lago resort owned by President Donald Trump, where the sisters plan to present the stories they heard on their cross-country journey.
Social Service Sr. Simone Campbell, Network's executive director, said she's not yet certain what will happen at or near Trump's resort.
"It's still a work in progress, but the idea now is a parade for the common good," Campbell told Global Sisters Report. "We don't know what we're going to do — we've got all kinds of harebrained schemes at this point. But it will probably end with a fiesta for the common good, where we'll have a potluck where everybody contributes."
The Nuns on the Bus tours are a media and fundraising juggernaut, but planning them involves much more than simply renting a bus and rounding up some sisters to ride it.