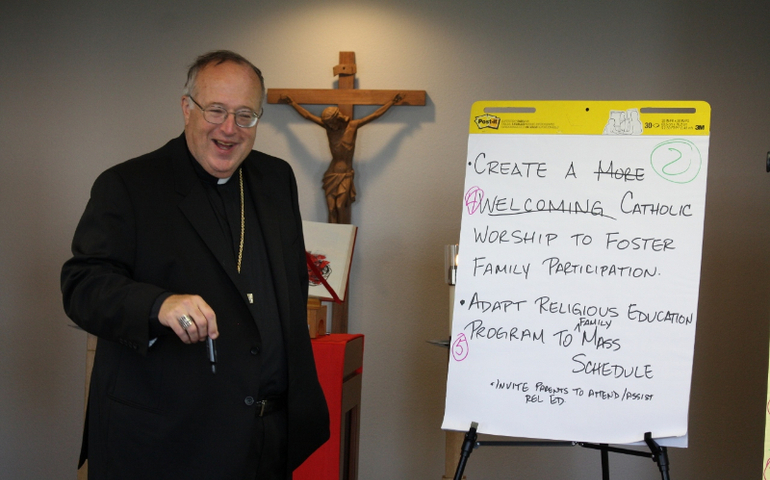 San Diego Bishop Robert McElroy reviewed with synod delegates their recommendations on how to bring spiritual depth to family life, at their meeting Sept. 10 at the diocese's pastoral center. (Aida Bustos/San Diego diocese)
A "tremendous synergy" has been created by the concerns, insights, hopes and ideas shared by nearly 2,000 participants in parish grassroots listening sessions and follow-up working groups over recent months leading up to this weekend's San Diego diocesan synod on marriage and family life, according to synod coordinator Paulist Fr. John Hurley.
Focus of the gathering will be seeking consensus on ways to best address the pastoral challenges laid forth in Amoris Laetitia ("The Joy of Love"), Pope Francis' apostolic exhortation on marriage and family released April 8.
In a follow-up pastoral letter issued a month later, "Embracing the Joy of Love," San Diego Bishop Robert McElroy announced plans for a local synod to be held in the fall.
"A diocesan synod is the most significant level of dialogue, discernment and decision in the life of a diocese," McElroy explained in the letter.
He noted that he had been in consultation "with the Presbyteral Council, the Deans of the diocese, and lay pastoral leadership about how best to respond to Pope Francis' call to renewal in this area of Church life" in an advance of the widely anticipated papal document.
"You will definitely see the face of the diocese" at the assembly, Hurley told NCR, alluding to the region's "extraordinary diversity." Roughly half of the delegates "will be Latino" and there will be representation of Vietnamese, Filipino and other cultural groups among participants, he said.
About three-fourths of the 113 synod delegates will be laity and one-fourth clergy, Hurley said. Each of the diocese's 98 parishes will be represented.
Specific and clear "action items" for the diocese are the synod's core goal, explained Hurley, who is the former executive director of three entities: the U.S. bishops' Secretariat for Evangelization, the National Pastoral Life Center, and the Baltimore archdiocese's Department of Evangelization.
While marching orders have yet to deliberated, Hurley said, some high-interest areas are emerging such as attracting and ministering to young adult Catholics; pastoral outreach to and inclusion of divorced Catholics; and catechesis on individual conscience and the internal forum.
Examples of pastoral insights especially applicable to the San Diego diocese, he said, include expanding understanding of single-parent families to include "the deported and deployed" in addition to the unmarried, divorced and widowed.
Both McElroy and Hurley have said that fundamental to long-term success of the synodal effort will be implementation of its recommendations.
That will fall in large part to a working group composed of laity and clergy to be formed following the synod.
"I will guide the development of the implementation team as local leadership continues the implementation of synod goals," Hurley said, adding that he has suggested the team include 15 members, three from each of five working groups that have distilled grassroots input on "five major challenges" contained in Amoris Laetitia and detailed in McElroy's pastoral letter:
The challenge to witness to both the beauty and realism of the Catholic vision of marriage and family life;
The challenge to form a culture of invitation and hospitality to unmarried couples;
The challenge to welcome, nurture and form children;
The challenge to provide authentic pastoral support for those who are divorced;
The challenge to bring spiritual depth to family life.
Hurley said he has been making note of many working group participants "with passion and energy" around specific pastoral challenges.
While a number of bishops have released commentaries on Amoris Laetitia, the San Diego diocese's scope of response appears to be unique, Hurley said.
"One of the things that has been brought to our attention is that this appears to be the first thematic synod [on application of Amoris Laetitia]," he explained. "We are not aware of anything else of this magnitude."
The last time a diocesan-wide assembly was convened, he said, was 40 years ago.
There were no models on which to base the synod's input gathering, feedback synthesizing, assembly deliberation and follow-up, Hurley said.
"We pretty much developed it ourselves," he said. "There were no models to address this."
Hurley added that the San Diego synod is being watched across the country and very likely at the Vatican by the new, centralized office for laity issues, the Dicastery for Laity, Family and Life headed by Cardinal-designate Kevin Farrell.
The priest said he feels Pope Francis would endorse the effort to apply Amoris Laetitia's teaching. He noted that the pope recently commended the bishops of Argentina for authoring concrete guidelines for implementing the apostolic exhortation's section about circumstances in which divorced and civilly remarried couples might eventually be allowed to receive Communion.
With Catholics numbering just over one million in a larger population of about 3.2 million, the San Diego diocese is contiguous with San Diego and Imperial counties of California and borders on Mexico.
[Dan Morris-Young is a NCR West Coast correspondent. His email address is dmyoung@ncronline.org.]