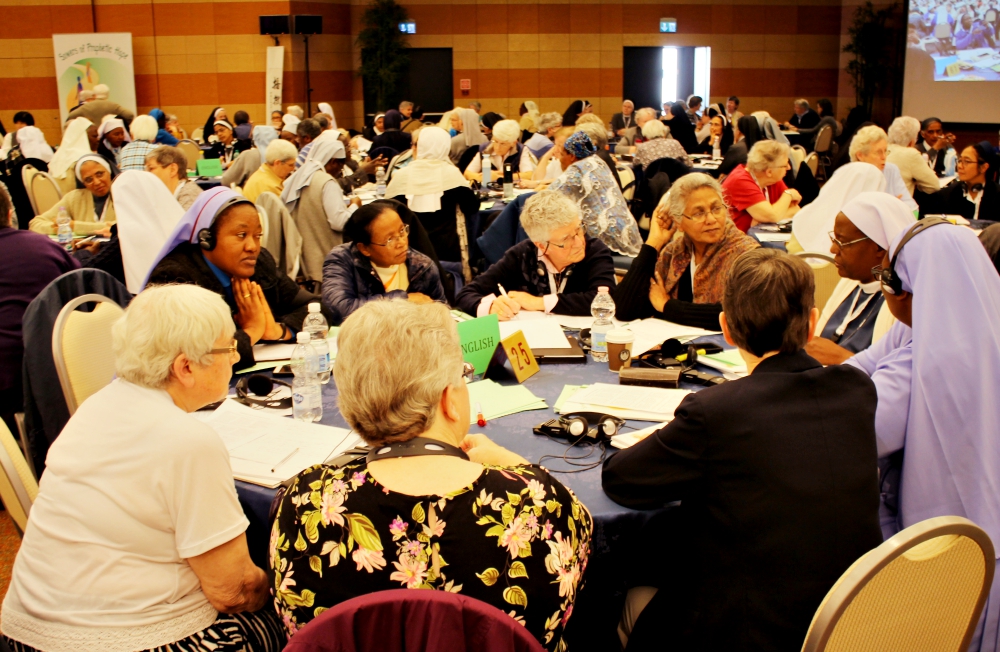 Sisters talk with their tables between presentations May 8 at the International Union of Superiors General's plenary assembly in Rome. (Courtesy of UISG)
Adopting a true model of interculturality is urgent for congregations and the entire Catholic Church, attendees at the International Union of Superiors General plenary assembly heard May 8.
Interculturality moves beyond a multicultural approach that recognizes differences to one that celebrates and integrates them in forging a new culture within a community, said Sr. Adriana Carla Milmanda, provincial superior for the Missionary Congregation of the Servants of the Holy Spirit of South Argentina.
In a presentation before about 850 superiors general of congregations from 80 countries, Milmanda provided a theoretical framework on moving from multiculturality to interculturality and practical approaches on how to do so. A professor of theology at the Pontificia Universidad Católica Argentina, she holds a master's degree in intercultural studies and the Bible from Catholic Theological Union in Chicago.
Many congregations were at the forefront of multicultural life for almost a century before the concept became more widespread in society, she said.
"It is this capital of experience and knowledge that we are called today to share with one another and to put at the service of humanity and the church," she said.
As congregations adapt to a more intercultural approach, women religious can by example become "one of the seeds of prophetic hope" to sow in the world, she said.