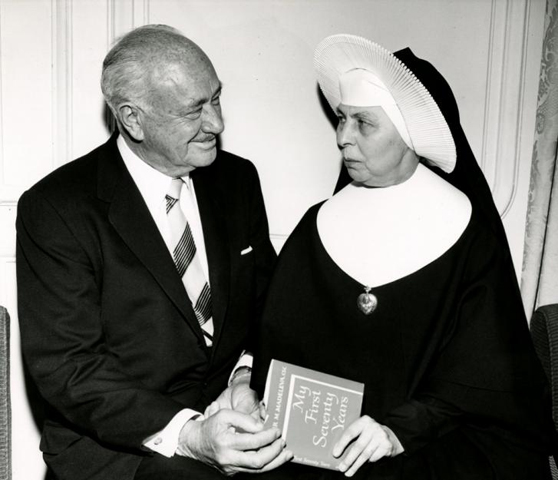 Conrad N. Hilton with Sr. Wolff in Chicago, 1959. (Courtesy of Saint Mary's College archives)
South Bend, Indiana — January 8, 2016
Catherine Osborne likes to show a photo, taken in 1946, to the students in her introductory theology class here at Saint Mary's College, an all-women's institution. She is a postdoctoral fellow at the Cushwa Center for the Study of American Catholicism at neighboring Notre Dame University and a beneficiary of a revolution that once began at Saint Mary's. She wants to make a point to some young women.
"I show a photo of the founding dinner of the Catholic Theological Society of America in 1946 . . . and I ask the students to tell me what they notice about the people attending this dinner. It's not a hard question."
Her students quickly respond — they notice every person in the photo is male, is white and is wearing a Roman collar.
"That was still the face of theology" until Holy Cross Sr. Mary Madeleva Wolff, then the president of the college, established the first graduate theology school for women. Until the founding of the School of Sacred Theology at Saint Mary's women had been excluded from the theological profession.
Wolff's intention, Osborne tells her class, was to increase the education level of sisters teaching in Catholic schools. "But the school's very existence was so radical that it ended up laying the groundwork for the first generation of academically trained Catholic women theologians," she notes.
Wolff's story reveals the ingenuity, persistence and vision of a pioneering nun. It also is a testament to education and the way women have been and are continuing to change the face of Catholicism.