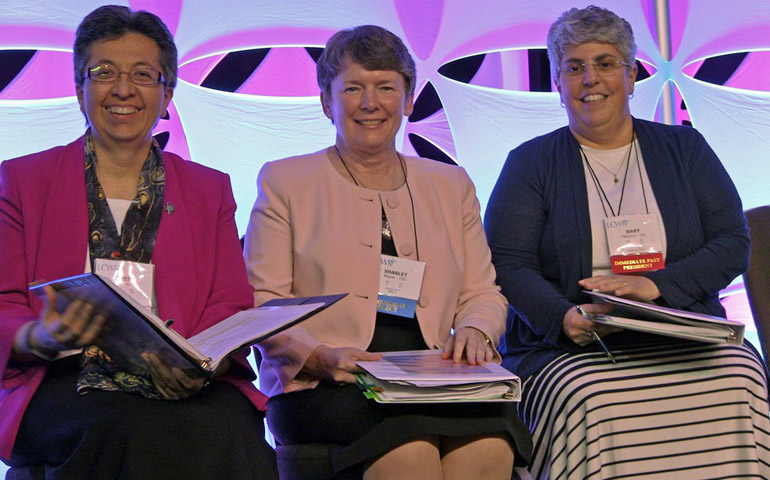 From left, President Sr. Teresa Maya, president-elect Sr. Sharlet Wagner and past president Sr. Mary Pellegrino, at the 2018 LCWR annual assembly in St. Louis (Annmarie Sanders)
St. Louis — August 9, 2018
Drawing on images of new life after disruption and destruction, Sr. Teresa Maya painted a future of religious life of hope and renewal amid tumultuous times for the church and society in her presidential address at the Leadership Conference of Women Religious assembly.
"We have been called to leadership during extraordinary times," she said. "The much anticipated 'change of epoch' is upon us in full force."
For Maya, a Sister of Charity of the Incarnate Word, lessons for religious life lie in volcanoes. Following the 1980 eruption of Mount St. Helens, a friend told Maya that bright wildflowers gradually bloomed amid the ash, including some locals had never seen before. Women religious may be feeling the eruptions now; indeed, some ash may already be among some communities, she said. But "there is color in the ashes."
The assembly's guiding theme, "Being the Presence of Love: The Power of Communion," resonated in Maya's address, delivered Aug. 8 in St. Louis on the first full day of the annual assembly of LCWR, which represents 80 percent of about 48,500 women religious in the United States.
Maya, who is Mexican-American, prayed in Spanish to her grandmother for a blessing before addressing the 790 participants.
The challenges the president of LCWR posed to the religious leaders in the room were clear: to lead as a community, no matter how great or few in number; to listen to younger sisters and young people; and to confront the prejudices that permeate, however subtly, the institutions they lead.
Foremost, she challenged all religious to go forth, en salida, as Pope Francis has called them to do.