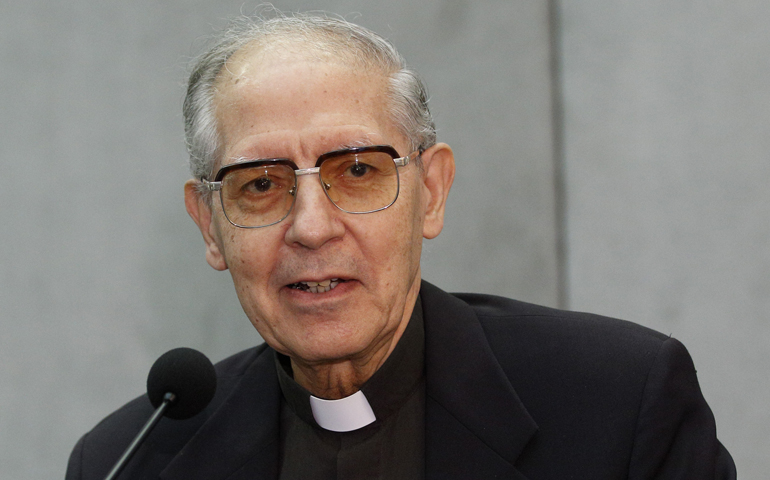 Fr. Adolfo Nicolas in a 2012 file photo (CNS/Paul Haring)
Jesuits gathered in Rome to elect a new superior general were invited to draw on "the audacity of the improbable" during a Mass to open their general congregation.
The order's voting delegates, the outgoing Jesuit superior, Fr. Adolfo Nicolas, and Jesuits living in Rome celebrated the Mass at Rome's Church of the Gesu Oct. 2, before the tomb of their founder, St. Ignatius of Loyola.
The principal celebrant at the Mass was Fr. Bruno Cadore, superior general of the Dominicans. He said in his homily that the Society of Jesus is called "to dare the audacity of the 'improbable'" along with the "evangelical willingness to do it with the humility" of knowing everything depends on God.
In the day's Gospel reading, the apostles' request to Jesus -- "Lord, increase our faith" -- was an apt and "beautiful prayer" for opening the general congregation, the Dominican priest said.
Jesus teaches faith is necessary, even if it is "as modest in appearance as a mustard seed," he said. Disciples must remember they remain "unworthy servants" while they dare to aim for the incredible and seemingly impossible -- such as rebuilding and renewing a broken world.
---
Related: Jesuits will elect order's new superior general at global meeting (Sept. 27, 2016)
---
The audacity of evangelization is about pointing people to the one who "has done the improbable when he destroyed death and made life and immortality shine through the Gospel."
Jesus still invites everyone to make themselves servants of a table -- "a table of sinners, a table of welcome for all to which are invited the blind and the lame, Pharisees and publicans, adulterers and good people," he said.
He also urged the Jesuits to find the strength and creativity of fidelity to the Holy Spirit "as he leads us to encounter and to listen to the other."
---
Related: Pope challenges Jesuits, say South Asians (Sept. 27, 2016)
---
The current superior, Fr. Adolfo Nicolas, was expected to formally present his resignation Oct. 3. He announced in 2014 that he would tender his resignation this year after more than eight years in office. He turned 80 in April.
Like the pope, the superior general of the Jesuits is elected for life, although the Jesuit constitutions include provisions for the superior general to resign. In 2008, Father Nicolas succeeded Father Peter-Hans Kolvenbach, who resigned at age 79.