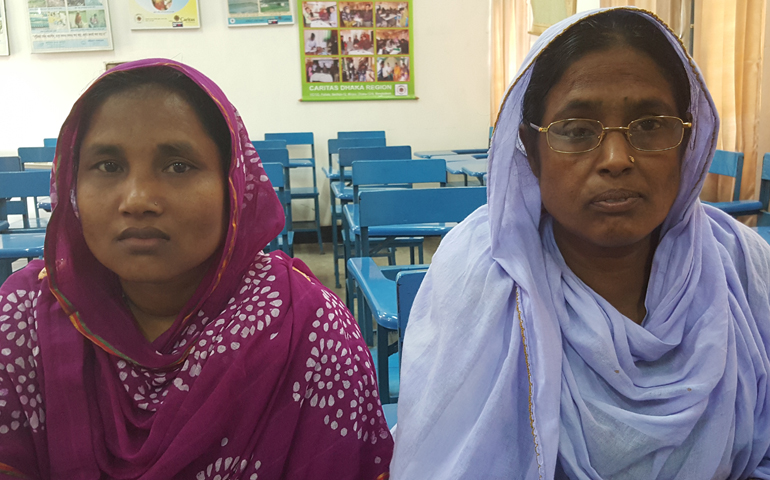 Reba Khatun, left and Shahan Begum (NCR/Chris Herlinger)
Dhaka, Bangladesh — April 20, 2016
Some people make the comparison between the aftermath of a disaster and the aftermath of war -- there are orphans to consider, and vocational retraining is needed for those who were crippled physically or may have been irrevocably traumatized.
As Ranjon Francis Rozario, regional director in Dhaka for Caritas Bangladesh, notes in a report about survivors, "These victims continue to be affected by physical disabilities and psychological fear since they are unable to find work and suffer the social stigma of being unable to provide for their families."
A morning spent with survivors of the April 2013 Rana Plaza garment factory disaster and the earlier fire in November 2012 at the Tazreen Fashions factory is a reminder of the human toll that is exacted when workers are mistreated amid horrendous carelessness.
Whether workers themselves or those who lost family members, all are still coping with emotional and spiritual losses, as well as financial pressures.
They included Reba Khatun and Shahnaz Begum, two workers injured in the 2012 Tazreen factory fire.
Reba Khatun, 27, was at the third level of the Tazreen Fashions factory, walking up a flight of stairs, when fire broke out and she was suddenly trapped by smoke. Panicking as she tried to find a way out, Khatun used the light from her cell phone to get to another corridor. Desperate to flee smoke and flames, she jumped three stories -- and survived.
---
Related: Bangladesh counts the human cost of the garment industry
---
But Khatun sustained spinal and leg injuries that required staying in three separate hospitals over the course of a month. Having left her village specifically for the job she had as a seamstress, she liked her work. It helped her support her parents. "The dignity of the family increased," Khatun said.
But now she is leery of returning to any job based in a large factory. "I still hear the sounds of people shouting, 'Save me, save me,' " she said.
Caritas has provided assistance for retraining in more specialized seamstress work. So far, she is making a go of it. She is healing physically bit by bit, she said, and feels strong mentally, but she adds that she has to be for the sake of her sons.
"Sometimes I feel, 'Why God? I feel ill,' " she said. "But for the sake of the children, I want to survive meaningfully."
---
More on Global Sisters Report: Women of Bangladesh have narrow options for work
---
Bhahnaz Begum, 40, says she is constantly reliving the tragedy in both memory and through physical pain. As a "finisher" who inserted brand tags onto clothing, she was on the fourth floor of the Tazreen building when she heard people screaming, "Fire, fire, fire."
Incredibly, the line manager told her and others that it was a false alarm -- even though smoke was already visible. As security guards closed the doors, sparks became visible and people couldn't find their way out of the building. Some began jumping from windows.
In the chaos that ensued, she escaped -- but a falling steel rod blinded her in one eye, and she suffered spinal injuries from her jump to the ground.
Begum is no longer working; her injuries are "incurable," as she puts it, and she speaks openly about wishing she were dead. "It would be better to be dead, because while I am living, there are so many difficulties."
The assistance from Caritas has been a lifesaver, she said, and she means that literally -- her husband left her once he realized that she cannot work, cook or clean. He saw her as "valueless" -- though incredibly, she said, he still asks her for money.
Her religious faith has been a balm but not even that has stopped her own questioning of what happened.
"Millions of thanks to the almighty Allah. I am surviving by his grace," Begum said. But when she feels physical pain, as she often does, she will ask, "Why God, did you do this?"
[Chris Herlinger is Global Sisters Report international correspondent.]
A version of this story appeared in the April 22-May 5, 2016 print issue under the headline: Survivors still coping with trauma of 2012 factory fire.