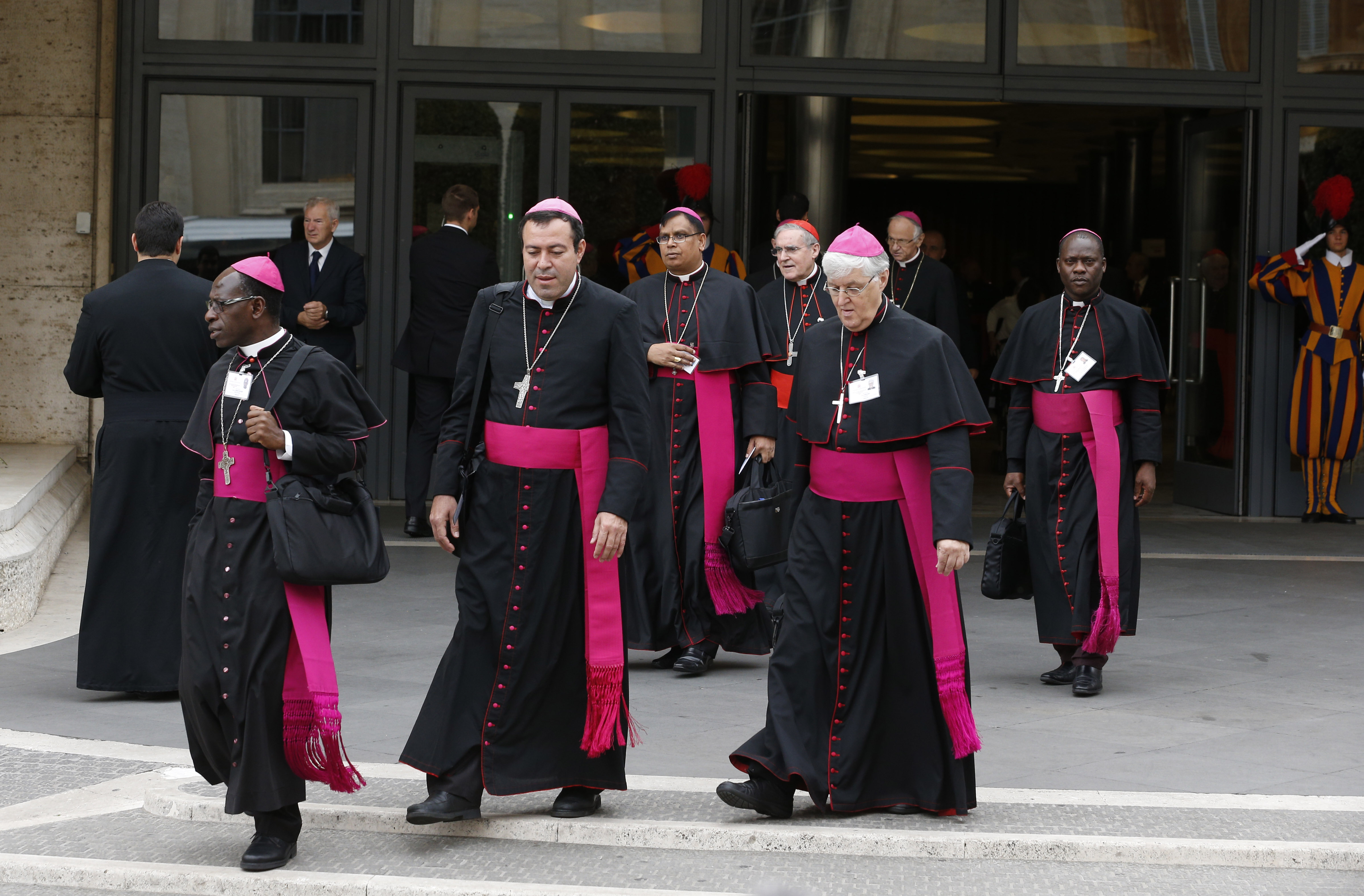 Bishops leave a session of the Synod of Bishops on the family at the Vatican Oct. 9. (CNS/Paul Haring)
Midway through the general assembly of the Synod of Bishops on the family, confusion, if not chaos, reigns, to paraphrase a synod father. And in that confusion is fear, fear of uncertainty and the unknown.
Well, bishops, our brothers, welcome to family life. Seemingly without knowing it, you have stumbled upon a key experience of being in and raising a family: uncertainty.
Don't fear it, synod fathers. Relish it. This is how families live.
Parents know uncertainty so well. Watching a child toddle off to preschool or kindergarten that first time. Watching a son or daughter plunge headlong into academics or sports or theater in high school. What will she encounter? Will he be safe? The fear of sitting beside a sickbed or in intensive care, not really knowing if it will be all right. The first solo drive. The -- gasp -- first date. Where will that lead?
The greatest fear might be when that fledgling truly ventures out on her own to college, into a career, to begin her own family. Parents know (or at least hope) they have done all they can to raise their kids right. They have given them a foundation, the best advice they have.
With a pledge of continued support and lots of prayer, not knowing the outcome, they allow children to grow up. That's the cycle of family life, the journey families walk together.
The synod has reached the halfway mark as this editorial is being written and we hear some synod fathers say they are confused about the direction and even the purpose of this gathering.
It is ironic that some have complained of a rigged synod, an outcome pre-ordained. The reality is that, unlike past synods, where the results were known before any conversation took place, the conclusions of this synod are clearly unknown.
How will the drafting committee pull all of the divergent views into one document? Will the bishops like it? Or will they just end in chaos and pass everything on to the pope as they fly home? Maybe it should be left to the pope? If this three-week process ends with seemingly nothing to show, will that be a defeat for the Catholic church? Or would that be the sign of a church on a journey? The pilgrim church?
The issues under discussion are complicated, and there is no reason to pretend otherwise. As Australian Archbishop Mark Coleridge says, there is vast territory to explore and "that's what the synod should be about."
Maybe the specific answers Catholics in London need are not what Catholics in Lusaka need. One answer for all would make us feel safe and secure, but would it be true?
How revolutionary would a synod document be that says: "We cannot reach a global census on many issues, but we rejoice in that diversity and pledge not to let differences divide us." The Catholics in London and Lusaka would have to trust each other, even when they disagree. The pilgrim church would continue the journey.