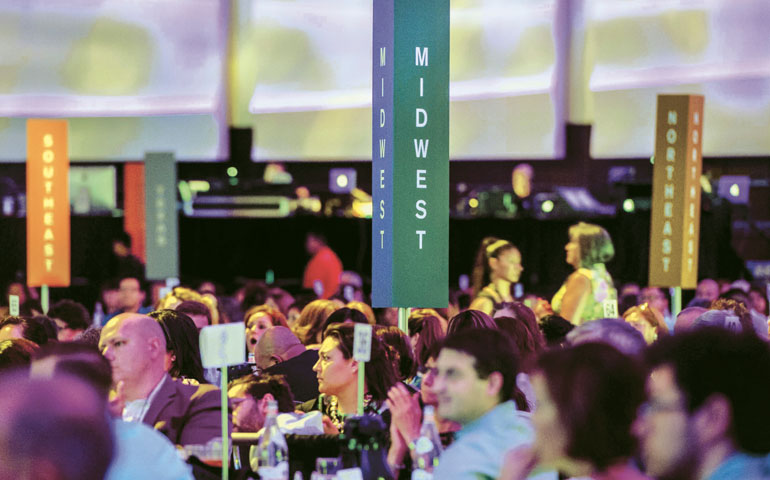 People representing different regions of the country listen to speakers July 11 in Kansas City, Mo., during the annual convention of the National Council of La Raza. (Photos by The Kansas City Star/Allison Long)
Kansas City, Mo. — July 29, 2015
Latinos, one of the fastest-growing demographics in the United States, have a message for politicians: We're not apathetic. We're unconvinced.
Nowhere was that more evident than at the annual conference of the National Council of La Raza in Kansas City, where from July 11-14 an estimated 7,000 attendees participated in workshops, town halls and other events geared toward this base's key political concerns. The largest Latino civil rights organization in the country, the National Council of La Raza provides a Hispanic perspective on civil rights, immigration, education, employment and economic status, investment, and health.
The Latino population -- the country's largest minority group -- has grown sixfold between 1970 and 2012, from 9 million to 53 million, according to the Pew Research Center. And the increase is unlikely to slow anytime soon, with the Latino population on pace to nearly double by 2050 and account for one-third of the U.S. population.
The influence following such growth was not lost at the La Raza conference. Presentation after presentation, speakers continued to stress, "We will decide future elections."
Nor was that message lost on politicians, as three presidential hopefuls spoke at the convention, along with prominent activists, corporate representatives and government officials.
The conference began with the National Latino Family Expo July 11, where adults and kids received free health screenings, financial advising, career planning and entertainment.
Health and education, however, dominated the day's conversation, when Missouri Gov. Jay Nixon announced at the conference that he vetoed a measure intended to block students who came to the U.S. illegally from qualifying for Missouri's A+ Scholarship Program.
According to the 2015 National Center for Education Statistics, Latinos particularly lag behind when it comes to levels of education. Only 75 percent of Hispanics 25-29 years of age have a high school diploma, compared to 96 percent of whites and 92 percent of blacks. And a mere 15 percent of Hispanics hold a bachelor's degree or higher, compared to 41 percent of whites and 22 percent of blacks.
Not only are Latinos statistically the least-educated group in the U.S., but they are also the hungriest, as the first day's speeches on the topic of nutrition concluded. Despite accounting for just one in five children, Latinos make up 30 percent of children living in hunger. One in four Latinos struggles with food insecurity -- nearly 10 points higher than the national average, according to a 2015 National Council of La Raza report -- and four in 10 Latino children between 2 and 19 years of age in 2012 were overweight or obese.
"Health is so much more than not being sick," said keynote speaker Risa Lavizzo-Mourey, president and CEO of the Robert Wood Johnson Foundation. "It's a vital aspect of how and where we live, work, play and pray. It's about how we raise and educate our children, how we make decisions for our families."
The issue of income inequality took center stage July 12, when U.S. Treasurer Rosie Rios addressed the Economy Town Hall as the keynote speaker. Rios pointed to the unemployment rate: 5.3 percent for the general population, but 6.6 percent among Latinos.
Race affects the poverty rate, she added, with nearly a quarter of both Latinos and African-Americans earning below the poverty line -- about nine points higher than the national average, according to the 2013 census.
"Saying 'money is the root of all evil' is crazy -- broke-ness is the root of all evil!" said U.S. Rep. Emanuel Cleaver (D-Mo.) in the panel discussion following Rio's speech.
Cleaver took on the minimum wage, noting that in 1937 it was established at 25 cents an hour. Since 1938, he said, we've added just $7. "Nothing that cost 25 cents in 1938 can you buy today for $7.25. Nothing."
Also on the panel were Martin Chavez, former mayor of Albuquerque, N.M., and Maria Pesqueira, president of Mujeres Latinas en Acción. Pesquiera, who was instrumental in helping raise Chicago's minimum wage, noted that 61 percent of tip-workers are Latino, making an hourly wage of $2.90.
The income inequality conversation continued into day three as three Democratic presidential candidates -- former Secretary of State Hillary Rodham Clinton, former Maryland Gov. Martin O'Malley, and U.S. Sen. Bernie Sanders (I-Vt.) -- addressed the convention. Though the National Council of La Raza extended invitations in April to the three declared Republican presidential candidates, each declined.
Also delivering speeches that day were Secretary of Housing and Urban Development Julián Castro and Sprint CEO Marcelo Claure. The company's first Hispanic CEO, Claure said he wants one-third of his employees and management team to be of Hispanic or African-American descent, paralleling the one-third of Sprint customers in those camps.
"It's not because we need to fill a quota," he said, clarifying this as a goal rather than official policy. "It's because I'm certain that we will understand the needs of our customers better."
The final day of the convention included workshops and panel discussions on science and technology, but returned to the political influence Latinos will have on the 2016 election.
Between now and 2028, 1 million Latino citizens will turn 18 years old every year, said La Raza's deputy vice president Clarissa Martínez, who moderated the forum "2016 and Beyond: Growing the Influence of Latinos in the American Political Landscape." She said naturalization and voter registration, therefore, are vital to maintain clout, citing the 9.6 million Latino citizens of voting age in 2012 not yet registered to vote.
Héctor Sánchez, chair of the National Hispanic Leadership Agenda and a panelist in the workshop, emphasized that there is a direct correlation between civic participation and the quality of life in a Latino community. Despite composing 17 percent of the population, he noted, Hispanics only account for 8 percent of the federal government. And when the conversation regarding immigration reform was at its most heated, not a single Latino was in the U.S. Cabinet, Sánchez said.
But presidential appointments, he added, are linked to civic participation.
"If we were engaged, we'd be present at the table," Sánchez said.
As the convention drew to a close July 14, La Raza president Janet Murguía said she intended to speak on the Latino community's many victories and the hurdles facing future generations.
"That's what I wanted to talk about. But, instead, I have to talk about Donald Trump," she said, joining nearly every other speaker from the convention in denouncing Trump's presidential campaign announcement, in which he referred to immigrants as largely criminals, rapists and drug dealers.
In a message to the Republican leadership, Murguía said that the party's response to Trump's comments "sends a clear message to Latinos that you're willing to indulge and tolerate hate for political gain."
"To my Republican friends, I ask, I plead with you, indeed, I demand of you: Stand up for your heritage," she said, referring to Lincoln's legacy. "And I'll stand with you."
[Soli Salgado is NCR Bertelsen intern. Her email address is ssalgado@ncronline.org.]
A version of this story appeared in the July 31-Aug 13, 2015 print issue under the headline: With numbers comes influence.