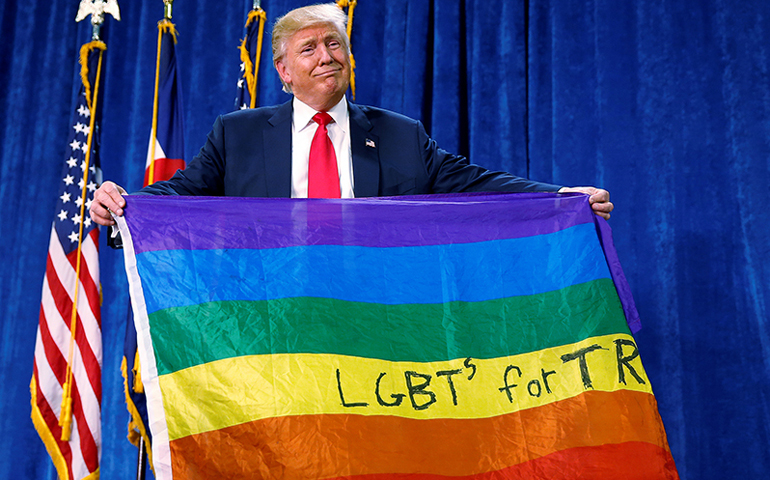 Donald Trump holds up a rainbow flag with "LGBTs for TRUMP" written on it at a campaign rally in Greeley, Colo., on Oct. 30, 2016. (Photo courtesy of Reuters/Carlo Allegri)
President Donald Trump has pledged to continue to enforce an executive order issued by President Barack Obama in 2014 that prohibits federal government contractors from discrimination based on "sexual orientation" and "gender identity" and forbidding "gender identity" discrimination in the employment of federal employees.
"President Donald J. Trump is determined to protect the rights of all Americans, including the LGBTQ community," reads a statement released by the White House press office Jan. 31.
"The executive order signed in 2014, which protects employees from anti-LGBTQ workplace discrimination while working for federal contractors, will remain intact at the direction of President Donald J. Trump," the statement says.
"President Trump continues to be respectful and supportive of LGBTQ rights, just as he was throughout the election," it said.
When Obama signed Executive Order 13672 on July 21, 2014, he said, "It doesn't make much sense, but today in America, millions of our fellow citizens wake up and go to work with the awareness that they could lose their job, not because of anything they do or fail to do, but because of who they are — lesbian, gay, bisexual, transgender. And that's wrong."
The statement from the White House Jan. 31 said, "The President is proud to have been the first ever GOP nominee to mention the LGBTQ community in his nomination acceptance speech, pledging then to protect the community from violence and oppression."
The U.S. Catholic bishops swiftly rejected Trump's action. A joint letter from the bishops' committees on family life and religious liberty called the order "deeply flawed" because "it creates new forms of discrimination against people of faith." Trump's retaining it, the letter said, was "troubling and disappointing."
"The Church steadfastly opposes all unjust discrimination, and we need to continue to advance justice and fairness in the workplace. Executive Order 13672, however, creates problems rather than solves them," reads a statement issued by Archbishop Charles Chaput of Philadelphia, chair of the Committee on Laity, Marriage, Family Life and Youth, and Archbishop William Lori of Baltimore, chair of the Ad Hoc Committee for Religious Liberty.
"In seeking to remedy instances of discrimination, it creates new forms of discrimination against people of faith. Keeping the Executive Order intact is not the answer," the bishops' statement reads.
Leaders of Catholic LGBTQ advocacy and support groups welcomed the news with caution and a bit of surprise.
"I am surprised," Francis DeBernardo, executive director of New Ways Ministry told NCR, "Trump has included in his administration many people with long records of anti-LGBT policies and attitudes — including Vice President [Mike] Pence. Trump's electoral campaign and the first two weeks of his administration have shown a stunning lack of sensitivity to diversity issues."
Marianne Duddy-Burke, executive director of DignityUSA, said she was "relieved that the Trump Administration has recognized the importance of these protections and has retained them. We also know that the majority of Catholics in the U.S. support nondiscrimination in employment for LGBT people."
She added, "It is difficult to celebrate, however, when our government is discriminating against others based on identity. As LGBT people, we know too well the negative consequences that being stereotyped can cause. So, we stand with immigrants, people from the countries under travel bans, and refugees no longer permitted to enter the U.S."
"Our faith compels us to honor the human rights and dignity of all people, so these exclusions are of profound concern to us," she said.
DeBernardo added that he hopes the new president will "apply his instincts in this decision to other civil rights issues, including immigration, health care, and labor law. Protecting the vulnerable and those in need are solid American values."
DeBernardo also expressed disappointment with the bishops' statement. "The U.S. bishops fail to see that employment protections to LGBT people are no threat to religious liberty. On the contrary, protecting LGBT people in the workplace is just putting the Catholic church's worker justice teaching into practice.
"The majority of U.S. Catholics see this, as poll after poll has shown. Supporting LGBT equality and justice is a solid Catholic value," he said.
Additional reporting from Religion News Service:
Trump's move to protect LGBT workers unsettles religious conservatives
By David Gibson
Religion News Service
Erick Erickson, editor of The Resurgent and a leading Christian conservative, said keeping that executive order violated a "core commitment" that Trump as a candidate had made to the evangelicals whose support was key to his victory.
"This executive order treats the faithful adherents of major religions as second-class citizens when it comes to competing for government contracts," he said.
In the days leading up to the president's move it was widely rumored that Trump would either overturn Obama's executive order or that he would issue broad exemptions from the order for religious groups who reject homosexuality.
But if there was a sense of betrayal – eased by his choice of Neil Gorsuch, a favorite of religious conservatives to fill the high court vacancy left by Antonin Scalia – Trump's move was also a reminder to social conservatives that he is far more supportive of gay rights than any other Republican president, and more so than his base.
As conservative commentator Matt Lewis tweeted, "Trump is arguably more 'pro-gay' than Obama was when first elected."
Indeed, not only did Trump give a shoutout to gays and lesbians in his acceptance speech at the Republican convention, but a few days after his win in November he told CBS' "60 Minutes" that the question of gay marriage is "settled" and "I'm fine with that."
For religious conservatives, the priority going forward may be about religious exemptions to protect their rights of conscience rather than overturning gay marriage or having Trump reverse an executive order.
Ryan Anderson, a senior research and fellow at the conservative Heritage Foundation, said he hoped Trump would have both overturned Obama's LGBT executive order and issued one providing for religious exemptions.
But he said simply focusing on exemptions for religious groups and believers could be the best way forward because it would resolve many tensions and would make sense to a wide range of Americans.
"There's a rhetorical stance President Trump could take where he says, 'I may not agree with what the evangelicals and the Catholics think about these issues but I think they should be free to live them out,'" said Anderson, author of "Truth Overruled: The Future of Marriage and Religious Liberty."
Anderson compared such an approach to the so-called "Church Amendment" enacted by Congress in 1973 after the Roe v. Wade decision legalizing abortion. That amendment (named for its sponsor, Democratic Sen. Frank Church of Idaho) allowed medical professionals and hospitals with religious and ethical objections to opt out of performing abortions.
"That strikes me as best for where we are in this political but also cultural moment," Anderson said.
[Dennis Coday is NCR editor. His email address is dcoday@ncronline.org. David Gibson is a national reporter for RNS. ]