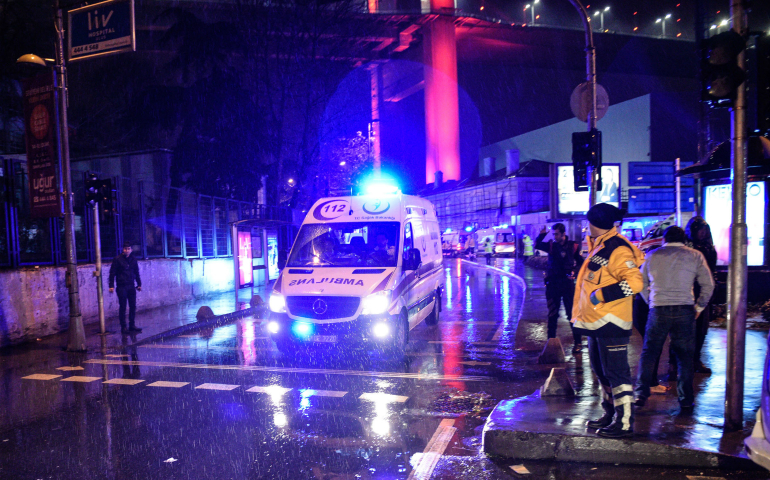 Ambulances transport people wounded during an attack on a New Year's Eve celebration at a popular nightclub in Istanbul. At least 39 people, mostly foreigners, were killed and dozens injured in the attack. (CNS photo/EPA)
Warsaw, Poland — January 18, 2017
When a lone gunman rampaged through Istanbul's Reina nightclub in the wee hours of Jan. 1, it took the large-scale violence plaguing Turkey into 2017.
The Islamic State movement claimed the outrage had been aimed against Christians, whose communities are already dwindling throughout the region. But representatives of Turkey's small Catholic minority insist they'll resist intimidation and are counting on the Islamist government of President Recep Tayyip Erdogan to provide adequate protection.
"People are naturally afraid, so many are staying away from the churches," Bishop Ruben Tierrablanca Gonzalez, apostolic vicar of Istanbul, told NCR. "But Christians and Muslims are united against this violence, and the police who've been guarding our churches are kind and considerate. Though no one knows what will happen, we're talking together and sharing our concerns."
The Turkish police confirmed Jan. 17 that they had arrested the apparent perpetrator after a massive manhunt. The seven-minute shooting and grenade spree at the Reina left 39 dead and at least 70 wounded, and was followed on Jan. 5 by further fatalities in a car bomb attack at Izmir on Turkey's Aegean coast. In a statement, ISIS said the New Year attack by a "heroic soldier of the caliphate" had targeted "Christians celebrating their pagan feast." And it branded predominantly Muslim Turkey, which retaliated with airstrikes, as an "infidel" and "servant of the cross."
Whatever the rhetoric, the atrocities happened at a tense time for the Erdogan government, which is still purging alleged accomplices of a July coup attempt that left hundreds dead in Istanbul and Ankara.
At least 270 others have been killed and hundreds injured in terror attacks over the past year, mostly blamed on the Islamic State and Kurdish separatists. These have heightened the anxiety of the U.S. and European governments about the stability of Turkey, a NATO member and key Western ally in the struggle for peace in the Middle East.
But they've also highlighted the vulnerability of Turkey's once-thriving churches, which have never fully recovered since being violently decimated during the formation of a republic under Mustafa Kemal Ataturk in 1923.
"The situation was better just a few years ago, when security was tighter and the economy more prosperous," explained a Catholic priest from Antakya, the biblical Antioch, who asked not to be named. "Today, the hardships are widespread, especially for minority groups like ours, and there's a growing nervousness among Christian communities."
Religious minorities have long complained of being denied rights in Turkey, most of whose 75 million inhabitants are Sunni Muslims. All face severe problems obtaining building and renovation permits, as well as with training clergy and gaining visas for visiting pastors.
Meanwhile, religious affiliations are listed on Turkish identity cards in violation of international norms, and only pupils from recognized minorities — Jews, Greeks and Armenians — are exempted from compulsory Islamic religious classes at state schools.
In May 2010, Erdogan ordered local authorities to "uphold the rights of the Christian and Jewish minorities" and remember they were constitutionally entitled to "equality in maintaining their identity." Since then, the government claims to have authorized new Christian churches as part of a "democratization process," and to have returned hundreds of seized buildings and lands.
Human rights groups have questioned the claims and cited continuing discrimination. Last April, church representatives in the southern city of Diyarbakir took legal action to regain six local churches, after they were seized by the state in a security clampdown against Kurdish insurgents.
The Istanbul-based Orthodox Ecumenical Patriarch Bartholomew I said he had requested talks with Erdogan after reports that legal acts for returning Orthodox land had been suddenly annulled. Orthodox spokesmen are aggrieved that their once-flourishing Halki Seminary, confiscated in 1973, hasn't been handed back despite repeated government pledges. While Bartholomew has survived several terror plots, most recently in May 2013, his title as ecumenical patriarch, or honorary head of world Orthodoxy, isn't recognized by the Turkish government.
Turkey's Catholic church has seven dioceses and apostolic vicariates, and is still trying to reclaim some 200 properties listed before a 2012 parliamentary commission. Although the Vatican's statistics office puts the church's total membership at just 53,000, the figure could be higher, given the influx of migrants from neighboring countries and the presence of "secret Christians" whose families have traditionally disguised their religious loyalties.
But the church is denied legal recognition and has suffered a wave of outrages, including the 2010 fatal stabbing at Iskenderun of its bishops' conference president, Bishop Luigi Padovese, and the murder in 2006 of a priest from Italy's Rome diocese, Fr. Andrea Santoro, in his church at Trabzon. The Turkish youth convicted of killing Santoro, who shouted "Allahu Akbar" ("God is great"), was one of thousands released prematurely last summer to make space in prisons for detainees after the coup attempt.
Although Pope Francis urged greater tolerance during a brief November 2014 visit, the Vatican faces its own problems with Turkey.
The two resumed diplomatic ties only last February, after they were suspended by Ankara when Francis used the term "genocide" when speaking about the killing of some 1.5 million Armenians by Ottoman Turks in 1915-18. The pope used the term again last June during a pilgrimage to neighboring Armenia, prompting fresh anger from Turkey.
In September, government-controlled Turkish newspapers branded Fethullah Gülen, the U.S.-based former imam accused of fomenting the July coup plot, a "trojan horse of the Vatican," and claimed his Hizmet movement formed as part of a Rome-backed "infiltration plan." In December, the vice-chairman of the inquiry into the failed coup, Selcuk Ozdag, a key member of Erdogan's ruling Justice and Development party, the AKP, accused the Vatican of being in contact with Gülen himself.
Turkey's Protestant communities have also been targeted by extremists, most notoriously in 2007, when a German and two Turks were stabbed to death at a Bible publishing house in Malatya. Several American pastors have been arrested and expelled for alleged complicity in the July coup plot, including Andrew Craig Brunson, who survived a knife attack in 2011 at Izmir and was accused in October of missionary activities "against national security."
Although other Christian groups, including resident Russians and Ukrainians, are also pressing for fuller rights in Turkey, Mgsr. Louis Pelatre, Turkey's longest resident Catholic bishop, doubts their demands will carry much weight.
Although the European Court of Human Rights has ruled repeatedly against Turkey in cases brought by religious groups, the Erdogan government has ignored its judgments. It's done much the same with calls for change from Western states.
"This country's rulers are proud people and they don't accept anything resembling foreign pressure," the French-born Pelatre told NCR. "If people have influence with the authorities here, they should use it — but I foresee no significant improvements for Christians without a complete shift of mentality."
For now, if Erdogan wanted a pretext for boosting his power, the failed coup has certainly provided it, with over 100,000 people, including a third of the Turkish Army's command structure, arrested or fired from their posts. Hopes for Turkey's accession to the European Union, originally projected for 2015, are now effectively shelved; this may further reduce the scope for Western pressure.
It may also explain why Christian leaders in Turkey have become more cautious about expectations for change, and seem ready to give the government the benefit of the doubt when it comes to security concerns. Whole Christian communities in neighboring Syria, Iraq and elsewhere are in danger of being wiped out by a toxic combination of war and Islamist militancy.
Against this background, Turkey's stability remains of paramount importance, along with its capacity to defend its territory and institutions.
The priest from Antakya thinks Christians everywhere should be concerned about a region which was once the cradle of Christianity, whose faith communities helped spread the Gospel to Europe and the wider world. But he's confident the future is "in God's hands" and that the faith will survive here.
Tierrablanca, the apostolic vicar in Istanbul, agrees. He thinks radical Islam affects only a tiny part of the population and is sure most Turks abhor the terrorists who "sow hatred against Christians and Westerners."
Senior imams and other Muslim friends routinely show their openness by joining the bishops for Catholic festivals. Efforts should be made to highlight Turkey's positive features, such as its generous attitude to refugees, Tierrablanca thinks, rather than just the high-handedness of its embattled rulers.
"Our country is no more dangerous than many others — the challenge comes only from a few groups and individuals," Tierrablanca told NCR. "Meanwhile, since Muslims form the majority here, it's natural the government is pro-Islam. But this shouldn't prevent Catholics and Muslims from living and working together, and confronting the challenges side by side."
[Jonathan Luxmoore's two-volume study of communist-era martyrs, The God of the Gulag, is published by Gracewing in the U.K.]