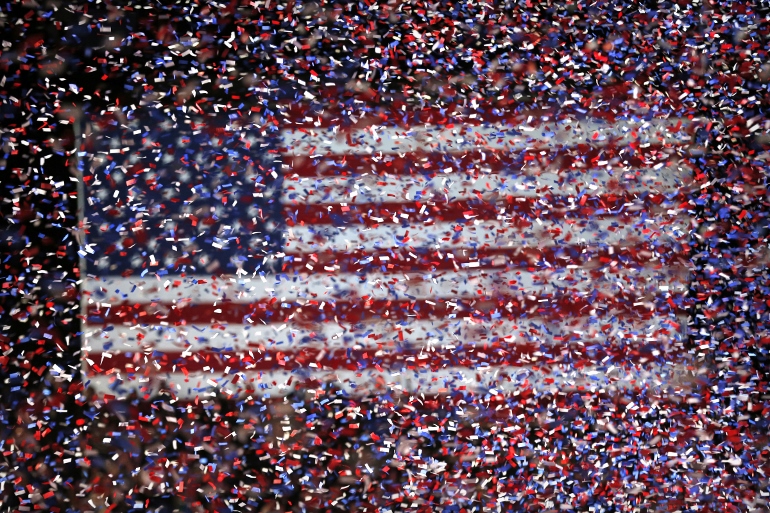 Confetti rains in front of a U.S. flag in Chicago in this Nov. 3, 2012, file photo. (CNS photo/Kamil Krzaczynski, EPA)
Donald Trump is the presumptive Republican nominee for president of the United States. What now for conservative Catholics?

It was that question that CatholicVote.org, an active conservative participant in American politics and elections, posed and addressed Wednesday, in the wake of Texas Sen. Ted Cruz and Ohio Gov. John Kasich each suspending their campaigns following Trump's double-digit victory Tuesday in the Indiana primary.
The initial reaction to the new reality has the grassroots organization holding off from offering a Trump-for-president endorsement "at this time."
"As much as we oppose [Hillary] Clinton, Trump remains problematic in too many ways to receive our endorsement. With a suspect record, no clear guiding principles, and a history of unpredictability, all we can do for now is take him at his word and hope for the best," the political website said.
Despite pledges to repeal the Affordable Care Act and restore U.S. jobs, Trump "is a big roll of the dice that could backfire, and potentially have disastrous consequences on the House, the Senate, and on our politics more generally," they said.
On Clinton, who leads Vermont Sen. Bernie Sanders in delegates on the Democratic side, the group said she "will be hostile to nearly everything we believe in -- from the sanctity of life to religious liberty."
Since Clinton's entry into the election, the website has published numerous posts specifically targeting the former Secretary of State's stance on abortion (it should remain legal, with restrictions on later-term abortions except in cases of rape, incest and danger to the mother's life and health), as well as raised concerns with how she would fill the vacancy on the U.S. Supreme Court.
"The American family will have no bigger enemy than a President Hillary Clinton and the wreckage she will impose on us from Washington, D.C. Hillary Clinton must be opposed by every conscientious Catholic voter," CatholicVote.org said.
Since its founding in 2008, CatholicVote.org has sought to mobilize voters around three core issues: pro-life, traditional marriage and religious freedom.
It was largely on those grounds that led the group near the end of March to lend their endorsement to Cruz. They pledged to "be active" in Indiana promoting the Texas senator over the New York real estate mogul; in the end, Trump defeated Cruz by nearly 17 percentage points, 53 percent to 36 percent of the vote.
In its endorsement, the group cited Cruz's defense of the First Amendment, opposition to Planned Parenthood and abortion, and his unwavering "support of the rights of those working to create a marriage culture." In addition, they pointed to his plans to repeal the Affordable Care Act, to lower taxes and abolish the IRS, and to defeat the Islamic State terrorist group and protect Christians in the Middle East.
"We knew at the outset of this process we could never support Hillary Clinton. It did not take us long to definitively conclude we could not support Donald Trump. The field is now clear enough for us to unambiguously support Ted Cruz," CatholicVote.org wrote on March 29.
In the 2012 election, CatholicVote.org endorsed Mitt Romney after spending the primary season lending its vocal and financial support (upwards of $100,000) to former Pennsylvania Sen. Rick Santorum.
---
More: CatholicVote.org joins fall election push (Oct. 4, 2012)
---
In January, the group joined the "Not Trump" movement. But its decision now not to endorse him, they said, doesn't equate to working toward his defeat, noting that the general election campaign has hardly begun, and that Trump hasn't selected a running mate or offered specifics about how he would fill the vacant Supreme Court seat.
"There will be more specific discussions about policy priorities and personnel that will provide some perspective in the coming weeks and months. For now, we will continue to work to shape the debates on issues we care about -- Trump or not," CatholicVote.org said.
Part of that approach means turning its attention toward congressional races, indicating it will target four to five Senate elections and as many as 10 seats for the House of Representatives. It did not specify which elections or states it would aim to influence.
"If you care about repealing Obamacare, protecting religious liberty, defunding Planned Parenthood, and creating real economic reform for families -- it all begins in Congress," they said.
"The House and Senate will either be an insulating firewall against the excesses of a Hillary or Trump presidency … or the House and Senate could be a key part in helping Trump achieve some important victories. If you are a Trump supporter -- your worst nightmare is two words: Speaker [Nancy] Pelosi," wrote CatholicVote.org.
As for advice on how to approach the presidential race, the Candidate Trump scenario poses three options, they said:
Don't vote;
Support a third-party candidate;
or "vote for the candidate likely to do the least harm."
The first, they said, is "not an option," and the second, absent a strategy and a candidate, doesn't seem viable at this point.
[Brian Roewe is an NCR staff writer. His email address is broewe@ncronline.org. Follow him on Twitter: @BrianRoewe.]