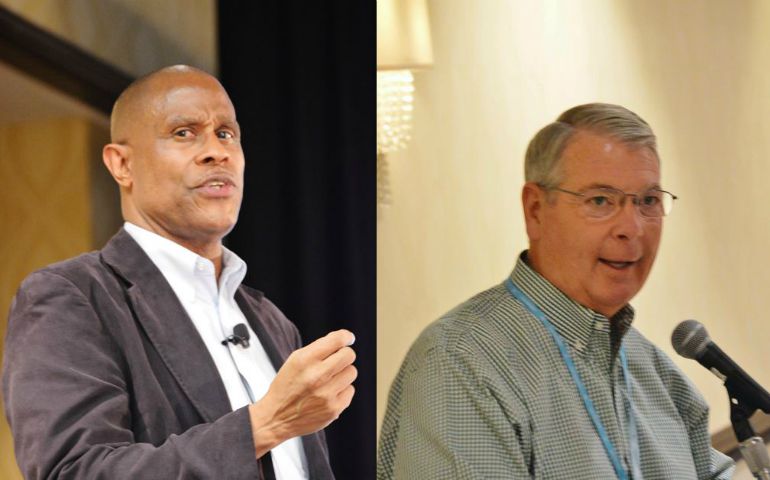 Fr. Bryan Massingale, left, and Bishop Gregory Hartmayer, right, addressed the Association of U.S. Catholic Priests in Atlanta, June 19-22. (Paul Leingang)
"All means all — no exceptions, no small print. God loves all of us, whatever our differences," Fr. Bryan Massingale said as he recalled the anniversary of the Orlando massacre of LGBT people in the Pulse nightclub a year ago.
Amid sustained applause from 170 members of the Association of U.S. Catholic Priests, the Fordham University theology professor challenged the sixth annual assembly gathered in Atlanta, June 19-22, to retrieve a crucial insight of Martin Luther King Jr. — the need to "redeem the soul."
According to Massingale, "We are in a struggle for the soul of America." To heal a fractured society is not just a quest to overturn racial or other discriminatory laws. There is a far deeper reality to redeem — the soul. The soul is a set of meanings and values that informs a way of life.
"What does President [Donald] Trump's election reveal about us as a nation?" Massingale asked. The ministerial challenge we face is "us." Trump has found a way to tap into people's fear of the stranger. Deep-seated emotions like racism, anti-immigrant sentiment, or homophobia, for example, cannot be combated politically because they are rooted in soul sickness, a profound warping of the human spirit.
Removing Trump is not the answer, he maintained. Sooner or later another will arise as long as we have soul-sickness. Massingale called for a reclaiming of King's vision to counter soul-sickness by visualizing a great world house in which all people live together and learn to live in peace.
"We are also in a struggle for the soul of U.S. Catholicism," said the recipient of the association's St. John XXIII Award. "We talk more about religious liberty than about Jesus Christ. We talk more about the Fortnight for Freedom than the reign of God. We need less talk about the catechism and the code of canon law and talk more about the joyful witness of passionate charity found in Pope Benedict XVI's first encyclical, Deus Caritas Est," continued Massingale, again amid persistent applause.
The St. John XXIII Award is an honor given annually by the Association of U.S. Catholic Priests to those who exemplify the principles, ideals, and spirit of love set forth by St. John XXIII and embodied in the documents of the Second Vatican Council. The award was given to Massingale "for his generous response to God's call to priesthood, the pastoral wisdom he has exemplified by his courageous choice of focus in his studies, the clarity of his teaching and writing, and his application of Catholic Social Teaching, as envisioned by the Second Vatican Council."
In the last month, the U.S. church saw this soul struggle played out when Bishop Thomas Paprocki of Springfield, Illinois, issued a diocesan policy that people in same-sex marriages cannot take Communion, get baptized, or even have a Catholic funeral, and that violations of the policy would be punished according to canon law. Meanwhile, Cardinal Joseph Tobin welcomed a pilgrimage of LGBT Catholics to the Newark archdiocese's Cathedral of the Sacred Heart.
The soul struggles among the U.S. bishops are mirrored in the U.S. presbyterate, according to Fr. Bob Bonnot, chair of the 1,200-member organization's leadership team. More recently ordained priests have been trained in a clerical culture not in sync with Pope Francis' vision of the church as a "field hospital," where bishops and priests are encouraged to "smell like the sheep."
To influence the training of future priests, the association's assembly passed a goal to "establish a working group to contribute to the [U.S. bishops' conference] USCCB's current project of reviewing the Program of Priestly Formation." The goal states that the Association of U.S. Catholic Priests will share their experiences of pastoral work, which cannot be rigid, "not black or white, but grey." The group is well positioned to give input through Archbishop John Wester of Sante Fe, its episcopal moderator. Wester, who attended the meeting, is a member of the bishops' Committee on Clergy, Consecrated Life and Vocations, which oversees seminary formation.
Redeeming the soul of the U.S. church in parishes was a theme developed by Jack Jezreel, an assembly speaker and founder of JustFaith Ministries. He contrasted Vatican I parishes, where clergy were seen as the ministers, with Vatican II parishes, where all the baptized are ministers
"Most U.S. parishes are Vatican one-and-a-half parishes, but we need to make them a beehive" where all the baptized are buzzing with justice and faith, Jezreel concluded.
And faith was evident throughout the assembly. After each major address and before each vote, the chair called for a few moments of silent prayer. In addition, more than half of the participants came early to participate in a one-day retreat facilitated by Gregory Hartmayer, a Conventual Franciscan, who served mainly as a principal and pastor before becoming bishop of Savannah.
At the retreat, Hartmayer told the story of a priest who blessed his chalice on his ordination day, but put a scratch on the inside of the chalice.
"I didn't like that," he said, "but now I understand. I need to embrace my own vulnerability because the flaw is the place that allows the Spirit to come in and give life."
Speaking of the need to find private "Sabbath spaces for grace," in addition to the public prayer of the church, the Franciscan maintained, "Without prayer, our lives will lack meaning." The Sabbath spaces are sometimes painful because "we see our dents and scratches." Because of all the attention, accolades and privileges of the clerical state, a priest needs to keep in mind that "he is to be a servant who washes feet or a shepherd who takes care of others. Be a pastor, not an employer," Hartmayer urged.
Faith was also evident in a visit to the Martin Luther King Jr. National Historic Site and in the celebration of a spirited Eucharist planned by the National Black Catholic Clergy Caucus. Amid lots of hand clapping and rhythms of a robust choir, Atlanta Archbishop Wilton Gregory presided at Mass as liturgical dancers in elegant black and white dresses flowed up and down the aisles.
The group will meet next year in Albuquerque, New Mexico.*
[Jeannine Gramick is a Sister of Loretto who has been involved in a pastoral ministry for lesbian and gay Catholics since 1971. She co-founded New Ways Ministry and has been an executive coordinator of the National Coalition of American Nuns since 2003.]
* An earlier version of this story provided the incorrect location for the 2018 assembly.
A version of this story appeared in the July 14-27, 2017 print issue under the headline: US priests' association challenged to 'redeem the soul'.