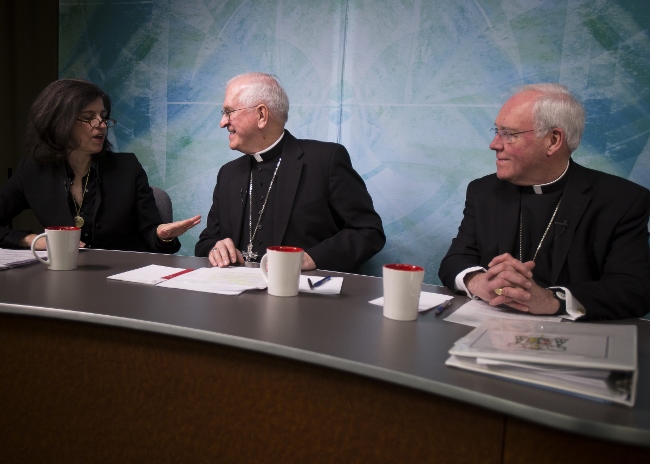 Archbishop Joseph E. Kurtz of Louisville, Ky., center, Bishop Richard J. Malone of Buffalo, N.Y., and law professor Helen Alvare from George Mason University are seen April 8 in Washington prior to the start of a discussion about "Amoris Laetitia." (CNS photo/Tyler Orsburn)
Describing what it means to be "pastoral" is a lot more difficult than understanding a decree, for instance, that says girls can or cannot be altar servers or that women can or can't have their feet washed during Holy Thursday services.
Rules and laws are precise. But what does it mean to have, as Louisville Archbishop Joseph Kurtz put it recently, "a pastoral mindset"? Understanding what that means seems essential in this era of Pope Francis, when it can appear that simultaneously nothing changes yet everything changes, and so much of what seems to change is chalked up to "a more pastoral approach."
Kurtz, president of the U.S. Conference of Catholic Bishops, made his remarks during a news conference last month introducing Amoris Laetitia, ("The Joy of Love"), the papal exhortation rooted in two synods in 2014 and 2015 that considered issues dealing with marriage and the family and that he attended.
Describing Amoris Laetitia as "the fruit of conversations of both synods," he said, "the Holy Father is calling on us to have a pastoral mindset." At another point, he said, "There are no new regulations or rules" in the exhortation, "but [Francis] is giving us a new mindset." He said the document is "a call to reach out and to find new ways to walk with people."
All of that may seem frustratingly general, but Kurtz said the topic has been one of ongoing discussion for several years among him and his priests in Louisville, and that concrete examples emerge from those on the front lines of pastoral care. At the Priests' Council meetings in Louisville, he said, "We've been talking a lot about 'What does it mean to have a pastoral heart?' And I'll tell you, I've been blown away by some of the wonderful examples."
In a subsequent phone interview with NCR in which Kurtz elaborated on the issue, he said that while he made the point in discussing the document from Pope Francis -- "I think he's given a face to accompanying people; I think he comes off very much as a pastor" -- Kurtz actually first asked the question of his priests when he returned from a Synod of Bishops on new evangelization in November 2012. It was just months before Pope Benedict XVI would announce his resignation.
Some of the conversation in that synod gathering was about moving beyond the walls of the church. At a meeting on his return to Louisville, he asked the assembled priests: "So what does it mean for you as pastors to have a pastoral heart?"
Some of the answers were stories of being with families at the big moments: baptisms, weddings, funerals. One priest, he recalled, spoke of how meaningful it was to see parents signing their children with oil as he was also signing them at baptism. A few of the priests shared that they often get together with lay people to discuss upcoming homilies.
The conversations continued from that first meeting, said Fr. Bill Hammer, a pastor for 23 years in the archdiocese and president of the Priests' Council.
"The context was that the pastor's heart was one that goes out. That captured our understanding of what a pastoral heart is," he said. "We sometimes find ourselves overwhelmed by demands of the parish setting. We are concerned about what's going on out there, but we wait for people to come to us."
The further question, then, Hammer said, became, "How do we take the initiative to go out? We know people are not coming to church, people who have drifted away. We know there are people on our roster that we have not seen or heard from in years. … That began a pretty open discussion" about how to go out and reconnect with those who have left.
The question also drove discussion, Hammer told NCR in a phone interview, about how welcoming the church is in circumstances where people do wish to connect. When an engaged couple contacts a parish to ask about having a wedding "is the first reaction, 'Congratulations, we're happy for you?' " or is it " 'Are you a registered member of the parish?' "
The same, he said, with those seeking funerals for a family member. Is the first reaction consolation or the question about registration? He said in the case of a wedding, nothing should get in the way of an invitation to meet and talk with a couple and, in that circumstance, ask the question: "Wouldn't it make sense to become members of the parish?" But, he said, nothing should get in the way of the initial conversation.
In the case of a funeral, he said he believes the first reaction should be, " 'How can we serve you? What can we do to help?' And then, hopefully, in the after care, then maybe they will connect with the parish."
The discussion extended to such everyday activities as answering the phone. Are those who take calls trained to be inviting and sharing the vision of welcome, or are they all business who first want to know if the paperwork is in order?
"I think the challenge is to make sure the message we are communicating" is one of welcome and inviting people into a deeper dialogue, Hammer said. For many priests, himself included, it is a process that involves a kind of transformation. "The transformation is to recognize that while there are certain administrative needs in any organization, we have to keep focusing on people first," he said.
And for individual priests, it can also mean a transformation earned in the trenches.
"I am not the same kind of pastor as I would have been when first appointed," he said. "I was far more confident in my answers coming out of seminary than I am at this point in my life after individual encounters with people."
Those who attended the Priests' Council meetings, said Hammer, "I think very much were caught up with the need for finding that kind of pastoral heart." The search, he said, can be traced to Pope John Paul II's call for a new evangelization. "John Paul II called for it," said Hammer, "Benedict developed it, and Francis is showing us how to live it."
The phrase "having a pastoral heart," he said, "has come to permeate the presbyteral meetings. It is a theme that has gotten below the surface" and "become part of our intentional discussion, whatever the parish context might be."
Kurtz said Francis "wisely" advised that readers of the 250-page Amoris Letitia "be patient and take time unpacking" its contents. In that regard, he foresees conducting a series of listening sessions this summer with people throughout the Louisville archdiocese. "I believe every aspect of church ministry is going to be affected" by the new document, he said.
[Tom Roberts is NCR editor-at-large.]