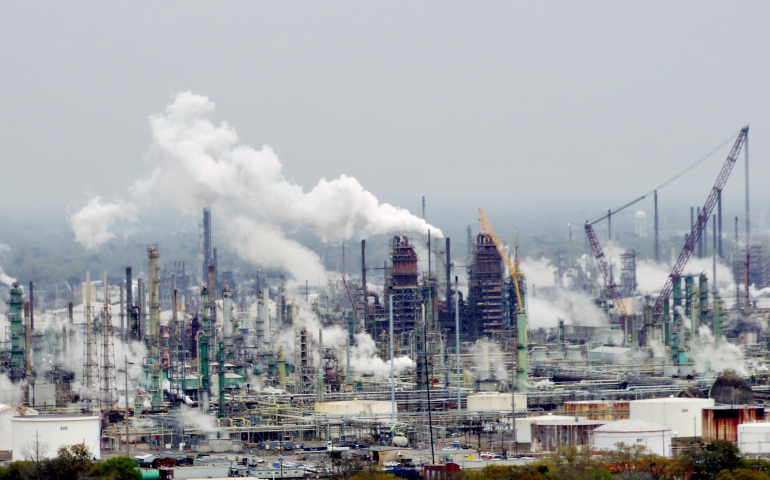 An ExxonMobil refinery in Baton Rouge, Louisiana, seen from the top of the Louisiana State Capitol (Wikimedia Commons/WClarke)
When ExxonMobil shareholders overwhelmingly voted in late May in favor of a resolution aimed at shedding light on the impacts of addressing climate change on the oil company's long-term assets, Dominican Sr. Patricia Daly was among those beaming brightest.
"This was very sweet," said the director emeritus of the Tri-State Coalition for Responsible Investment, which spans Connecticut, New Jersey and New York.
Through investment groups like the coalition, which comprises 40 Catholic institutions, and the larger Interfaith Center on Corporate Responsibility, she and other faith-based investors have been working for two decades to bring about change at Exxon in how it recognizes and responds to climate change.
At the annual ExxonMobil meeting in Dallas May 31, the shareholder resolution, co-filed by the New York Common Retirement Fund and the Church of England and joined by the Interfaith Center on Corporate Responsibility and 50 other institutions representing $5 trillion in managed assets, received 62.3 percent of the shareholders' vote — the highest ever at Exxon for a climate-related measure.
The resolution, which Exxon opposed, seeks for the world's largest energy company to produce an annual report of the long-term impacts on its oil and gas reserves from global climate policies aimed at restricting average temperature rise well below 2 degrees Celsius (3.6 degrees Fahrenheit) and as low as 1.5 degrees C — the primary goal of the Paris Agreement on climate change, which calls for drastic cuts in carbon emissions and a global shift toward a zero-carbon economy in order to meet the 2 C target and avert the worst climate impacts.
Tracey Rembert, assistant director of Catholic responsible investing for Christian Brothers Investment Services, said in a statement that while Exxon continues to bank "on an energy future that looks a lot like the past," i.e., highly reliant on oil and gas, "we want Exxon to be prepared and wide-eyed if a different market unfolds, and this proposal, we believe, jumpstarts that process."
Similar proposals also received majority shareholder support during votes last month at Occidental Petroleum (67 percent) and PPL Corporation (57.2 percent). Other resolutions at energy companies came up just short of majority support, The Washington Post reported.
A vote on a shareholder resolution above 50 percent is generally viewed as a mandate for a company and its board to act upon it, Interfaith Center on Corporate Responsibility said in a statement.
"You don't want to ignore a vote that high," Daly said.
The vote came amid widespread news reports that President Donald Trump intended to withdraw the U.S. from the Paris climate accord, an action he indeed announced the next day.
---
More: "Paris climate deal exit 'deeply troubling' to Catholic leaders" (June 1, 2017)
---
Daly, who attended the COP21 climate summit in December 2015 that culminated in the Paris Agreement, said she agreed with some assessments that the Exxon shareholder vote was of greater importance than Trump's decision — which cannot formally take effect until November 2020, though at the federal level the U.S. has signaled it will cease implementation of its Paris emissions-reducing pledge.
Part of the significance in the Exxon vote, Daly said, was that large investment firms, several of which supported the resolution, are more and more seeking disclosures from companies of the business risks posed by countries under the Paris accord taking policy steps to reduce carbon emissions, the primary source being the burning of fossil fuels.
"Even if the U.S. pulls out of the agreement, they still need to operate with integrity and in alliance with other country goals," Daly said.
Despite the political context of the president's pullout decision, the shareholder motion was a major achievement for Daly, Fr. Michael Crosby and others with the Interfaith Center on Corporate Responsibility who have engaged ExxonMobil on climate change over the course of two-plus decades.
"This one's a long time coming," Daly said.
---
Global Sisters Report: "Sisters lead the way in mission investing that influences corporate policy and advances social good" (May 23, 2016)
---
The interfaith investors' interactions predated the Exxon-Mobil merger in 1999. Two years earlier, Crosby, a Capuchin Franciscan friar, had introduced the first resolution asking for a report on the impacts of climate change on the company's policies and practices, including liabilities it may incur and what it could do to reduce carbon emissions from fossil fuels.
From there, the interfaith center's resolutions have sought for ExxonMobil to disclose its greenhouse gas emissions; to disclose funds it spent on lobbying and supporting organizations at the forefront of climate denial; to report climate risks to its business; and to report its investments in renewable energy.
Those efforts yielded some positive results. Exxon shared information on its renewables investments, which it continues to do annually, though at the time of the initial request most of the initiatives were still based in oil and gas.
Earlier this year, Crosby, who is executive director of the Seventh Generation Interfaith Coalition for Responsible Investment, withdrew a resolution — one first issued three years earlier that sought a person with climate change expertise be nominated to Exxon's board of directors — after climate scientist Susan Avery was appointed to the board.
Those successes, at Exxon and at other companies on issues such as human trafficking, reinforce for Daly the merits of shareholder advocacy in effecting positive change in companies, especially at a time when environmental groups, including numerous religious and Catholic efforts, have pushed for widespread divestment from fossil fuels.
So far, 27 Catholic institutions have divested from fossil fuels, among them more than a dozen religious communities. Twenty of the announcements have come in the past two years through a campaign of the Global Catholic Climate Movement. In addition, the University of Dayton and Georgetown University have both divested their endowments from fossil fuels in some capacity.
While Daly credits the divestment movement with educating about climate change, she doesn't endorse it, believing to shift the global economy away from reliance on greenhouse gas-emitting fuels requires more work: "You don't change companies and you don't change economic systems of this country or the world by deciding to lose your seat at the table."
"There are a lot of people who wash their hands of it and they call it a win and they can sleep at night, and you know what, they have done nothing to bring about a world free of greenhouse gas emissions," Daly added.
Instead, the four-decade veteran of corporate responsibility encourages people to become informed and active shareholders and be involved with investment groups like the Interfaith Center on Corporate Responsibility that are advocating for socially responsible changes.
"Imagine what would happen if people started really actively engaging in the companies that they own. The management and board of directors don't own those companies — we do," she said.
While divestment is largely credited with helping end apartheid in South Africa, the Interfaith Center on Corporate Responsibility at its forming in 1971 sought to use shareholder advocacy to pressure companies providing critical services to leave the country until the oppressive system was abolished.
---
Global Sisters Report: "Q & A with Sr. Patricia Daly, helping corporations be socially and environmentally responsible" (July 15, 2016)
---
Engaging with a company doesn't mean overlooking its faults and failings, Daly clarified.
The Exxon Knew reports — which detail how Exxon knew of the risks of climate change as far back as the late 1970s yet withheld the information from its stockholders and funded groups sowing climate denial, allegations Exxon "completely rejects" — has been the source of "honest, tense conversations" and remains an ongoing concern, the Dominican sister said.
She added she was happy that lawsuits brought by the attorneys general of New York and Massachusetts and an investigation by the U.S. Securities and Exchange Commission continue to move forward. In Daly's view, the company's role in distorting and delaying action on climate change only "gives them a greater responsibility to take the lead on initiatives and different investing to turn climate change around."
Faith-based investors continue to watch how Exxon will change under its new CEO, Darren Woods, who succeeded Rex Tillerson after the latter's appointment as U.S. secretary of state. Daly organized a phone call for shareholders to thank the company for the letters it wrote, including one from Woods, to Trump urging him to keep the U.S. in the Paris Agreement.
That Tillerson, who also advocated for remaining in the deal, was absent in the White House Rose Garden during Trump's Paris pullout announcement signaled to her that he still understands the risks of climate change. The irony of a former oil man who has only offered tempered support of climate action is now considered something of an ally on the issue under the present political times is not lost on Daly, a sign she takes of how delightful life can be.
"I never would have dreamed of this scenario, but here we are," she said.
[Brian Roewe is an NCR staff writer. His email address is broewe@ncronline.org. Follow him on Twitter: @BrianRoewe.]