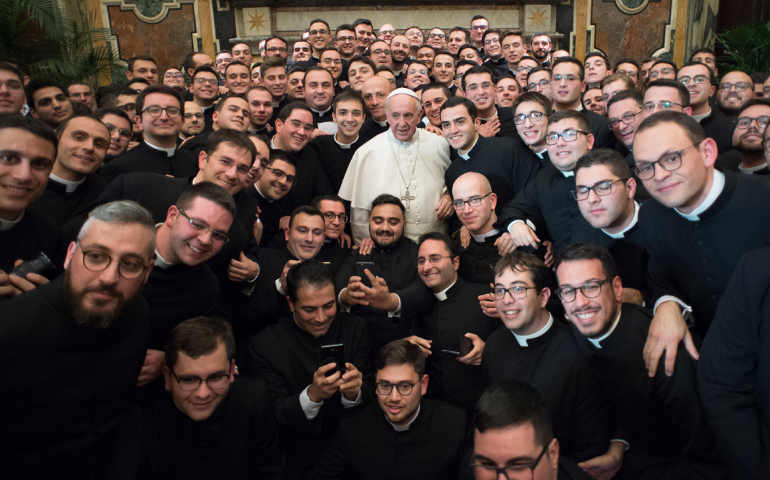 Pope Francis poses with seminarians from the Puglia region of southern Italy. (CNS/L'Osservatore Romano)
Just weeks after the conclusion of the Year of Mercy, life for gay seminarians and priests in the Catholic church took a turn toward the merciless.
As was widely reported last week, Pope Francis approved a document called "The Gift of the Priestly Vocation," which bans gay men from seminaries and ordination.
Or, at least, most gay men. The document states,
"…the Church, while profoundly respecting the persons in question, cannot admit to the seminary or to holy orders those who practice homosexuality, present deep-seated homosexual tendencies or support the so-called 'gay culture.'"
Though the Vatican leaves to the imagination what precisely the "so-called 'gay culture' might be, the guidelines suggest that gay seminarians who act like straight guys, conceal their sexualities, repress their sexual desires, and oppose any campaign for LGBT rights might be given a small window of clerical opportunity.
The guidelines further note that "such persons in fact, find themselves in a situation that gravely hinders them from relating correctly to men and women," and, therefore, "one must in no way overlook the negative consequences that can derive from the ordination of persons with deep-seated homosexual tendencies."
If the church does have "profound respect" for these men, it has a twisted way of showing it.
Less publicized last week was the homily that Pope Francis' gave at Casa Santa Marta Dec. 9, the day after the release of "The Gift of the Priestly Vocation."
Though Francis intended to use his message to critique "worldly and rigid priests," a homophobic, misogynist anecdote in his text seemed to amplify the previous day's barring of gay men from ordination.
According to Vatican Radio, the pope said:
"About rigidity and worldliness, it was some time ago that an elderly monsignor of the curia came to me, who works, a normal man, a good man, in love with Jesus — and he told me that he had gone to buy a couple of shirts at Euroclero [the clerical clothing store] and saw a young fellow — he thinks he had not more than 25 years, or a young priest or about to become a priest — before the mirror, with a cape, large, wide, velvet, with a silver chain. He then took the Saturno [wide-brimmed clerical headgear], he put it on and looked himself over. A rigid and worldly one. And that priest — he is wise, that monsignor, very wise — was able to overcome the pain, with a line of healthy humor and added: 'And it is said that the Church does not allow women priests!'"
Francis describes the elderly monsignor as a "normal man, a good man" perhaps as a counterpoint to the abnormal, dandyish young man dressing in the mirror. The elderly monsignor is "in love with Jesus" — the only man, apparently, that a priest should ever fall in love with.
The monsignor is so agonized by this preening young cleric, Francis says, that the only way to alleviate his pain is to make a joke. Sadly, this "healthy dose of humor" amounts to one contemptuous punch line aimed at ridiculing the two gravest threats to the Roman Catholic priesthood: women and gay men.
If Pope Francis were simply commenting on the way in which the young man's prideful posing was a demonstration of the corrupting power of clericalism, his lesson might be worthwhile. But by repeating a joke that mocks the man's sexuality and belittles the struggle for women's equality in the church, the pope reveals a disturbing resentment of women and gay men who seek to serve the church in ordained ministry.
The elderly monsignor's punch line is as homophobic as it is misogynist. It characterizes female behavior as vain and affected. Worst of all, it suggests that the best way to demean a man is to liken him to a woman.
How ironic that Pope Francis uses such a humiliating story to call for humility, and takes such a judgmental tone as he denounces rigidity. How strange that he criticizes a pretentious, worldly young priest by promoting an elite, exclusionary vision of the priesthood.
Though some might argue that the Francis' joke was just another one of his off-the-cuff remarks, many signs indicate that a more calculated campaign may be afoot.
It's interesting to note that, in this same homily, Francis claims that we can know "what kind of priest a man was by the attitude they [have] with children."
"If they knew how to caress a child, to smile at a child, to play with a child . . . it means that they know this means lowering oneself, getting close to the little things," Francis says.
Is his homily suggesting that heterosexual men and fathers make the best priests?
The pope has never been shy about praising the holiness of the heterosexual family unit. He has called the family the "masterwork of society," and frequently reminds us that Jesus "begins his miracles with this masterwork, in a marriage, in a wedding feast: a man and a woman."
In the past six weeks, Francis has made his vision of the priesthood starkly clear. On Nov. 1, he confirmed the finality of the ban on ordaining women, and now he has reaffirmed the ban on most gay seminarians.
All of these clues lead one to wonder whether Francis is preparing the faithful for a new model of the priesthood: one in which young, married men may become candidates for ordination.
Many have lamented the pope's ban on gay seminarians as a betrayal of his legendary "Who am I to judge?" statement. But perhaps Francis has a much larger agenda at work, and his desperate need to fill the priesthood is taking priority of whatever desire he may have had to be kinder to gays.
Perhaps the movement to push out gay seminarians is part of a concerted effort to make seminary life straighter and manlier for a new crop of hetero hopefuls.
Francis has given clear indications that he is receptive to a conversation about married priests.
This past August, Vatican insider Austen Ivereigh penned an essay declaring: "Next synod likely to focus on ordaining married men."
Ivereigh cites examples in South Africa and Honduras where teams of married men with families were chosen by their communities to minister part-time while continuing to work in their professions.
"Francis has given many signals of his willingness to open up the question of ordaining married men, even encouraging local Churches to put forward proposals," Ivereigh wrote.
Some theologians argue that the shift to a married priesthood is relatively simple. Unlike the church's ban on women's ordination and same-sex relationships, which are held as "doctrines," the celibacy teaching is considered a "discipline," and, therefore, easier to change.
The institutional church has much to gain in instituting a married priesthood. Obviously it would stave off the looming crisis of the priest shortage.
It may also serve as a tool for evangelization and promotion of family, since a priest and his wife would model the gender complementing roles frequently praised by Pope Francis. The husband would be both the father of the parish and the family, and his wife would be the serving, nurturing mother.
It might bring back into the fold all of those heterosexual families who care less about justice for women and LGBT people and more about having a relatable priest who is a husband and father.
The shift would certainly inspire wealthy donors who fund causes that seek to defeat same-sex marriage. They might see married priests as a beacon family values and "traditional marriage."
Many Catholics often complain that our young, celibate seminarians are very conservative. But they should be warned that there are plenty of young, heterosexual, conservative Catholic men with equally conservative wives who are willing to join the priesthood. And they would gladly vow to uphold the church's teachings on women, gender complementarity, LGBT issues and even contraception.
If the pope were to begin ordaining married men, most people would immediately laud him as a great changemaker. But when we look at Francis' reaffirmation of the ban on gay seminarians and women priests, we must wonder whether such a change would truly bring about genuine progress, let alone justice, in our church.
A married priesthood would be a giant leap forward for heterosexual men, but many steps backward for women and gay men who feel called to ordained ministry in their church.
Those who push for a married priesthood must face the reality that they are, wittingly or unwittingly, advocating for the advancement of straight male dominance and privilege in the church. What might seem like an incremental step forward in our church might ultimately create an even more exclusionary priesthood.
[Jamie L. Manson is NCR books editor. She received her Master of Divinity degree from Yale Divinity School, where she studied Catholic theology and sexual ethics. Her email address is jmanson@ncronline.org.]
Editor's note: We can send you an email alert every time Jamie Manson's column, "Grace on the Margins," is posted to NCRonline.org. Go to this page and follow directions: Email alert sign-up.