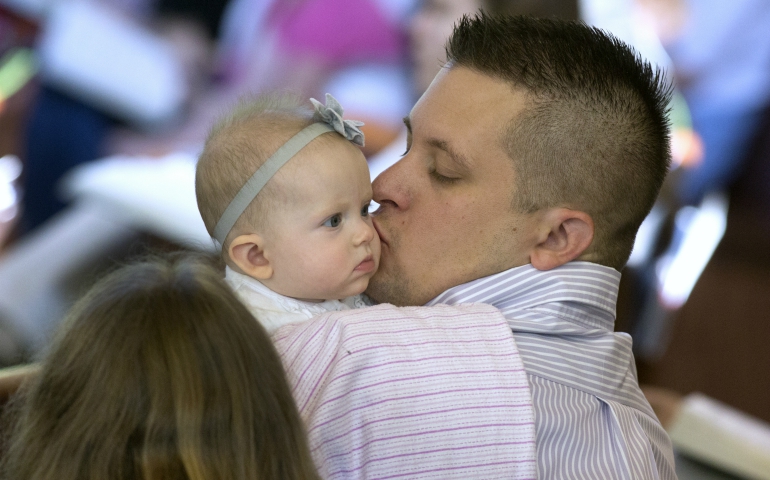 A man kisses his daughter during Mass in 2014 at Jesus the Divine Word Church in Huntingtown, Maryland. (CNS/Bob Roller)
In this episode, Josh McElwee checks in from the Vatican, where the Council of Cardinals have ended a recent meeting. Josh shares what the cardinals discussed and talks about the consistory taking place later this month. Heidi Schlumpf shares some interviews with theologians who attended the annual meeting of the Catholic Theological Society of America in Albuquerque June 8-11. They talk about what it means to be a theologian in a time of Trump. Brittany talks to Young Voices columnists Mike Jordan Laskey and Christian Mocek about fatherhood and faith.
Show Notes
How do I listen?
From your iPhone or iPad: Open the preloaded app called "Podcasts." It has a purple icon. If you're reading this from your phone, tap this link, which will take you straight there. (You can also use the magnifying glass icon to search; type "NCR in Conversation.") Once you're on the series page, you can tap on an episode title to play it. Tap on the "subscribe" button to have new episodes sent to your phone. If you prefer another podcast player, you can find "NCR in Conversation" there. (Here's the RSS feed.)
From your Android phone or tablet: You can listen and subscribe using the preloaded Google Play app. If you're reading this from your phone, tap this link to play the latest episode and learn more about the app.
From your desktop or laptop: You can also simply press the play button above to listen on this page. Make sure to keep this window open on your browser, or the audio will stop. You can find the latest episode of NCR in Conversation at NCRonline.org/podcast.