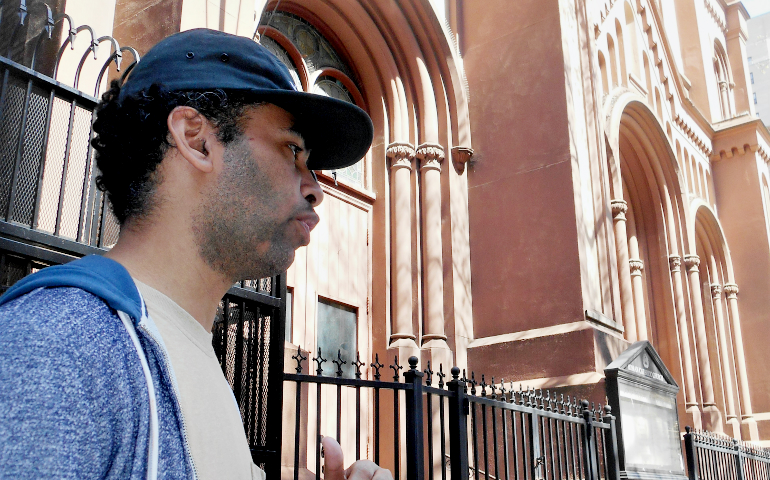 Activist Felix Cepeda is seen outside Our Lady of the Scapular/St. Stephen in the New York Archdiocese (Mercedes Gallese)
Like his nemesis Donald Trump, Felix Cepeda knows something about Manhattan real estate.
Location, location, location. That's the mantra of real estate. And it's what now-closed properties in the New York Archdiocese offer in abundance. One such property is Our Lady of the Scapular/St. Stephen Church on East 28th Street, between Lexington and Third Avenue.
Cepeda, looking younger than his 36 years, clad in baseball cap and T-shirt, took a walk around the church one recent sunswept April afternoon. The church, like many Catholic churches in Manhattan, sits unobtrusively on a side street. That is until a passerby notices a mini-Romanesque style structure rising amid nondescript storefronts and high-priced modern apartments.
"We are sitting on this treasure," Cepeda sighs. "It's a crime."
The "we," in Cepeda's terms, is the archdiocese. As a Catholic Worker and former Jesuit brother in the Dominican Republic, he is imbued with the Vatican II sense that the church is the people of God. Raised in the Bronx in a Dominican immigrant family, Cepeda lived in his familial homeland, serving as a Jesuit brother until it was suggested he leave the community because of problems living obedience (Cepeda readily agreed with that assessment).
Returning to New York, he now works as a community activist on a stipend, and frequently crashes with family and friends.
He is part of the Manhattan Catholic Worker community, and counts Dorothy Day, its founder, as one of his heroes. He's kept the activist legacy. Day, even though she is now being promoted for sainthood by the archdiocese, was known in her day as an occasional irritant to archdiocesan officials. Cepeda continues the tradition.
For Cepeda, the people of God in New York should transform empty structures like Our Lady of the Scapular/St. Stephen into centers to address two ongoing crises in the city.
One is homelessness, aggravated by high rents, especially in Manhattan. The other is the need to safely shelter immigrants seeking respite from the Trump administration's deportation policies.
Our Lady of the Scapular/St. Stephen is now shuttered, iron gates keeping out the public. "Mass will no longer be celebrated at the Church of St. Stephen," reads a paper sign posted on the door.
Designed by James Renwick Jr., the architect who later took on the more famous St. Patrick's Cathedral in midtown, the structure was built in 1854. It is among about 40 churches in the archdiocese that have been closed since August 2015 as belt-tightening and consolidation took hold in response to declining Mass attendance and a shortage of clergy. The archdiocese, which includes Manhattan, the Bronx, Staten Island and six upstate counties, shrank by 20 percent in a single year.
Cepeda envisions at least one of those buildings to be used for sheltering the homeless and/or the undocumented. Our Lady of the Scapular/St. Stephen, with an adjacent unused rectory attached, would be a perfect location, he said. While it sits on a parcel that shouts gold for any condo developer, the building is a historic landmark, bound by law to keep its traditional appearance. Transforming the space amid its historic landmark restrictions is an obstacle.
He sees a model in a similarly shuttered church in Madrid, now used as a worship space and welcome center for the homeless. New York, he said, could use a similar facility.
Cepeda cited a quote from the Spiderman movie: "We could do more. With great power comes great responsibility."
Former parishioners would also like to repurpose other shuttered churches, such as Nativity in Lower Manhattan. That modernist building could be used as both a shelter for the homeless and a conference center dedicated to Day, its most famous parishioner.
Officials of the archdiocese argue that the church buildings are not suitable for such purposes.
"They lack the proper facilities for people to live in them," Joe Zwilling, archdiocesan spokesman, told NCR.
Local immigration advocates say that Cardinal Timothy Dolan, who gave an invocation at the Trump inauguration, has been reticent about the administration's immigration policies, which have an impact on the many New York Catholics who are undocumented.
Dolan has said that his participation in the inaugural was not an endorsement of Trump's immigration policies, and was an attempt to provide civility in the nation's polarized political life. He wrote a Jan. 31 column for the New York Daily News that called upon the president to reconsider his immigration policies.
While a large portion of undocumented immigrants under threat in New York are Catholics, it's Protestant churches that have come forth as vanguards of the fledgling sanctuary movement, which hopes to use churches as a haven for undocumented immigrants fleeing deportation.
The New Sanctuary Coalition of NYC includes dozens of area churches supporting sanctuary. Few of those churches have so far made the leap into providing full-time sanctuary for threatened immigrants.
The Catholic members of the coalition are pastored by religious orders, said the Rev. Juan Carlos Ruiz, a co-founder of the group and a Lutheran minister. Ruiz was formerly a priest with the Diocese of Paterson, New Jersey, and is critical of his former coreligionists in the Catholic community.
"We should be showing the way by leading by example," Ruiz said of New York's Catholics. "We have a lot of people who want to be in on the movement but the institution is slow to follow," he said.
While Immigration and Customs Enforcement regulations say that federal officials will not pursue undocumented immigrants in churches, there is no legal requirement for them to honor church sanctuaries.
Catholic social service providers are reluctant to alienate the archdiocese, said Cepeda, even if they are sympathetic to using closed church properties for the homeless or as sanctuaries. By contrast, he told NCR, "I am independent. I am free to say what I want to say."
The archdiocese points to Catholic Charities' hotline for parishes or other institutions that learn of emergency immigration situations. And, said Zwilling, the shuttered churches belong not to the archdiocese but to the parishes they have been merged with, in the case of Our Lady of the Scapular/St. Stephen with Our Saviour Church, located 10 blocks north. Any proceeds from property sales would go to the parishes.
So far, sales of shuttered church property have been slow. Two former Catholic parishes, one in Manhattan and the other in Yonkers, are now being leased to an Eastern Rite community and the Egyptian Orthodox Coptic Church.
[Peter Feuerherd is a correspondent for NCR's Field Hospital series on parish life and is a professor of journalism at St. John's University, New York.]
We can send you an email alert every time The Field Hospital is posted. Go to this page and follow directions: Email alert sign-up.
A version of this story appeared in the July 28-August 10, 2017 print issue.