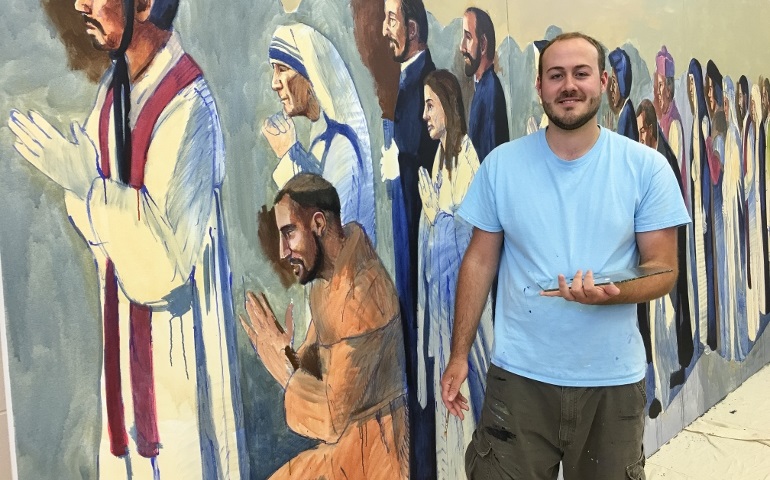 Cincinnati artist John McCoy paints the mural for All Saints Church in Alpena, Mich. (Courtesy of John McCoy)
Editor's note: "The Field Hospital" blog series covers life in U.S. and Canadian Catholic parishes. The title comes from Pope Francis' words: "I see the church as a field hospital after battle. It is useless to ask a seriously injured person if he has high cholesterol and about the level of his blood sugars! You have to heal his wounds. Then we can talk about everything else. …"
If you have a story suggestion, send it to Dan Morris-Young (dmyoung@ncronline.org) or Peter Feuerherd (pfeuerherd@ncronline.org).
---
For Cincinnati artist John McCoy, it began with a call to a radio talk show. It will conclude All Saints Day, Nov. 1, with the unveiling of the completed mural at All Saints Church in Alpena, Mich., depicting 62 canonized saints processing toward the sanctuary.
A digital representation of the project can be found on YouTube.
The 24-year-old graduate of the Art Academy of Cincinnati put in a call to Sacred Heart Radio early this year and he talked about his work as a church-inspired artist. Listening in Michigan was the pastor of the new All Saints Church, which formed as the result of the merger of four parishes in the Gaylord diocese. The church was looking to create an artwork to symbolize unity among the four parishes. McCoy was commissioned.
"I try to bring a realism as far as ethnicity and trying to bring an accurate depiction of the saints," the artist told NCR in a recent interview. The final project will be displayed on the walls of the church, painted on an acrylic canvas, with the figures looking toward the sanctuary. The idea borrows from a similar depiction of saints at Los Angeles' Cathedral of Our Lady of the Angels, dedicated in 2002.
McCoy said the saints, chosen by the pastor and parishioners, are a diverse lot. They include St. Charles Lwanga, the 19th-century Ugandan martyr, and St. Andrew Kim, a martyr from Korea. Also included are St. Teresa of Kolkata, as well as traditional favorites such as St. Thomas More, the Apostles Peter and Paul, as well as Mary, depicted via the image of Our Lady of Guadalupe.
McCoy's personal favorites include Padre Pio and St. Thérèse of Lisieux.
He said he has done his research, depicting the saints, if at all possible, in their early 30s, the age of Jesus' public ministry. He said it was important to depict the early disciples as Mediterranean Jews, and he used as models photos of modern Moroccan Jews.
"Through prayer and research, I used my intuition to see the character of the saint," he said. So, for example, the tradition about St. Paul is that he was not the most physically attractive man, but that his appearance was grace-filled. McCoy depicts a Mediterranean Jewish man with thinning hair and a mystical expression.
McCoy's short art career so far has brought him various projects, including commercial ventures, book covers and a depiction of the now-defunct Cincinnati Royals NBA franchise. But his first priority is his career as a religious artist. He has worked in various churches, particularly in the Cincinnati area, with the Alpena All Saints' project his most ambitious effort to date.
[Peter Feuerherd is a correspondent for NCR's Field Hospital series on parish life and a professor of journalism at St. John's University, New York.]
We can send you an email alert every time The Field Hospital is posted. Go to this page and follow directions: Email alert sign-up.