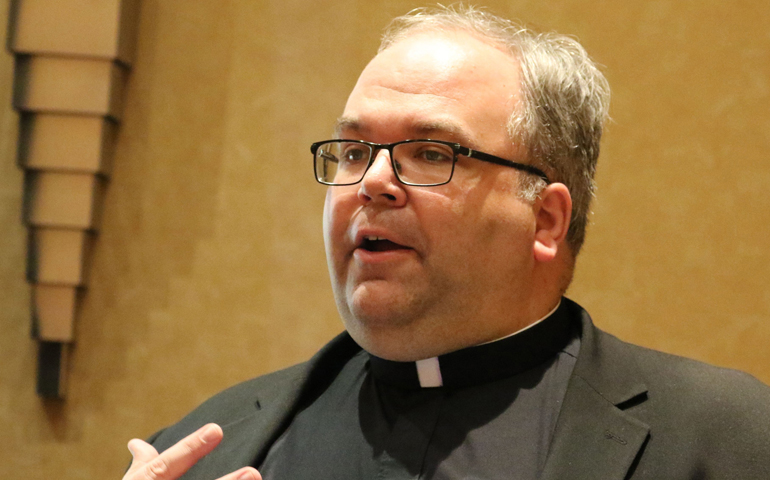 Fr. Philip Bochanski speaks Feb. 2, 2016, about his ministry to homosexuals at a meeting at in Warrington, England. (CNS/Simon Caldwell)
Fr. Philip Bochanski, the new executive director of Courage, a ministry to Catholic gays focused on chaste living, says the organization feels supported by Pope Francis' encouragement to accompany those "with same-sex attraction" on their spiritual journeys.
Bochanski, a priest of the Philadelphia archdiocese and assistant director of Courage for the past two years, will take over as executive director in the new year. He will succeed Fr. Paul Check, who will return to ministry with his Bridgeport, Conn., diocese.
Courage, founded in New York in 1981 by the late Fr. John Harvey, is now headquartered in Norwalk, Conn. Its program of spiritual renewal and support for Catholic gays is now active in two-thirds of American dioceses, and continues to expand, Bochanski told NCR. The group holds no membership lists, but says it attracts about 350 to its annual U.S. conference and another 120 to its Latino conference, usually held in Mexico. Courage is also active in Canada, Australia and 11 Latin American and European countries.
The Courage approach, which upholds church teaching while providing support for those gays who try to live in celibacy, is popular with many bishops.
Cardinal Timothy Dolan of New York took a few minutes in a public session at the U.S. bishops' conference annual fall meeting to appraise the bishops of Bochanski's new position and to laud the work of Courage. "They do wonderful work," Dolan said at the bishops' meeting in Baltimore Nov. 15, noting that the group is "extraordinarily faithful to the church's timeless teaching on chastity."
"They do great programs of formation for priests who would be called to this delicate ministry," Dolan said as the bishops at the meeting signal their approval with applause.
Francis' language of accompaniment, "is very useful for us. It recognizes the approach we take," Bochanski said.
That approach includes using a language that some might consider arcane. Unlike Francis, Courage does not use the term "gay," preferring the phrase "same-sex attraction." Still, the pope's Amoris Laetitia apostolic exhortation on the family also uses the more formal same-sex attraction language.
"A person is not defined by a sexual orientation," said Bochanski, ordained in 1999 and the former chaplain to the Courage chapter in Philadelphia. Courage chapters usually include from eight to 20 members, who convene at least once a month, sometimes more. Meetings are held in parishes or other Catholic institutions. The group holds to five tenets: chastity, prayer, fellowship, support for others, and providing models of living in accord with church teaching.
A typical meeting will begin with prayer, a talk on a spiritual topic, and a group discussion. Similar to the approach of other self-help groups, participants pledge themselves to confidentiality. The organization also sponsors sports camps.
Courage leaders hold regular conferences with pastors and church ministers throughout the U.S. and the world, promoting its approach.
Those who attend Courage conferences are taught to minister to gay Catholic parishioners with compassion and guidance, while encouraging a lifestyle consistent with church teaching.
"Here's who we are. Here's God's plan for human nature. Where are you relative to God?" said Bochanski, describing what a pastor using such a pastoral approach might say during an encounter with a gay parishioner seeking guidance.He said that the Courage approach is not discriminatory against gays, that chastity is a Christian virtue that applies to gays and straights, married and unmarried alike. "What we're saying is that this is a plan that God has that applies to every human being."
Courage has evolved, taking a different position on what some call reparative therapy, through which gays are encouraged to become heterosexual. In the 1990s, Courage literature was encouraging, stating, "for those who really want it, reparative growth is a possibility and happens regularly."
Courage is now officially neutral on reparative therapy which, while popular in some evangelical Christian circles, is controversial in the wider counseling community.
"We are not group therapy," said Bochanski. He said that in his counseling experience, he has found that same-sex attraction is not under conscious control of those who experience it. Courage's stance about reparative therapy echoes the U.S. bishops' document Ministry to Persons with a Homosexual Inclination, issued in 2006.
Bochanski said he is open to discussion with other ministries to Catholic gays, including New Ways Ministry, an organization which holds that gays can be sexually active and still maintain their Catholic faith. But the difference in approach makes such dialogue difficult, he said.
Frank DeBernardo, executive director of New Ways Ministry, told NCR that the two groups have opposed views on the nature of sexuality.
Courage's focus on celibate living for gays is appropriate, he said, but New Ways Ministry says that outreach and welcoming to gay Catholics needs to extend to those who don't intend on living without sexual relationships.
"The difference in approach has less to do with celibacy and more to do with the understanding of sexual orientation," he said. New Ways Ministry sees gay orientation as a gift from God, not a problem that needs to be overcome, said DeBernardo.
"Courage has often taken a 12-step approach to sexual orientation, seeing it as a defect in a person. We don't believe that is an authentically helpful response."
But Bochanski said participants in Courage, who he first encountered as a parish priest in Philadelphia, "inspired me by their commitment to holiness." He was asked to take the director's job and was encouraged to do so by his superior, Philadelphia Archbishop Charles Chaput.
"It's been the part of my priestly ministry where I feel I am living out my spiritual fatherhood most effectively," he said.
[Peter Feuerherd is a correspondent for NCR's Field Hospital series on parish life and a professor of journalism at St. John's University, New York. Dennis Coday, NCR editor, contributed to this report.]
We can send you an email alert every time The Field Hospital is posted. Go to this page and follow directions: Email alert sign-up.