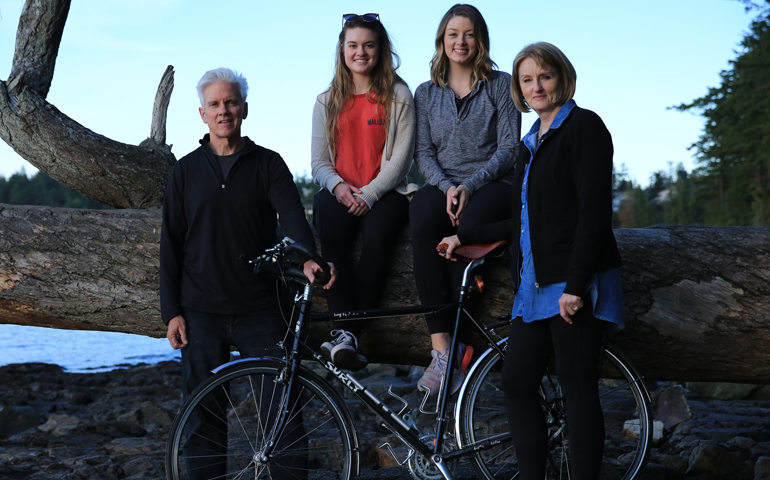 Denver bicyclist Skip Rodgers and his family pose in the state of Washington at the start of his Ride for Hope and Mercy, which began June 13. (CNS/Steve Seguin, One Billion Stories)
Editor's note: "The Field Hospital" blog series covers life in U.S. and Canadian Catholic parishes. The title comes from Pope Francis' words: "I see the church as a field hospital after battle. It is useless to ask a seriously injured person if he has high cholesterol and about the level of his blood sugars! You have to heal his wounds. Then we can talk about everything else. …"
If you have a story suggestion, send it to Dan Morris-Young (dmyoung@ncronline.org) or Peter Feuerherd (pfeuerherd@ncronline.org).
---
Skip Rodgers has found another way to bring assets and attention to the plight of persecuted Christians in Syria and Iraq. A member of Denver's St. Vincent de Paul Parish, Rodgers has ridden his bicycle more than 3,100 miles from Washington state to the East Coast, raising more than $15,000 in the process for Save Christian Middle East.
Holy Trinity Catholic Church in Dallas, St. Peter Claver Catholic Church in New Orleans and myriad other Catholic communities across the nation are confronting racism. The U.S. bishops have declared Sept. 9 to be a "Day of Prayer for Peace in Our Communities." Atlanta Archbishop Wilton Gregory has been named chair of a bishops' task force to deal with racial issues. Sept. 9 is the feast day of St. Peter Claver, patron saint of African-Americans and slaves.
Earlier this year, St. Clare of Assisi Parish in Coquitlam, British Columbia, opened its arms to not only one refugee family, but two from the ongoing crises in the Middle East -- one from Iraq, another from Syria. Fr. Craig Scott, pastor, told NCR last week that an efficient committee has delegated numerous aspects of the project to many parishioners -- from finances and schooling to housing and furnishings. "The parish has really embraced these families," he said. "Honestly, you never give without receiving, and we have received as much if not more than we have given." Asked what advice he would give a fellow pastor whose parish might consider refugee sponsorship, Scott said, "I'd tell them, 'Go for it.' It only enriches the parish." Catholic Relief Services' website provides a snapshot of the horrific refugee situation.
New York City's Our Lady of Good Counsel Parish will be the site of the next Catholic Underground gathering on Sept. 3. A "cultural apostolate" of the Franciscan Friars of the Renewal, Catholic Underground begins with Eucharstic adoration, Vespers, "simple praise" and Benediction in the darkened church illuminated by candlelight. The holy hour is followed by live performances -- music, poetry, dance, film, drama and visual art. The evening ends with Compline (night prayer). Songwriter, singer, model and actress Cristina Ballesteros will perform Sept. 3. The first-Saturday-of-month events have drawn a large following.
"It's crazy making," says Valerie Chapman about the situations facing the homeless, businesses, homeowners and recreating citizens sharing the Springwater Corridor in southeast Portland, Ore. Pastoral administrator of St. Francis of Assisi Parish there, Chapman told the Portland archdiocese's Catholic Sentinel newspaper that she blames neither the homeless campers nor neighbors for the tensions but rather lack of funding for police, mental health and housing. The parish hosts a dining hall that "feeds hundreds of homeless people each day," reported the Sentinel.
The food pantry of St. Mary Catholic Church in Dayton, Ohio, and other food outlets for those in need are bolstered by the Mission of Mary Cooperative, an urban farming enterprise launched and overseen by a group of Lay Marianists.
Dr. Joseph Matan, a member of St. Dominic's Catholic Church in Benicia, Calif., has for many years provided pro bono care to the underserved in the East Bay, notably at Lifelong Brookside Clinic, a local community health center near St. Paul Church in San Pablo. The semi-retired 80-year-old orthopedic surgeon recently read NCR's feature on the departure of Redemptorist Fr. Don MacKinnon as chaplain to the Bay Area Kmhmu' Catholic Community and has reached out to offer his skills to them as well.
[Dan Morris-Young is NCR's West Coast correspondent. His email is dmyoung@ncronline.org.]
We can send you an email alert every time The Field Hospital is posted. Go to this page and follow directions: Email alert sign-up.