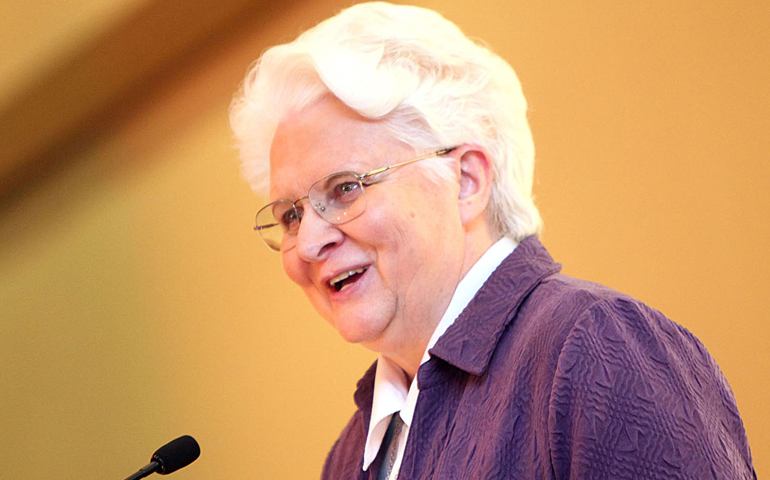 Franciscan Sr. Katarina Schuth in a 2012 CNS file photo (CNS/Natalie Battaglia, Catholic New World)
There's hope for Catholics seeking newly-ordained priests galvanized by Pope Francis. It just might take a while, says Franciscan Sr. Katarina Schuth, holder of an endowed chair for Social Scientific Study of Religion at St. Paul Seminary in Minnesota and leading expert on seminary education.
She sees a subtle shift in her classroom. In recently assigned reflection papers, three of her first-year students wrote about priestly ministry and the poor.
"That's the first in a long time that has been mentioned," she said.
Seminaries, she said, are showing a slight "Francis bump" as enrollments increase, albeit slightly. A big decline occurred in the early 2000s, the height of publicity around the sex abuse crisis. In 2010, U.S. seminaries enrolled from 3,200-3,300 students. Now the number is around 3,700.
Of that number, 850 represent religious orders, the rest are studying for diocesan priesthood.
They are a more diverse group. A quarter are foreign-born, more than a third are non-white. They are also getting younger, as a group: in 2010, 44 percent were under 30; now 56 percent are.
If Francis has a long pontificate, the results will show in seminaries, as more new bishops are appointed. Seminarians, said Schuth in an interview with NCR, often model their view of priesthood on their diocesan bishop, a phenomenon she's observed for the past three decades studying seminarians with the help of an ongoing Lilly Endowment grant.
While the Francis effect is a subtle one, other factors remain as influences on seminary education. There is a decline in the number of teaching priests and an uptick in the numbers of laymen (there are also fewer women). Many of the lay professors come from traditional backgrounds.
The trend towards a "restorationist" view of priesthood -- a focus on traditional liturgical rubrics and emphasis on priests asserting authority -- has been a feature of seminary life, particularly during the pontificate of Benedict XVI. Francis' influence may diminish this phenomenon, said Schuth.
Working with a scheme developed by the late Dean Hoge of Catholic University, a sociologist of religion who also studied seminary education, Schuth noted that recent seminarians have embraced a viewpoint focusing on the specific powers of priesthood, with a diminishment of focus on collaborating with lay people. There has been a strong emphasis on separating men out for priestly ministry, with separate education and religious training.
Hoge's scheme rated seminarians' attitudes on their views as priests as men set apart, flexibility towards rules, and how much theological differences should be tolerated in the church. Most recent seminarians landed on the more traditional side of these measures.
That could change as more Francis bishops are appointed and seminaries react to the styles of a different kind of church leadership, says Schuth.
Seminarians, particularly those being groomed for diocesan priesthood, she said, "are following with the attitude of their bishops. They come to want to please."
She said that the more seminarians are exposed to Francis, they are more likely to admire his approach. For example, seminarians at the North American College in Rome, who have regular contact with Francis, tend to have highly positive reactions to his style.
"You can't have contact with him and not like him," she said about Francis.
The focus on more traditional views of priesthood ascended during Benedict's pontificate. She described the cohort as "Benedict priests," notching up traditional views in ways that exceeded John Paul II's time.
"The Francis effect has come much more quickly because it is so different," she said.
"If Pope Francis stays on five more years there will be a big change. His message is drastically different and the bishops he is appointing are distinctly different," she said. However, she added, "it's kind of a long system. It will take a while."
Whatever their disposition, newly-ordained priests will be facing a transformed parish scene. While the newly-ordained are younger, they are also less likely to serve long apprenticeships after ordination as associate pastors and will quickly assume pastorates in most dioceses, due to the widespread shortage in priests. At the same time, lay ministers in parishes are getting older, and are more likely to be women. It is a mix which will challenge those men who are ordained in the near future.
"You can't properly educate them in four years for what they will face in parishes," said Schuth.
Schuth is the author of Seminary Formation: Recent History-Current Circumstances-New Directions to be published by Liturgical Press this fall.
[Peter Feuerherd is a professor of communications and journalism at St. John's University in New York and contributor to NCR's Field Hospital blog.]
Editor's note: "The Field Hospital" blog series covers life in U.S. and Canadian Catholic parishes. The title comes from Pope Francis' words: "I see the church as a field hospital after battle. It is useless to ask a seriously injured person if he has high cholesterol and about the level of his blood sugars! You have to heal his wounds. Then we can talk about everything else. …"
If you have a story suggestion, send it to Dan Morris-Young (dmyoung@ncronline.org) or Peter Feuerherd (pfeuerherd@ncronline.org).