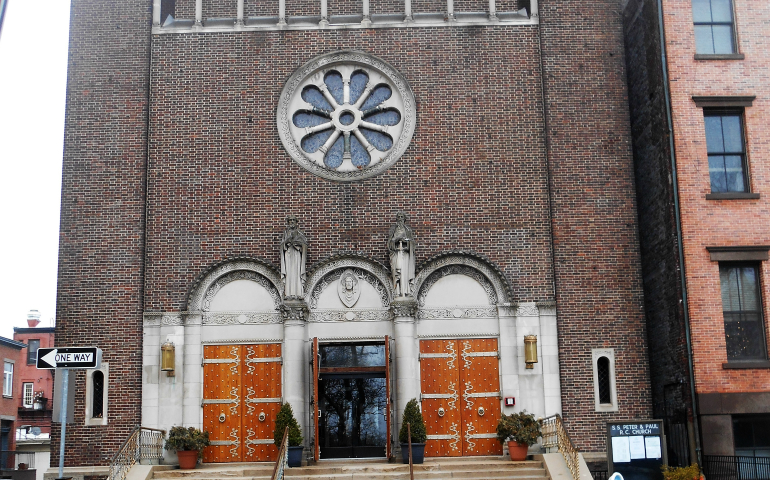 The church of the Catholic Community of Ss. Peter and Paul in Hoboken was dedicated March 18, 1929. (NCR photo/Peter Feuerherd)
Hoboken, N.J. — January 12, 2017
Every year, the people of Ss. Peter and Paul parish here are presented with an annual report that spells out, in clear language and inviting format, an inventory of how their church is doing.
The graphics are sparkling, but there are few pious sentiments. Lots of facts and figures. It's more like a report to corporate shareholders than to a typical Catholic parish congregation.
That is deliberate, says Msgr. Robert S. Meyer, pastor of the Catholic Community of Ss. Peter and Paul, located in the middle of a square-mile urban enclave on the Hudson River, just minutes from lower Manhattan via train. The city of 50,000 has boomed over the past few decades, in the process emerging as the dictionary definition of gentrification.
What was once known as Frank Sinatra's birthplace and the gritty setting for the movie "On the Waterfront" (Ss. Peter and Paul church is used in a number of scenes in the Marlon Brando epic) has been transformed into a kind of brownstone backlot, where financial and creative professionals who work in Manhattan have pushed up real estate values to previously unimaginable levels.
They are largely successful, with many versed in finances from on-the-job experience.
"They can read the balance sheets better than I can," says Meyer about many of his parishioners. "There is no puffery here."
Transparency on finances and other matters is one reason why Ss. Peter and Paul was named the first Catholic parish to earn recognition as a Partner in Excellence by the Leadership Roundtable on Church Management, awarded for integrity, effectiveness and excellence in non-profit administration.
The parish was rated highly for transparency and accountability by the Leadership Roundtable, an organization devoted to promoting good management by church entities. The judging was conducted by a partner organization, the Standards for Excellence Institute.
Ss. Peter and Paul submitted an application and was judged on its mission statement and ministry; governance and advisory bodies; conflict of interest policies, human resources, finances, legal requirements, fundraising and public life.
The award, says Meyer, is a recognition of both the parish's management and its ministry.
Begun in 1889 as a German ethnic parish, Ss. Peter and Paul had faced hard times in recent decades but has emerged with a steady resurgence.

Msgr. Robert S. Meyer
When he came here six years ago, Meyer knew that the parish had outgrown its ethnic roots and that keeping outmoded practices in place would not sustain its future. The professional Hoboken newcomers — most city residents have been here fewer than 15 years — are used to shopping around for everything, including their worship choices, and have scores of options for spending their time, both here and in nearby Manhattan. They are rarely swayed by appeals to obligation.
Meyer beefed up the parish's religious education, or faith formation, program. There were 26 students in the parish being educated. There are now 186, thanks to an effective outreach that has taken advantage of the younger families who have now nestled in Hoboken, attracted by its urban lifestyle and short commute to Manhattan.
They come to Ss. Peter and Paul with a variety of ways to spend their time and money. The median family income in Hoboken is over $120,000 per year; a modest home near the church recently sold for $3.3 million. New apartment construction abounds.
A civic attorney himself, who after ordination in 1988 worked for St. Vincent's Hospital in Manhattan, Seton Hall University and the Vatican Mission to the United Nations, Meyer took on his first pastoral assignment with a quick recognition of the growing sophistication of the parish population.
"We have really smart people in the pews, and I thought we could become a model of what a good parish could look like," he says.
The parish created a legal clinic for the people made poor, focusing on housing issues and other concerns faced by the part of Hoboken's population who still lived on the edge. That project draws on both paid and volunteer services of local attorneys.
And he applied to put the parish through the rigor of the Leadership Roundtable certification, which has previously gone only to larger Catholic institutions, not parishes.
He wanted the parish to be "an example of churches doing what they are supposed to do to restore trust and confidence" amidst negative publicity about sex abuse and corruption scandals.
One approach was to kick through the veil of secrecy that frequently surrounds parish finances. That secrecy, says Meyer, creates misunderstanding and misimpressions. Parishioners assume that the church has money that it really doesn't have, that it is backed up by a diocese with unlimited resources.
Like most parishes, however, the relationship to the Archdiocese of Newark, where Ss. Peter and Paul is located, is quite different. "We pay them; they don't pay us," he says.
A parish, says Meyer, needs to be run as a family business, with all that entails for accountability and the obligation to a wider community. The goal is that prudent stewardship is a vehicle "so you can pass it over to the next generation."
Collections are now above $15,000 per weekend, more than doubling over six years. Previously, the parish was operating in the red. It has now expanded both ministries and staff.
It's been done, says Meyer, by presenting clearly to the wider parish what the needs are. Parishioners are urged to donate at least one hour of their weekly wages. Parents who come to present their children for baptism are asked to attend Mass regularly and to contribute financially. If they decide not to get involved, baptism is delayed.
On money issues, "I'm not here to be popular," says Meyer.
"I'm not doing it for me. Whether you give a dollar a week or a thousand dollars, I get paid the same," he says. Parishioners are told what the needs are, with dollar figures clearly outlined, both in the printed bulletin and on the parish website. The approach has helped more than the bottom line here. Meyer would like to see other parishes mimic Ss. Peter and Paul's best practices so that the Hoboken church can be the first in a long line of parishes recognized for administrative excellence.
[Peter Feuerherd is a professor of communications and journalism at St. John's University in New York and contributor to NCR's Field Hospital blog.]
We can send you an email alert every time The Field Hospital is posted. Go to this page and follow directions: Email alert sign-up.
A version of this story appeared in the Jan 27-Feb 9, 2017 print issue under the headline: Parish lifts veil of financial secrecy.