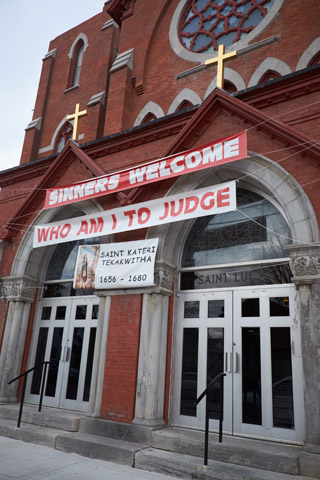 St. Lucy's Parish in Syracuse (Charles Wainwright)
St. Lucy's Parish in Syracuse has been a Pope Francis-type of parish since back when there was simply an Argentine Jesuit named Jorge Bergoglio.
Evidence is the sign long adorning the outer church: "Sinners Welcome." Now, in another indication that the parish and the pope are on the same page, is another banner: "Who Am I to Judge?" It is a parish unafraid to reach out to the margins; in fact, the margins pretty much permeate everything the church community does.
"We deal with people as they present themselves," said the pastor, Fr. Jim Mathews, who has been at the inner-city church for the past 25 years, located in a neighborhood said to be among the poorest dozen in the nation.
If you are down-and-out, and there are many struggling people on the west side of this upstate city, you are likely to find a place to stay, some warm soup, or some words of encouragement at St. Lucy's.
The parish extends far beyond its geographic borders. The roughly 350 parishioners, such as Mary Ann Dobe, frequently come from Syracuse's suburbs, to be part of a parish immersed with the strains of urban poverty.
Dobe, a resident of Westvale, started coming to St. Lucy's when Mathews, who served at her old parish, became pastor. "I was looking for something different. I found it at St. Lucy's," she said.
That "something different" was an outreach to the poor of the neighborhood which "made me move into waters I hadn't been part of or felt comfortable with."
St. Lucy's, for a small parish, has a large menu of social outreach programs. They include: Wednesday Bread of Life luncheon, attracting about 250 from the neighborhood; a parish food pantry; shelter programs for the homeless; a used-goods store, along with a Bible study led by a retired Lutheran pastor; a "Lucy's Table" monthly meal for young mothers from the neighborhood; a regular presence from the deaf community, and a weekly effort to deliver hot lunches to Syracuse's street people.
A "Path of the Peacemakers" inside the church depicts and honors those committed to social justice and includes photos of Dorothy Day and Martin Luther King, two American heroes cited by Pope Francis in his address to the U.S. Congress. The Path also honors the Berrigan brothers, Gerry, Dan and Phil, all with local connections; Nelson Mandela, and Fr. John Dear, a total of 25 in all.
It is testament to a long parish history: by the 1960s, St. Lucy's stirred controversy when it urged contributions to assist the wounded in both North and South Vietnam. The church offered hospitality for protestors of nuclear weapons at Griffiss Air Force Base. In 1994, it began honoring local activists with the Dorothy Day Award and, in that same year, began a Mass for gay Catholics.
The Sunday liturgies illustrate the spirit of the parish, said Dobe. The ritual sign of peace is never perfunctory; it can last more than 10 minutes as friends greet each other. A Thanksgiving liturgy attracted about 80 parishioners who gathered together in a circle around a table, offering expressions of shared gratitude.
St. Lucy parishioners don't wait for the poor to show up at their door. An outreach by parishioner Paul Wittjung provides hot breakfasts each weekend to the city's homeless, sometimes finding them beneath highway overpasses and bridges.
Wittjung has been doing the ministry for nine years. For the past three of those, he has been joined every week by Mathews*, who contributed a car to the effort when Wittjung's was totaled in an accident.
The outreach began with Wittjung and is not officially a parish effort. "But St. Lucy's has been tremendously supportive," he said.
Jim Bresnahan is actively involved with St. Lucy's, including leading the parish Bible study. He is a Scripture scholar who studied in Germany with Hans Kung, among others.
As a Lutheran pastor, he led a congregation in suburban Fayetteville, but the Bronx-native Bresnahan sought out an urban experience upon retirement.
Bresnahan said one of the great attractions of St. Lucy's is that parishioners are more than simply about praying, paying and obeying.
"Most everyone in the parish has a ministry and they are committed to and relate their faith to their life. … It is a congregation of deeply-committed people."
*An earlier version of this story misspelled an instance of Mathews' name.
[Peter Feuerherd reports on parish matters for NCR and teaches journalism and communications at St. John's University, New York.]
---
Editor's note: "The Field Hospital" is NCRonline's newest blog series, covering life in Catholic parishes across the United States and Canada. The title comes from the words of Pope Francis: "I see the church as a field hospital after battle. It is useless to ask a seriously injured person if he has high cholesterol and about the level of his blood sugars! You have to heal his wounds. Then we can talk about everything else. Heal the wounds, heal the wounds. ... And you have to start from the ground up."
"The Field Hospital" blog will run twice weekly on NCRonline.org along with feature stories and news reports about parish life in the U.S. and Canada. If you have a story suggestion, send it to Dan Morris-Young (dmyoung@ncronline.org) or Peter Feuerherd (pfeuerherd@ncronline.org).